SpanishEnglishPasaporte - (Colibri) Released 2012
CD REVIEW: PASAPORTE by ALEXANDER ABREU & HAVANA D'PRIMERA
(Colibri 2012) - Review by Bill Tilford, all rights reserved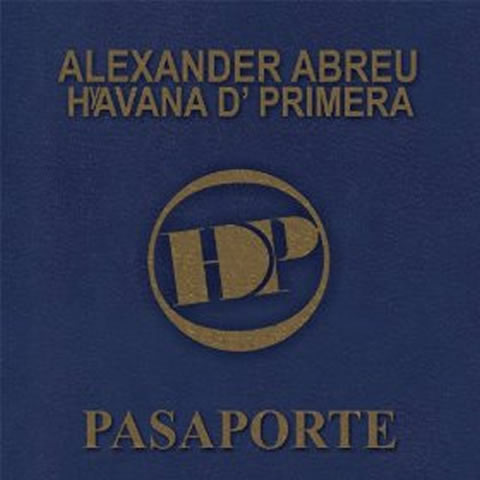 In a different reality, you would already own this, because it is, quite simply, the album for Timba purists (no fusion, no alternate styles). We had been waiting to review it because there had been a series of delays in the process of releasing this for on-line sales in many countries including the United States. A fortunate few may be in possession of the original 11-track CD version of the recording which was sold at a few concerts when it was first released. A "semi-final" version with eight tracks was released to Amazon.com, and the final Colibri version now contains ten tracks.
This recording is important for three reasons:
1. It includes some truly fresh material that has been produced during a period when so many Timba bands have been coming out with "retrospectives" or rearranging older songs.
2. It is unapologetically a hard-hitting Timba album. There is no fusion here, no attempts to reach other demographics. The bass is funky, the brass section is on fire with a lot of call and response work, and we can't find any weak links in this ensemble. And it comes at a time when most Timba groups are stuggling with the question of whether to add "crossover" material to their recordings.Pasaporte answers that question with a firm "Hell, no".
3. In addition to the fantastic music, there are some beautiful lyrics (the lyrics to one of the songs,Carita de Pasaporte, have been transcribed here.). We should add that this song, which is also floating about the Internet in video form, is probably the most laid-back song in the album. Much of it, from the first track Pa' mi gente, is explosive.
At this moment, Pasaporte has been properly nominated in the category "Popular Dance Music" in Cubadisco 2013. Musically, it would have deserved consideration for a Latin GRAMMY as well, but it is difficult to say how its complicated journey through the marketplace might have affected its chances for consideration.
Tracks:
1. Pa' mi gente
2. Plato de segunda mesa
3. Carita de pasaporte
4. Se te olvidó quien soy
5. Al final de la vida
6. La celosa
7. Amor a la roca
8. El que sabe está callao
The following tracks may be out there somewhere on the original CD version that is no longer for sale:
1. La figura
2. Donde estemos tú y yo
3. Verdades que hablan
May 19, 2013 Update: Pasaporte has just won the "Popular Dance Music" category in Cubadisco 2013! The version that won the award is the 10 track version released by the Colibri label:
Tracks:
1. Pa' mi gente
2. Plato de segunda mesa
3. Al final de la vida
4. Carita de pasaporte
5. Se te olvidó quien soy
6. El Paso de la bailarina
7. La celosa
8. Donde estemos tú y yo (feat. Issac Delgado)
9. Amor a la roca
10. El que sabe está callao
Personnel for Pasaporte
Role / Instrument
Name
Leader, Lead Vocal, Trumpet and Flugelhorn
Alexander Abreu Manresa
Trombon and bass trombone
Amaury Pérez Rodriguez
Conga, bongo and miscellaneous percussion
Guillermo del Toro Varela
Timbal and drums
Rodney Yllarza Barretto
Electric and baby bass
Yandy Martínez González
Piano
Bernardo Antonio Rodríguez Menéndez
Keyboards
Harold Díaz Escobar
Guitar
Bruno Rogelio Nápoles Collazo
Guiro
Yaser Mejias Kindelan
Maracas
Janier Rodríguez Millán
Coros
Amaury Pérez Rodríguez,
Enrique Luis Pérez Prieto
Jannier Rodríguez Millán
| | |
| --- | --- |
| Vocal, Dónde estemos tú y yo | Issac Delgado |
Kevin Moore - Thursday, 05 September 2013, 05:55 PM