SpanishEnglishLlegó La Verdad - (EGREM) Released September 2014
CD Review: Llegó La Verdad by Emilio Frías "El Niño" y La Verdad
(EGREM 2014)
Review by Michelle White (all rights reserved)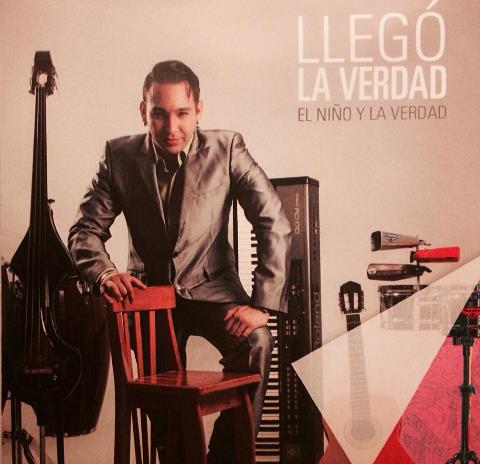 Winner of the Cubadisco 2015 Award for Best Popular Dance Album by a New Group, "Llegó La Verdad" is quite simply one of the best albums of 2014 and a powerful debut for Havana's most closely watched new band since its formation in 2013. With the exception of their excellent cover of the bolero "Verdad amarga", the arrangements are all by pianist Wilfredo Naranjo "Pachy Jr." and guitarist Dayron Ortega. In this age where orchestras seem to feel that staying up-to-date with youth culture means fusions with reggaeton, it is refreshing to see an orchestra producing and album of truly Cuban music. Although on the cover nearly all of the songs are labeled son, they are what we here at timba.com call "timba".
Five of the ten songs were previously released to DJs as demos following the formation of the band and are already well-known to fans: "La verdad", "Ese soy yo", La mata" feat. El Micha, "Seguir viviendo" and the huge international hit "Dime cuanto". I have a strong personal prejudice in favor of the first version that I hear of a song, but Emilio and Pachy have succeeded in adding tasty little details and cleaning up some of the rough edges, but without falling into the trap of over-producing. I was not surprised to see the album nominated in Cubadisco 2015 for Best Recording. The new versions are quite simply better than the demos. The only song that has significantly changed is the mozambique "La mata", which originally featured El Micha on the rap. The album version has Emilio doing the rap himself.
Although there is no reggeaton fusion, the one song that they have listed as timba is the hard-hitting "Piénsalo" featuring El Yonki on rap. But the arrangement is timba con rap with El Yonki fitting into the sello of La Verdad rather than being a timbatón.
I have already mentioned the classic bolero "Verdad amarga", which demonstrates the range of the band and of El Niños vocals with a beautiful laud solo by guest artist Barbarito Torres. There is also a sweet timba romantica - "Seguir viviendo" - with Manolito Simonet on piano. If you are looking for a song to introduce you salsa friends to timba, this is a good choice.
"Loco pero te amo" is the current single from the album and has been a huge success as was "Dime cuanto", and "Yo sí camina La Habana" is set to also take the dancefloors by storm. In short "Llegó la Verdad" has proved the ability of Emilio Frias "El Niño" y La Verdad to deliver hit after hit and solidified their position as one of the top young bands in Havana. It is a truly all killer no filler album and a must for DJs.
tr
title
genre
composer
arranger
1
La verdad
son
Jorge Díaz
Wifredo Naranjo
Dayron Ortega
2
Ese soy yo
son
Emilio Frías


Wifredo Naranjo
Dayron Ortega
3
Dime cuanto
son
Emilio Frias
Arían Chacón
Wifredo Naranjo
Dayron Ortega
4
Mi música
son
Emilio Frías
Arían Chacón
Wifredo Naranjo
Dayron Ortega
5
Seguir viviendo
salsa
Sergio Farrés
Manolito Simonet
6
Loco pero te amo
son
Emilio Frías
Wifredo Naranjo
Dayron Ortega
7
La mata
mozambique
Emilio Frías
Arían Chacón
Wifredo Naranjo
Dayron Ortega
9
Verdad amarga
bolero
Consuelo Velázquez
Emilio Vega
8
Piénsalo (feat. El Yonki)
timba
Emilio Frías
Arían Chacón
Wifredo Naranjo
Dayron Ortega
10
Yo sí camino La Habana
son
Emilio Frías
Wifredo Naranjo
Dayron Ortega
Role - Instrument
Name
La Verdad
An original idea by
Wilfredo Naranjo "Pachy Jr."
Emilio Frías "El Niño"
Producers
Wilfredo Naranjo "Pachy Jr."
Dayron Ortega Guzmán
Musical Director
Wilfredo Naranjo "Pachy Jr."
Lead vocals
Emilio Frías "El Niño"
Piano
Wilfredo Naranjo "Pachy Jr."
Acoustic guitar
Dayron Ortega Guzmán
Coros
Dayron Ortega Guzmán
Pascual Matos Aguirre "El Sinsonte"
Roberto Morales Hernández
Bass
Roberto Vázquez Ley "El Chino"
Timbal, Congas, Maracas & Bongo on 8
Keisel Jiménez Leyva
Bongo
Joaquín Bergamino Román
Güiro
Denis Izquierdo Bueno
Keyboard on 1 & 3
David Labrada Moré
Trumpets
Eddy de Armas Camejo
Samuel Fernández Artiles
Reinier Gustavo Bonachea
José Julián Aceituno (en 1 & 3)
Trombones
Lisbel Acosta Abreu
Leiser Tito Quesada
Adrián Argota (en 1 & 3)
Guests
Yusef Díaz Escobar - teclados en 2,4,5,6,7,9,10
Manolito Simonet - Piano en 5
Emilio Vega de la Nuez - Piano en 8
El Yonki - voz en 9
Barbarito Torres - Laud en 8
Recorded by
Eduardob Pérez Gonzáles
Josdán Coimbra Acosta
en EGREM studio 18 La Habana, Cuba
Mixed by
Orestes Águila Cruz
en estudios SOUNID
Mastered by
Orestes Águila Cruz
Wilfredo Naranjo "Pachy Jr."
Dayron Ortega Guzmán
en estudios SOUNID
CD Design & Photography
iMages 7.1
Mixing assistant
Milena Lavastida Castro
Michelle White - Saturday, 25 February 2017, 02:07 PM