SpanishEnglishRuy López-Nussa presenta La Academia -(Colibrí) 2015
CD Review: Ruy López-Nussa presenta La Academia (Colibrí 2015)
Reviewer: Bill Tilford, all rights reserved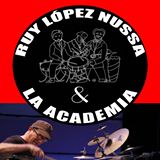 I had delayed sharing a review of this genuinely astounding project because I had hoped to be able to publish something at a time when people outside of Cuba would have at least a reasonable chance of obtaining this recording. A demo version of this recording had been available since 2012, but it had not yet been released in the marketplace until recently, Now that it is a nominee in Cubadisco 2015 (Jazz Cubano) it is time to say something about it. La Academia is, musically speaking, one of the most wonderful projects since Grupo Afrocuba, and indeed, the best way to understand the music of this group without hearing it with your own ears would be to consider Grupo Afrocuba and then imagine that the music has moved a couple of steps forward.


This video explains a little about the genesis of the project. Briefly, Ritmos de Cuba, and insructional book with a focus on percussion written by Ruy López-Nussa, was published in 2004, after which a group of some of Cuba's best musicans was assembled (La Academia) to perform instructional concerts and presentations for young people. This activity was very successful, and in 2009, a recording was made with the Jamaican percussionist Everton "Pablo"Paul, Remembrance, which fused the music of Bob Marley with Cuban music. (That recording will be reviewed separately). In 2012, Ruy López-Nussa presenta La Academía (this recording) was made.
The Opening is a quick teaser for the much long MiMi, which comes later in the recording. Camandele, Obbatalá, Ruituy and Enlloró are great examples of the type of powerful Afro Cuban 6/8 + Jazz Fusion that Grupo Afrocuba did so well at its height, Ruituy is especially powerful, with batá drums, a funky electric bass and atmospheric brass and keyboards all conversing with one another. Los Caminos del Condor is NOT a cover of El Condor Pasa, but it does use an Andean motif for the basic melody, and the brass voicings are as clean as what you would expect from a classical brass ensemble. Could You Be Loved is a very Afrocuban rendition of the Bob Marley song; it's in 4/4, but bata drums figure prominently in the rhythm section. El Bodeguero and El Cumbanchero are mostly faithful but very advanced covers, the way that you would have expected them to be performed if Grupo Afrocuba or Irakere had done them. El Carbonero, on the other hand, deconstructs the original, using it as the foundation for a series of musical surprises. MiVi reminds me a little of Emiliano Salvador's work; it is an excellent descarga. There are two bonus tracks. Nostalgia is a dance track that is very well done but also stands apart from the remainder of the recording. It does demonstate that La Academia could be a formidable dance band if it wanted to. The final track, Sandunga, is a smoking mix of Rumba, Timba and Jazz.
The arrangements and orchestrations are superb. One thing that I truly love about this recording it that it it gives the trumpets and saxophone plenty of room to breathe so that you can hear their tones fully and distinctly rather than overorchestrate them. I wish that more Fusion groups would follow the example of this recording. There is a place for electronic keyboards (which appear here too), but that place is not replicating all of the melody in parallel with the brass all of the time.

When Ruy López-Nussa presenta La Academia is released more widely, it will attract the attention of many serious listeners. I hope that it happens soon, because this has already been a best-kept secret for too long.
July 2015: This was nominated for a Cubadisco in the Cuban Jazz category. You can listen to fragments of a conversation in Spanish that I had in Havana with Ruy in May here.
Songs:
1. Opening ( Composer: Ruy-Lopez-Nussa)
2. Camandele (Composer: Roberto García Lopez)
3. Obbatalá (Composer: Orlando Sanchez "Cubajazz")
4. Ruituy (Composer: Ruy Lopez-Nusaa)
5. Emiloró (Composer: José Carlos Acosta)
6. Los Caminos del Condor (Composer: Roberto García Lopez)
7. Could You Be Loved (Composser: Bob Marley)
8. El Bodeguero (Composer: Richard Egues)
9. El Cumbanchero (Composer: Rafael Hernandez Marin)
10.El Carbonero (Composer: Iván Fernández)
11.MiVi (Composer: Ruy López-Nussa)
Bonus Tracks
12. Nostalgia (Composer: Juan Carlos Rubine, Enrique Domingo)
13.Sandunga (Composer: Alleni Abreu)
Musicans from La Academia who recorded in the CD
Ruy López-Nussa presenta La Academia
Role - Instrument
Name
General Director, Drums
Ruy Francisco López-Nussa Lekszycki
Trumpet, Musical Director
and Arranger
Roberto García López
Piano
Jorge Luis Pacheco Campos
Bass
Luis Antonio Izquerdo Clua
Saxophone
Ivan Ivanovich González G.
Trumpet
Mayquel Gonzalez (CD)
Percussion
Octavio Rodríguez Rivera "El Capitán", Otto Santana Selís
Vocal
Alieni Abreu López
Musical Production
Ernan López-Nussa Lekszycki
Musical Direction
Roberto García López
Recording and Mix
Alfonso Peña
Mastering
Alfonso Peña, Delio Ferrero
Studios
Abdala/Scorpio (2012)
Bill Tilford - Monday, 27 July 2015, 10:55 PM