Lo Nuevo
[hide]
Fotos Del Día
[hide]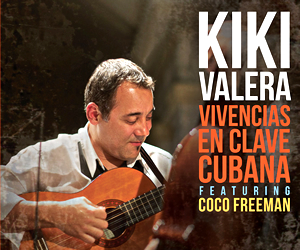 Reseña de CD: Tradition and Beyond por Ernesto Vega (Blackwood and Sound 2019)
Reseña por Bill Tilford, todos los derechos reservados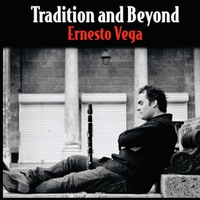 Aunque el virtuoso del clarinete y compositor Ernesto Vega actualmente enseña en Houston, ha mantenido sus conexiones de trabajo en Cuba, y su nueva grabación Tradition and Beyond fue grabada en La Habana con algunas de las mejores jovenes estrellas de jazz de Cuba (Harold López-Nussa, Gaston Joya y Ruy-Adrian López-Nussa con apariciones especiales de Alejandro Falcón y Edgar Martínez). Todos son ganadores de ediciónes diferentes de JoJazz, el concurso nacional para jovenes jazzistas en Cuba. También incluye notas discográficas excelentes por Arturo O'Farrill, con quien Ernesto ha tocado y grabado.

El concepto general del álbum es un homenaje a varios músicos que Ernesto escuchaba en su infancia y juventud, pero con composiciones originales. Es un excelente ejemplo del lado cool del jazz cubano, sentido, lírico, intrincado sin ser esotérico. Aunque los excelentes pasajes de clarinete de Ernesto son la pieza central del álbum, les da a Harold, Gaston y Alejandro mucho espacio para expresarse, y sus experiencias previas tocando y grabando juntos brilla en la grabación.

Tradition and Beyond está disponible en las tiendas digitales como CD Baby, Amazon.com, Apple Music and Spotify y YouTube entre otras.
Aquí está un track del álbum, Guajira Joropo, desde YouTube :
Acople (todos las composiciones por Ernesto Vega
1. Camino Al Prado
2. Guajira Joropo
3. My Good Friend
4. One For Emiliano
5. Regálame un Danzón
6. My Cuban Soul
7. Un Bolero Con Sentimiento
8. Quierido New Orleans
9. Sonsito Pa' Gozá
Lista para Tradition and Beyond
| Rol - Instrumento | Nombre |
| --- | --- |
| Líder, Clarinete, Melódica (1) | Ernesto Vega |
| Piano (menos 5) | Harold López-Nussa |
| Piano (5) | Alejandro Falcón |
| Bajo | Gaston Joya |
| Batería | Ruy-Adrián López-Nussa |
| Congas 4, 6 | Edgar Martínez |
| Productor | Ernesto Vega |
| Grabación | Giraldo García |
| Estudio de Grabación | PM Records, la Habana, Cuba |
| Mezcla y Masterización | Andrew Bradley, James Kelley |
| Fotos | Roberto Ruiz Espinosa |
| Diseño Gráfico | Bisondisc.com |
Bill Tilford - domingo, 29 septiembre 2019, 02:09 pm