Lo Nuevo
[hide]
Fotos Del Día
[hide]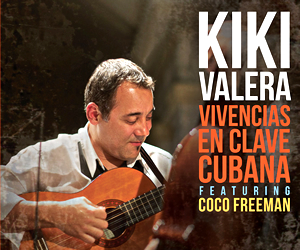 Authentic Cuban Music & Dance Videos
Cuban Salsa-Casino
how is it different and unique
by Boogalu Productions

Here is some ideas and concepts about what characterizes casino (what Cuban's call salsa) from other salsa styles. The idea is to provide some pointers for people wanting more information on this form and to suggest that casino is not just a cool style of dance moves, but an expression of a living tradition that is intimately related to the music, culture, and history of Cuba.

This list is not meant to be definitive, but a work in progress, and will be revised as we get input from the dance community.

Technique & Style
1) Posture - casineros dance with bent knees and slightly bend forward, not to erect. This is the basic position, ready for action. Football players and all sports people know this one.

2) In casino, couples dance very close together when they are in ballroom position in contrast to other salsa styles.

3) The basic step or holding pattern for couples is the guapea (the together and apart step), not the forward and back step, sometimes called the mambo step.

4) Because casineros dance with smaller steps, bent knees, and lower to the ground, they naturally generate good hip movement... that distinctive Cuban motion. They also are not shy in moving their bodies, shoulders, legs and feet from side to side and diagonal... a very Afro styling.

5) The direction of movement when couples are doing turns tends to be in a circle, not linear or in a slot.

6) A series of turns will often begin and end with a cross body lead known as "dile que no".

7) The general body movement in casino is often characterized by fluid combinations of turns between couples using a lot of arm work, with a minimum of spins or shines (foot or hand gestures).

8) Foot tapping during the dance pauses (step, step, step, pause/tap) is typical in casino dancing but a dancer may tap for some moves and not for others. Also when one dances faster, as in a lot of modern timba music, you don?t have time to tap.

Music & Culture Tie-Ins
9) In modern casino dancing, couples often break apart for a time to groove on their own when the music goes into a heavy percussion and bass breakdown riff. This is know as "despelote" (gyrating hips and arms) or "trembleque" (whole body trembling). This trend has connections with apart dancing typical in African dance, Afro-Cuban ceremonial dances, and American rock and roll. These forms are all related.

10) There is a tendency in casino dancing in Cuba for men taking the "star" role or showing off themselves instead of showing off the woman.

11) Cubans not only dance casino in male/female partners, but have forms that are communal such as:
• rueda de casino: several couples dancing in a circle with a leader calling the moves
• trios and cuartetos de casino: one man dancing with two or three woman
• casino suelta: many people line dancing with a leader calling the moves.

12) Casino dancing has moves and style influenced by the folkloric tradition in Cuba like rumba and orisha dance, as well as from other popular dances such as the son and mambo. For example, shoulder shaking and stylized footwork is very typical in casino as well as rumba.

13) Casineros in Cuba tend to listen to the music or their partner for ideas or inspiration about movement. They tend not to execute moves just because they know all kinds of great moves.

14) Turns and combinations of turns are usually identified by colorful Spanish names that characterize or describe the movement, for example: the call "setenta or 70" refers to a period in Cuba in the 1970's when casino dancing first started and when many of the moves were invented. Another fun name is the crotch to crotch move called "yogur" meaning yogurt... that implies its yummy good.

15) Casineros as well as Cuban musicians tend to listen to the "clave" (the 5 note repeated key rhythmic pattern) in the music, to orient themselves to the rhythm and timing.

16) Cuban dancers don't conceive of dancing or breaking on "1" or on "2". They use the terms - dancing "a tiempo" or "contra tiempo" (with time or against time) or dancing with "the melody" or with "the clave". Faster timba music is usually danced "a tiempo". Slower music like son is danced "contra tiempo". Dancers orient themselves to the "clave" in the music, or to specific instruments that play the "tumbao" (repeated rhythmic pattern accenting beats 2+ and 4) such as the bass or conga.

17) Cubans tend not to use a generic term like "salsa" to identify their popular dance or music. They distinguish between their dances as they invented many of them including: danzon, son, changui, mambo, cha cha cha, pilon, mozambique, conga, and casino. Many Cubans say that casino dance or timba music is just the modern style of Cuban son.

Feel free to contact Boogalu with any feedback you may have on this article.

For a fuller understanding of the music of modern casino dancing read this groundbreaking article by Kevin Moore of Timba.com "Reelin' in the Gears"
domingo, 12 junio 2011, 05:25 am