New Stuff
[hide]
Photos of the Day
[hide]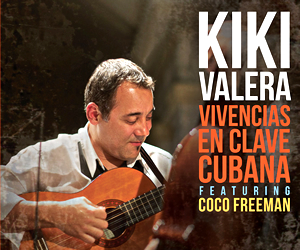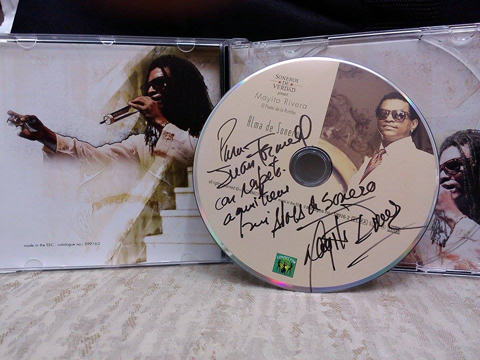 "Para Juan Formell con respeto aquí tienes mi Alma de sonero" - Mayito Rivera
Without any doubt, the sad passing of Juan Formell has been a hard blow to the circle of popular music in Cuba and the rest of the world. His absence not only causes great pain to those of us who both loved and admired him, but also in my opinion his passing away could bring changes and possible negative consequences for the structure and future development of the musical and creative discourse of the dance genre in Cuba. The passing of a great musician, as was Juan Formell, will be lamentable, sad, but it will also be a determining factor that will mark substantial differences, given the very authority that his presence commanded as the thinking mind and bold leadership, the unmatched creative talent, the guide, the genius and intelligence, his experience, the art and craft that he possessed, and finally, all his expertise - not only at the service of his Van Van - rather also his influence transcended boundaries and influenced all the orchestras of Cuba, both instrumentalists and composers.
His oeuvre is the proof of his ability, demonstrated through many years in the first echelon - hit after hit - he succeeded in becoming a symbol. He became something like director of all the orchestras all at once - it's a beautiful term to summarize - the great director of all dance orchestras. Because it is the truth without exaggeration, today and always his work has been an obligatory reference for all musicians who cultivate the genre. Thus he became indispensable and universal through a very, very personal idea and concept, a different sound and cadence. He achieved his own sound and hallmark, quality transcends, and even his formula for playing the bass is being analyzed - a subject that could easily be taken on as a worthy topic for a thesis in any university in the world. Many of his compositions have already become classics, and classical means forever. The great director of all orchestras - thus we can properly name him.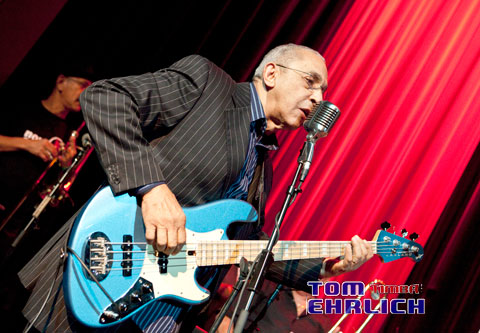 Juan Formell by Tom Ehrlich @Yoshi's San Francisco December 2010
I reaffirm and say that all of this was a product of his individuality, poetry his own brilliance, his musical discourse, his own sonic universe, results of a unique talent that is hard to match, let alone surpass. In any case, today's mission will be to maintain that legacy, that sound and all the grandeur of his extensive and well-accomplished musical opus. Thus I think his absence will accentuate large and serious differences of all kinds, which could dramatically change the destiny and direction of the already turbulent and troubled Cuban musical / creative scene of recent times, which in my judgement frankly has left doubts about the musical level and concept of originality in the creative results of many of its current protagonists.
If we analyze and establish a comparison with previous times, we would arrive at a good understanding. Just for this, let's do a comparative exercise. For example, imagine doing critical auditions and real, serious analysis: track vs. track, song vs. song, those of the past vs. the present. We would easily realize what I am trying to say; in this striking and fraternal competition unequivocally the victory would would go to the previous age, which is the same as saying, the winner would be the epoc when mastery and the musical and cultural level of the creators ruled. It was a panorama full of serious artists with a commitment to culture and filled with outstanding names; true artists that made history and brought honor and value to our genre and our culture in general.
I firmly believe that all past eras were better than today. Undoubtedly, the proof is that, thanks to the musicians and artists of all the above phases, it was not for nothing that the music of that time opened the road and gave us the prestige, fame and respect that we have today - proven and earned with honors verus any other world music. That music was full of values ​​and originality - everything sounded great and was different.
I am referring to almost all dance music since this all began - the task for scholars of the subject - just from the 70s to the 90s, the epoch that I witnessed because I lived it. There are countless groups and titles that were successful examples of good taste and popularity. There were also many other great composers who excelled at the same time, but Juan Formell was a leader in this, a guide and an example to follow, one of the most notable and prolific supporters with tremendous results.
He was able to recover the appeal and taste for dance music back in the 70s when he created the orchestra Los Van Van. But I think he must have started to write and prepare music from the sixties, when all was confusion, when everything was chewing gum and rock and roll - a very difficult period in Cuba. He did it with determination, courage, intelligence and masterful simplicity. Formell managed to reflect the experience of a people and represent them in his lyrics by returning our soul to our body. A quintessential chronicler, he took the idea of ​​the best exponents of traditional son, the so-called kings of double meaning - a faithful fan and admirer of Nico Faustino and Oramas Saquito the Guayabera. He revived and renewed the idea of double entendre and the Cuban picaresque but making us dance casino. He knew it, that was his obsession and his mission in life. The dancers themselves became his purest source of inspiration, and everything he did ​​was from and for them with style and elegance, intelligence and distinction, refined, with simplicity and a different swing giving us his personality and his very mind, his passion, his level of commitment, his unique style and his undeniable talent based on the joy of a people who at that time knew how to enjoy good lyrics, could dance well, could smile while dancing and could even fall in love to a song by Juan Formell.
These are bounties of heaven; gifts and attributes given by the great supreme power that lights you from the time you are born. They develop and improve with the experience of time, but you are born with them. Formell was touched by the grace of a powerful being who gave him a mission. This, in turn, he achieved, hence he is so great.
In the face of his passing away, the words mastery and commitment are mixed today as a challenge. To maintain the style, the sound and to remain an example of musical and popular creation will be an arduous task. It takes a lot of talent to write lyrics and do it with good taste, while writing the orchestration that results in a montuno with a stunning tumbao and the intelligent grace of a catchy refrain that summarizes the audacity of the message and leaves us with a moral of the story. That's the dilemma - the playfulness of a good song sprung from your own imagination ... Original. That's Juan Formell - a philosophy of life, a creator who breaks the schemes and who dares - always authentic, original without copy.
In contrast, how many bands are there today that with impunity and brazenness, with great disrespect and no ethics use that which was created with original love. They are low level "composers" and musicians who mercilessly steal the codes of other artists, then transform them, disguise them and believe that they are victors, deceiving the world. They are like computers - they cut and paste songs, hiding their weaknesses and their scarce talent. They even steal the authorship and loot the wonderful works. They plunder the treasure that has been the formula Juan Formell and Los Van Van and try to appropriate the victories. They will never succeed because we all know they are false. They are low quality copycats who for their acts of musical vandalism will never be respected by history.
For Juan Formell lyrics, music and orchestration with good taste and quality were priorities, essential tools and very difficult to combine in a song, to score a hit or a popular success. It is a question of skill and responsibility in addition to individual commitment to excellence in every creator and real artist who every day of his life tastes and samples a thousand ideas running through his mind like a herd, challenging the muses of his imagination.
Today, the orchestra Los Van Van itself is facing a great trial and a huge challenge. It will be the responsibility of all members, among whom I include myself in humility because I also feel part of this history, today and forever - to defend his work to the hilt. It will be the best way to honor him, for Juan Van Van will not die and remains a musical example for the generations of today and tomorrow. I have no doubt that we will work to achieve it. I assure you that the teacher taught us and provided many lessons. I hope we learned them well now that it is up to us.
Faced with the reality of his death, the mystery presents itself - to choose the right path and the course that popular dance music in Cuba will take from today, since the leadership achieved by Formell and Los Van Van has already been established and well-earned through many years of dedication, accustomed to success and confidence in his creative ideas. Hence the importance of his disappearance, a living musical work, full of colors and shades, of whose content and value I was always aware since my membership of almost 20 years.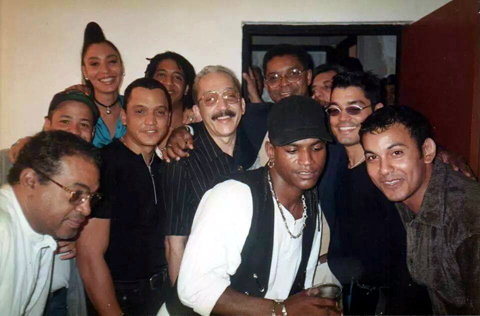 With Los Van Van - Buenos Aires 2001
Memories of Formell
I was called by Juan Formell himself to become part of Van Van from March 1993 - October 10, 2011 - a very intense and fruitful career of which I feel very proud. Juan was a beacon and guide - a natural leader who comanded absolute respect from everyone and always had the last word. A good father and a good son, I only saw him cry once 1993-94 when his mother, Maria Cortina, died for whom I believe he professed a great love the same as for his father who was his first teacher. That memory, of having seen him cry, makes me realize his sensitivity in the face of what is important, demonstrating the love he carried in his heart. Likewise he was a very gentle person and a very sweet man to anyone who managed to reach him.
I have many stories, but one in particular left me impressed and proud. It was at a time when I was called to a rehearsal in the house of the great Maestro Chucho Valdés. We met there to organize a an Irakere concert, in which I had the honor to participate. Of course it is always an honor to visit the home of someone so important and prestigious. Chucho had been one of the most important pianists in the world for some time, and an odd thing really caught my attention and curiosity. In the same room where Chucho had his piano were two great posters covering the wall. They were the pictures of two stars. One was the great boxer Muhammad Ali and the other poster - side by side - was none other than Juan Formell. I was so impressed by that gesture that I couldn't help asking Chucho Valdés the significance of having those two celebrities in his private room where he keeps and studies his piano. The response was moving and instructive. I was filled with pride to hear the voice and opinion of Chucho Valdes when he said, "Mayito, those pictures are there because they are my two idols" - Mohamed Ali and our Juan Formell . That's just extraordinary, so I share it with you.
Years later I was not surprised and rather I cried with emotion during the presentation of the title Hororis Causa conferred upon Maestro Juan Formell in an emotional ceremony at Amadeo Roldan theater where again and to everyone's surprise the enormous figure of Maestro Chucho Valdes appeared, who placed the diploma in his hands and gifted him with the performance of a piano solo version of "La Candela" - a song written by Juan Formell and that according to Chucho Valdés is a masterpiece. There we were all together, excited and proud of our director - the director of all the orchestras - Juan Formell.
Connoisseur of music, teller of jokes and stories full of joy and excitement, we never ceased to laugh recalling his anecdotes. The form and style in which he told them was unique. An all-around artist, you could lose your breath, dying of laughter at his jokes. Nobody surpassed him, a kind of storyteller who stamped every story with his taste and creativity, with skill, daring and as fast as a beam of light. It was inevitable to be silent and listen to him. He left nothing for anyone ... he swept the board. His creative level and the experiences accumulated during his life could fill a book. Juan Van Van would be a good title for that book one day.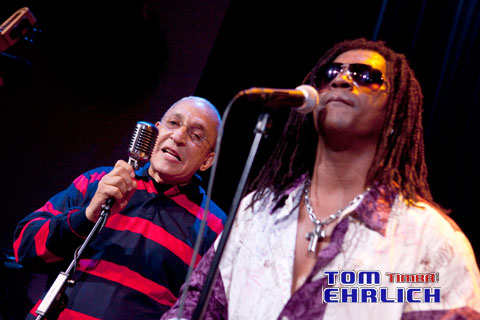 Photo by Tom Ehrlich Yoshi's San Francisco December 2010
I believe that I knew him very well. I enjoyed a very professional relationship and a full, serious and spontaneous communication with him. But more importantly, I could always take away something valuable from Juan; a lesson, an apprenticeship. I am honored to have attained this mutual respect, and I have no doubt that he esteemed me in a special way.
He enjoyed writing songs for me to interpret. Without boasting and with all humility, I believe I was his most frequent singer. And to say it in good Cuban - he always gave me the ball in the moments when la jugada estaba apreta' and el mambo estaba duro [i.e.when the going got tough]... when one had to sing, Mayito sang. Among my memories I take such pride because professionally think I earned his respect. I put my heart into every performance, but with Juan you had to sing and eat up the whole stage. Today the greatest accolade would have been the voice of his soul...there is no better gift in the face of the passion and responsibility of art. It is truly a great honor.
Today I have to say...
for all that
...thank you Formell...
He liked the creativity and improvement of all of his musicians. He gave me help and support at every opportunity. I had the good fortune of watching with admiration the musical importance of his components in those years. It was simply a great honor to have been selected for Juan Formell's orchestra...an orchestra that at taht time celebrated its 24th anniversary, so how could I resist being part of this event? In addition, it had already become a living legend of Cuban culture - this detail, which only Juan Formell achieved, writing good songs sprung from his imagination and heart with no help from anyone or anything, authentically natural and original, with creative ability that God gave him and that he was able to share with us - the Cubans - and the world.
Formell told me many times that to compose for Cubans and to make Cubans dance is very difficult and complicated, because it is not just that if you write a good song, you will have a hit. It is something deeper. The demands of the dancer are greater, and so you have to live for them. A task for giants, he said that making the Cuban happy is the most difficult challenge for any composer in the world of popular music.
My relationship with Juan Formell was one of great professional and personal respect. I felt his support from the beginning. I came from the world of the nueva trova, and I was in the 5th year of the ISA, about to graduate, combining my career with studies. I was a very restless and dynamic young man always willing to interpret his ideas. I identified easily with Formell. We talked about music and he felt very motivated in the creative process. On each album he wrote three or four songs for me. I took on the music of Van Van as a challenge. From the beginning I knew the importance they wielded. And let's not forget the honor it meant to be part of such a prestigious group alongside singers such as Pedro Calvo, Angel Bonne and musicinas of the caliber of Cesar "Pupy" Pedroso, Samuel Formell and the school of Changuito - our teacher and guide in Cuban percussion.
Being at Formell's side was a great honor and a constant learning experience that still thrills me today. His absence is sad knowing that so much still remains to be done. I wish that he could have seen me with my new project, my new band and I would have liked to sing for him again, but was not meant to be.
My Departure from Van Van
My departure took place on October 10, 2011. For some time past, I felt a desire to do other things, to sing a little more freely, looking for different options for development and I was offered many opportunities and occasional contracts to work abroad, etc. Gradually it became a problem. In other words I could not do both.
Honestly Formell me gave me every opportunity I asked for. He always gave me a chance and allowed me to travel outside Van Van. But there came a time when I could not take on both. I honestly believe Formell gave me many opportunities, perhaps I took advantage of it a bit, my requests and the permissions for furloughs were becoming more frequent. He was kind to me above all, I traveled and sang in several countries outside Van Van. He always signed my letter of permission; the essential authorizing document to start any procedures. But I also know that they were not privileges given away for no reason and without cause. I knew how to earn that trust and those opportunities that he approved and that I never stopped asking for. He knew they were not privileges. It was his way of pleasing the ever-growing musical interests of any musician - a real nonconformist artist. I worked with determination and I wanted to open up new horizons. The only problem was the uncertainty and my ability to resist the longing to take another path.
Honestly this situation had to have a negative impact on the other members of the orchestra to the point that in my absence they all agreed to replace me. No one came to my defense. Evidently they didn't understand, they didn't find reasons to justify my art and desire. The Maestro didn't have any choice. I bravely made the decision, and I absolutely hold no grudge. The only sad thing was thatthey didn't give me the chance to say goodbye face to face and to explain that if singing and looking for another path is something bad, I would have liked to apologize and say goodbye to just the same but with a hug. And I didn't have that opportunity. Knowing that there as been much speculation about my departure from Van Van, I have no choice but to tell the truth.
You throw out is the garbage...
Draw your own conclusions.
My Reunion with Juan Formell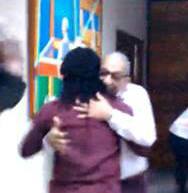 It was last December 12, 2013 during the decoration ceremony. I was part of a group of artists who were given significant recognition.

There it was that I reunited with Juan Formell whom I had not seen since October 2011. That's where we met again and in the purest and most spontaneous way, as if nothing had happened, we hugged in an embrace, that more than a hug, was an important gesture for me; an act of human greatness that restored my faith in an instant and removed all my doubts. Moreover he invited me to sing and a few days later we celebrated the anniversary of Artex together at La Tropical.
My current career
For nearly three years I have had a contract with a record label and music company, Termidor Musikverlag in Germany and I belong to their KramerArtists catalog. I have the status of exclusive artist there, so my work is directed by them in Europe and the rest of the world.
Almost since my departure from Los Van Van, my work has been focused on the international level. I keep touring and am immersed in the most creative period of my career, developing my desire to do my own work now as both author and performer.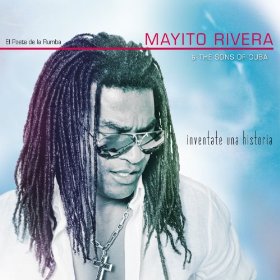 My 6th album just hit the market.

It is a CD entitled:
"Invéntate una historia"
Mayito Rivera
& The Sons of Cuba ...

I am very happy in my work and I have my own band, and as soon as possible I will be presenting my work to the Cuban public.

For more information:
mayitorivera.net/
and Facebook
Thank you all for the opportunity to publish these sincere words.
Yours:
Mayito Rivera
Saturday, 31 May 2014, 08:16 PM