Kevin Moore - 2005
Tuesday, December 27, 2005 - Fantastic Afrocuban Dance DVD - I just bought an amazing DVD - Dances of the Orisha - by the great dance master José Francisco Barroso (ex-Raices Profundas). It's almost 2 hours long and includes the three types of rumba and six of the most important batá rhythms. These two folkloric genres are perhaps the most important influences on timba rhythm section playing, timba lyrics, and timba dancing and after you study them for a while, you'll begin to hear timba in a completely new light. Each section of the DVD starts with an explanation (in English) and is then followed by a long performance of Barroso and others dancing to a world-class rhythm section featuring, among others, Sandy Pérez, formal principal percussionist of Afrocuba de Matanzas. For more info, or to order by email: obakoso@earthlink.net. (note: timba.com has no business relationship with this company - we're just big fans)
Monday, December 26, 2005 - Havana Report - Martin Karakas' TIMBA IN HAVANA section is updated "Two the Hard Way" a long article with all the latest on Tirso & Michel's collaborations, Pupy, Los Van Van, and much more.
Friday's Lozada Concert Cancelled - I guess I should have posted my pep talk last week! Lozada & Co. are still serious about the group, and determined to continue rehearsing "Cuban style" (that means they actually rehearse and work out all the incredible arrangement elements that we associate with great timba). Let's just hope the next concert comes on a full moon so the Miami Timba Graveyard can show a little life.
Seriously, there must be 20,000 transplanted Cubans in Miami who were in Havana in the 90's and know what real timba is like. Where are these people when a great concert is taking place? Wake up people!
New York & Boston Updates - Linda & Andy have checked in with updates. Click on the links directly to the left for TIMBA IN NEW YORK (upcoming concert with Carlos Manuel backed by Jimmy Bosch's band) and TIMBA IN BOSTON (Dance event at Ryles in January and other news).
The First of Two Lozada Gigs at La Bodeguita Martínez - ... was burning hot, according to multiple sources, and very tight, with an enthusiastic Dany Lozada in top form, but not enough people showed up. If you can, make sure to check out the next show -- THIS FRIDAY - Dec. 30th -- at the same venue -- and please send us your reactions! Miami is finally presenting a real timba band -- not just the usual couple of karaoke singers with a drum machine -- so PLEASE GET OUT THERE AND SUPPORT IT!!!! If you want to hear real timba in Miami, you have to do your part and attend every show until the scene gets rolling. Otherwise it will be back to the same old "timba graveyard".
La Bodeguita Martínez
833 SW 29 AVE, Miami
305-649-9313
Thursday, December 22, 2005 - VIDEO of Dany Lozada in Rehearsal! - Two very brief video clips, but VERY exciting! Dany Lozada may be just what Miami needed -- a real timba singer, one of timba's best composers, and unlike Manolín, it looks like he's serious about being a strong bandleader. Click here for the new sections, from Juan Tomás García (EN ESPAÑOL TAMBIÉN). The Photos section is also remodeled and updated.
Saturday, December 16, 2005 - Manolín Tonight in Miami - El médico will be playing his new hits Tarea pa' la casa and Me falta La Habana as well as his usual timba repertoire.
La Bodeguita Martínez
833 SW 29 AVE, Miami
305-649-9313
Dany Lozada in Miami Sat. Dec. 24th & Fri. Dec. 30th - also at La Bodeguita Martínez
La Bodequita Martínez has become the new timba venue of choice for Miami. Lozada has promised a return to his timba dura style of the late 90's, with hits like Encima de la bola, Charanguéate, No estamos locos, Beso de queso, and Usa condón - complete with all the coros that were censored in Cuba after the fateful August 1997 "suspension concert" on the Malecón.
New En frecuencia - link to the left under BLOGS.
Friday, December 16, 2005 - El Tumbao Video - Thanks to Lara Greene for this video clip of Chaka's El Tumbao on Miami television, with Wickly Nogueras on congas.
Dany Lozada Timba Show in Miami late this month - Juan Tomás & Dany Lozada called today about an upcoming concert in Miami, which they assured me would be "timba dura". Stay tuned. Lozada is also planning a West Coast tour.
Tuesday, December 13, 2005 - Grammy Report - Duniel & Juan Tomás have the lastest on Mayito Rivera's Grammy nomination, Klímax's 10th Anniversary concert, and much more, in the latest edition of EN FRECUENCIA.
Calixto Oviedo US Tour! - Famed Danish timbalero Calixto Oviedo has secured visas for himself and his band and will be touring the US in 2006 -- details to follow.
No se acabó la maldición - Stay tuned this week.
Thursday, December 8, 2005 - Latin Grammy Nomination for Tiempo Libre - Este lado del puente has the scoop on Tiempo Libre's Grammy nomination.
Saturday, December 3, 2005 - Review of Manolín Concert - Jacira of salsapower.com has an excellent and detailed review of Wednesday's Manolín concert in Miami. The band included Los Pututi, Chaka, and his original bassist, the inimitable Victoriano Nápoles.
Audio Clip of new Robertón track - Check out salsa2salsa.com to hear this new solo release from Roberto Van Van.
Thursday, December 1, 2005 - Is Timba Dying? Or Coming Back to Life? - Check out Yemaya's Verse (under BLOGS, to your left) for a no-punches-pulled assessment of "The State of Timba".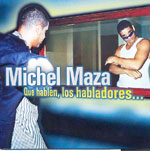 Wednesday, November 30, 2005 - New Michel Maza CD - Check out the freshly updated EN FRECUENCIA for the latest - en inglés y español - on Michel's second new album this year. Like the excellent Fieeesta!, it features Arnaldo Jiménez as musical director and bassist. Hopefully the legendary Sergio Noroña has stayed in the band on piano, and hopefully Michel will be able to perform with this band. The last we heard he had lost his "license" to perform as a bandleader and was singing with Revé.
Michel Maza has always been one of the very best timba singers, but his reckless lifestyle has resulted in him being a major under-achiever and failing to participate in projects of the caliber of his brilliant early work with David Calzado. This year, however, he finally appears to be taking himself and his massive talent seriously. One of the great virtues of even Maza's weaker work in the earlier 2000's is that he hasn't given in to the watered-down "lite timba", reguetón and other commercial tripe that have seduced many of the other former timberos. If Michel can maintain the repartero attitude of his music while keeping it from ruining his personal life, we can look forward to many decades of brilliant work.
Many of the pivotal figures in timba have relocated to Madrid, Miami and other places where the lifestyle is more comfortable but the possibilities for timba are dead, but there's still enough talent in Havana to put together a few great bands. What seems to be lacking is the economic and cultural motivation that was present in the 90's.
Tuesday, November 29, 2005 - Manolín in Miami Wednesday -
Bongo's Cuban Cafe
601 Biscayne Blvd.
Miami
Wednesday, Nov. 30
11:30 p.m.
para info o reservaciones 786-443-1240
havana_productions@yahoo.com
En frecuencia Updated - Click En frecuencia under BLOGS. Duniel & Juan Tomás have the latest on CD's from Manolito y su Trabuco, Paulito FG, and The Afro-Cuban All-Stars.
Calixto en la Yuma - It looks like Calixto Oviedo will be touring the US in early 2006 -- probably either solo or with a Latin Jazz group. He's likely to give percussion seminars at Berklee and elsewhere. More to come.
Saturday, November 26, 2005 - Calle Sol! - We have a large new gallery of photos from Calle Sol. Led by founding Azúcar Negra pianist/arranger Rei Ceballo, Calle Sol, whose home base is Poland, is one of the hottest expatriot timba bands. In fact, they play a more aggressive style of timba than many of the bands still in Havana. We'll have a lot of new information soon on Rei's classic work with Azúcar Negra in 1998.
Thursday, November 24, 2005 - Happy Thanksgiving - And how better to celebrate it than to spend a vicarious Saturday night in Havana with Martin Karakas and Issac Delgado!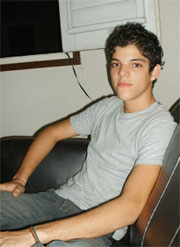 Sunday, November 13, 2005 - Pututi III !!! - Who'd have thunk it? Yet another brilliant percussionist from the Arce family. Thank god one of them stayed in Cuba, eh? Don't let his appearance fool you. He looks a lot older than Pututi II did when he was tearing it up with Manolín in the late 90's. Pututi III, Armando, is now playing drums with Paulito FG. Ivette has the latest on the other new additions to that group in her blog, The Ivette Report. There's also a Los Van Van concert report with fotos.
Speaking of Paulito FG: Michelle's Blog has all sorts of other news on his new album and European tour.
Boston & NY Updates - Click the links to the left for updates to Timba in Boston & Timba in New York.
Elain Tonight in Miami @ Nostalgia:
Elain
Sunday, November 13
Café Nostalgia -- 8:30 p.m.
34 Street between Collins Ave. and the Ocean
Miami Beach
305-531-8838
Saturday, November 12, 2005 - First Reactions to the New Charanga Habanera CD - Duniel & Juan Tomás have an advance copy of a new CH album which they say is the best since Tirso Duarte left, and a return to form after their (in my opinion) disasterous wrong turn down down the calle of reguetón and sappy "lite" ballads.
Juan Tomás promises to do a longer review for En frecuencia but here are his initial reactions from email:
All I can say about it is timba, timba and more timba. In my opinion this is their best CD since "Charanguero mayor". It's 10 times better than "Soy cubano soy popular". They got back that old "calle" feeling. They also included "Fanática mía" but it's great -- nothing like Boni & Kelly's version. Also, Aned's singing a lot of songs, and he has the best swing of all the singers.

The first song "El ciclón de la Habana" has a coro that says "cualquiera, me sirve cualquiera, pa' mi gozadera me sirve cualquiera, el que sea, porque yo soy tu charanga, hasta el día que tu quieras". Then it follows with another one that says "hay charanguero, hay charanguera, sin el ciclón de la Habanera que tú te hicieras".
Thursday, November 10, 2005 - New Timba in Miami Section - Lara Greene has added the TIMBA IN MIAMI section, Este Lado del Puente, now in the list of timba cities in the column to the left. The new addition is just in time to announce two concerts this weekend:
Tiempo Libre
Saturday, November 12
Radisson Hotel -- 11 p.m.
1601 Biscayne Boulevard, Miami
Elain
Sunday, November 13
Café Nostalgia -- 8:30 p.m.
34 Street between Collins Ave. and the Ocean
Miami Beach
305-531-8838
Major Update to En frecuencia (ahora en español también) - Duniel and Juan Tomás have a huge En frecuencia update. There are four Manolito audio clips including this exclusive preview of the hot new Manolito song, Comúnicate.
Also in En frecuencia is news on Manolín's new CD with Melón González and Joel Domínguez, audio and video from Soneros All Stars, featuring Samuel Formell, Papiosco, Oderquis Revé and many others, the latest on Boni & Kelly, Alain Daniel Pico, and much more.
Click the links on the left for updates to: Timba in Boston, Timba in New York, Michelle's Blog, several major European timba tours, Elain, Tiempo Libre, Jorge Gómez' page in the Musicians' Directory, La farándulera, and Yemaya's Verse.
Wednesday, November 9, 2005 - Sierra Maestra's Eulogy for José Antonio Rodríguez - Cubakultur, one of the organizers of the New World Latin Festival, sent us this eulogy by Sierra Maestra to Maceo. The English translation is by David Flower of SASA.
Elogio por Sierra Maestra para José Antonio Rodríguez - Cubakultur, uno de los organizadores del Festival Nuevo Mundo Latino, nos envió este elogio por Sierra Maestra a Maceo.
Tuesday, November 8, 2005 - José Antonio Rodríguez Has Passed Away - Yesterday, November 7, 2005, singer José Antonio of Sierra Maestra passed away. He suffered respiratory failure following a heart attack after a concert at the New World Latin Festival in Copenhagen, Denmark. The artists who performed with him at the festival as well as the fans are still in shock.
José Antonio was known throughout the world as one of the great voices of son, and in addition to Sierra Maestra, he participated in other projects such as the Grammy-nominated Afro-Cuban All Stars and most recently in the Soneros All Stars CD. The last time I saw him was after the Stockholm Jazz Festival 2003 when Sierra Maestra went to the Jazz Club Fasching for a post-concert jam session. The passing of José Antonio Rodríguez at only 55 years of age is a great loss to Cuban music and we will miss him. [Michelle White]
Falleció José Antonio Rodríguez - Ayer, 7 de noviembre de 2005, falleció el cantante de Sierra Maestra, más concido como Maceo. Sufrió un paro respiratorio, a lo que le sucedió un infarto, después de un concierto en El Festival Nuevo Mundo Latino en Copenhague, Dinamarca. Los artistas que tocaron con él en el festival y también los fans todavía están en un estado de shock.
José Antonio era conocido mundialmente como una de los grandes voces del son y además de Sierra Maestra, participó en otros proyectos como Afro Cuban All Stars (nominado al Grammy), Buena Vista Social Club y más recientemente en el disco de Soneros All Stars. La última vez que lo vi fue después del Festival de Jazz de Estocolmo 2003 cuando Sierra Maestra fue al club de jazz Fasching para una descarga. La muerte de José Antonio Rodríguez que sólo tenía 55 años es una gran pérdida para la música cubana y lo vamos a extrañar. [Michelle White]
Thursday, November 3, 2005 - Fiesta del Tambor Guillermo Barreto In Memoriam - Martin Karakas has resurfaced with a review of the annual Festival del Tambor, produced by timba superstar Giraldo Piloto in memory of his uncle, the legendary timbalero Guillermo Barreto, who, among his many accomplishments, played timbales with Cachao on the legendary descarga recordings of the 50's. While you're at it, check out Martin's other excellent review in our Timba in Havana section.
¡Viva la Maldición! -- The CIA Leak Investigation hasn't (so far) been the deathblow I'd hoped for, but it plants yet another rejón squarely in the flank of a reeling president whose approval rating fell to a new low of 35% this week. When he recently visited us out here in California, even the Governator refused to be seen with him. The hechizo seems to be working.
As for the implications for live timba, remember that already more than 50% of each house of Congress favors legislation to relax Cuban travel and cultural visa restrictions to at least where they were in the late 90's, but to override a presidential veto, 67% is required. This gives us two things to hope for:
1) A president so weakened that he dares not defy members of his own party to threaten a veto. (Are we there now?)
2) Enough turnover in the 2006 elections to achieve a bipartisan 67% super majority to override the veto.
New Articles Still Coming -- The Issac review I was writing has led me down a long and winding rabbit hole. I now have half a dozen new articles in progress, but none of them finished! With help from Orlando Fiol and others, however, I'm getting close to a new way of describing timba gears which will apply not only to Paulito, but to all of the bands. Stay tuned
Saturday, October 22, 2005 - New En frecuencia -- Click under BLOGS to the left for the latest from Duniel & Juan Tomás.
The Moment of Truth is at Hand -- Prepárense para el gran choque entre la mierda y el ventilador! -- (and if you know the Spanish idiomatic expression for "the shit hits the fan", mándamelo por favor!). I haven't been updating timba.com lately because I've been literally glued to the news. I've been ridiculed for months for my tinfoil hat prognostications about La maldición de los Timberos. Well, my friends, it's time to put up or shut up. This is the week. If I've been wrong, I'll admit it and get back to analyzing clave changes, but if I'm right, we may actually get to hear a little live timba in the USA before we're all too old to dance to it. Even the newspapers and television news channels are starting to pull their heads out of the sand and brace for the category 5 political hurricane that will make landfall in Washington DC this week.
Catch-up Time -- Starting soon, if I'm right, there will be but one topic at the water cooler, at parties, and on the streets, and if you haven't been following this thing for 3 months, as I have, you're going to find out that it's INCREDIBLY COMPLEX. This is one of the most fascinating real-life mysteries in American history, with a massive cast of the most fascinating characters imaginable. If you aren't familiar with the likes of Judith Miller, Valerie Plame, Patrick Fitzgerald, Scooter Libby, Karl Rove, Ahmed Chalabi, Larry Franklin, John Hannah, Jack Abramoff, Arthur Sulzberger, Mary Matalin and Robert Novak, and if you love a well-written, well-cast, mystery thriller with profound real-life implications, you have quite a treat in store for you. This one makes Watergate pale in comparison. It has spies, forgeries, illicit affairs, plot twists, coded letters leaked to the media, double and triple crosses, mob hits, conspiracies and more deliciously bedeviling clues and red herrings than an Agatha Christie novel. If you want to catch up, don't even bother with the newspapers and television news, which are hopelessly behind the curve on this one. The best way to get up to speed is to read the blogs. Below is a list of the best ones. These are written by extraordinarily intelligent professionals, many of them lawyers, who have studied every detail of this amazing case and already predicted many of the developments. They all have a political bias, but those listed below are careful to back up their reasoning objectively:
firedoglake -- The most frequently updated, thorough and funny of the blogs. Firedoglake is the definitive clearing house for everything related to this scandal. If you read the comments sections, you'll get links to new news scoops faster from this site than from google.
emptywheel -- The author has been on vacation for about a week, but when she's updating regularly, she's the most brilliant of all the commentators, with an encyclopedic knowledge of every detail of this 22 month investigation.
justoneminute -- This is the blog of choice for my right-wing friends still clinging to the false hope that George Bush is anything other than a bumbling white collar criminal. The principal author is brilliant and funny -- why he's defending a group of crooks who are anything but brilliant and funny is one of the great mysteries of the case, but I read his every word. Probably the next most intelligent right-wing blog is redstate.org -- they're still pretty much in denial, but this week they'll have to start paying attention.
The following are updated less often, but are always full of incisive analyses:
The Left Coaster
Needlenose Plamemania
TalkLeft
Mark Kleiman
Josh Marshall
And for further study of the facts of the case:
timeline
cast of characters
false news report watchdog
Saturday, October 15, 2005 - Elain Sunday Evening at Café Nostalgia -- catch it if you can.
Elain en Concierto
Sunday, October 16
Cafe Nostalgia -- 8:30 p.m.
34 Street between Collins Ave. and the Ocean
Miami Beach
305-531-8838
Tuesday, October 11, 2005 - tick ... tick ... tick ... for 3 months, I've been patiently telling you that The Curse of the Timberos was about to wreak its merciless revenge on the evil forces that have deprived us of our music. Still think I'm crazy? If this hasn't become the political equivalent of Hurricane Katrina by the end of the month, I'll eat my little tinfoil hat! And if you don't think I'm crazy, but don't agree with me, click here.
By the way, how do you say "curse" (the witchcraft kind) in Spanish?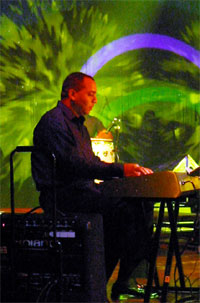 Friday, October 7, 2005 - New Artist Section -- Chaka's El Tumbao - AUDIO CLIP - Manolín pianist Eduardo "Chaka" Nápoles has been in Miami since 1999 and has now formed his own timba group, El Tumbao, featuring NG La Banda timba legend Wickly Nogueras and a solid cast of Miami best young timberos. Lara Greene has done a whole section on them and they've been added to the artists list to your left.
Tremendo delirio back in print! - Charanga Habanera's Tremendo delirio, one of the greatest timba albums, has been out print for over a year and is finally available again. See the timba store below for details.
Jazz Session of the Timberos in Miami Sunday - Quite an impressive lineup of musicians at Café Nostalgia if you're in Miami.
Jazz Session of the Timberos
Sunday, October 9 9:30 p.m.
Cafe Nostalgia
34 St. between Collins Ave. and the ocean
Miami Beach, FL
305-531-8838
Featuring:
Michel Fragoso (piano)
Armando Gola (bajo)
Tomasito Cruz (congas)
Hilario Bell (batería)
Felipe Lamoglia (saxofon)
Hector Payán (guitar)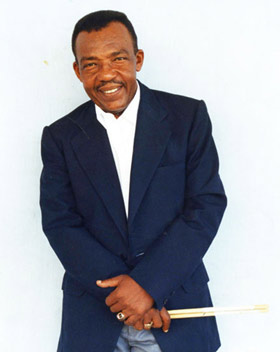 Thursday, October 6, 2005 - Latest Changuito Tribute - Rebeca Mauleón-Santana - As announced, October is Changuito Month, with various luminaries from the world of latin music weighing in with their tributes to one of the creators of songo and a primary influence on almost every timbero. Today's homenaje a Changuito is from world-renowned pianist and composer Rebeca Mauleón-Santana, who arranged many trips to the US for Changuito and collaborated with him on a very important educational book/video called The History of Songo.
Wednesday, October 5, 2005 - Tomasito Books Get 4.5 Stars in Modern Drummer! - Probably the world's foremost percussion periodical, Modern Drummer, has published a 4.5 star review of The Tomás Cruz Conga Method, the 3-volume book/DVD set that I wrote with Orlando Fiol and Mike Gerald based on our studies with ex-Paulito, ex-Manolín conga legend Tomasito Cruz.
I haven't plugged these books very much on timba.com, but in celebration of the Modern Drummer review, I guess it's time to tell the tale. Writing these books was a labor of love that consumed 18 months of my life and revealed to me many of Timba's most glorious secrets.
From the first time I saw a timba rhythm section in concert I was so moved and excited that I became determined to understand what they were doing and to encourage American musicians to learn to play that way. For the first year I was absolutely dumbfounded. I was hopelessly addicted to the sound of timba but totally clueless as to what the drummers were doing. All I could do was stare in amazement with my head buzzing and my heart pounding. Eventually I started focusing on bloques, the rhythmic breaks that all the percussionists would play simultaneously. I imagined that the percussionists and bassist, like the horn players, would memorize an elaborate series of rhythmic figures for each song. There was some truth in this, but these bloques turned out to be but trees in a much bigger forest which had not yet come into focus. In the process of seeking out different timba percussionists and gathering more clues I heard that the conguero on Paulito's Con la conciencia tranquila, Tomás Cruz, was living in Miami. I couldn't figure out exactly what he was doing on that record, but every time I listened to it with headphones, the conga parts swept me away, so I got his number and I hired him to make me a video of himself playing along with the CD so I could try to understand his approach. Around this time, Tomás learned that Mel Bay Publications was looking for a series of conga books and I realized that if I churned out the text and musical examples on my computer, (which was easy for me as a result of writing salsa charts for my band), that I could get Tomasito to show me all his patterns for free! I knew I could enter the patterns into the computer in a couple weeks, so I teamed up with Mike Gerald of Sol y Soul and we set out for Miami to transcribe Tomasito's conga patterns. As predicted, that part was easy, but a book needs some text, so we asked Tomasito to tell us a little about each pattern. This is where the problems began! He kept using terms that we didn't understand, like pedal, bomba, and songo con efectos. He'd say things like "well, this one would never be used for marcha, only for bomba, but this other one, bota, is the basis for songo con efectos." Finally, one day I said "look, let me just play you one of your recordings, and you tell me when this "bomba" thing comes in. I'll write down a little roadmap and then listen to the song at the hotel and see if I can figure out what you're talking about". When he did this, I was shocked to hear him calling out a different name every 4 claves or so. I wrote them all down, shook my head in disbelief, and asked him how he and the drummer and the bassist and the bongocero all knew when and how to make these changes. That was when he showed me the hand signals -- and that was also when I realized that this was not going to be a 2-week project! As it turned out, filming the DVD's also turned out to be much more complicated than I'd thought and we agreed that we'd have to reconvene in California in a couple months. I was on the return flight, listening to a Paulito recording while following along with the cheat-sheet I'd made at Tomasito's house when a lightbulb started to flicker ever so faintly above my thick skull. Eighteen months of constant study later, The Tomás Cruz Conga Method was finally published, after several more long meetings with Tomasito, and many more with co-author #3, Orlando Fiol, the blind, bilingual musical genius who finally made sense of the whole system, including the most difficult piece of the puzzle, songo con efectos. As a companion to the 3-volume set, I wrote Reelin' in the Gears to further explain Paulito's amazing gear system.
Ever since, I've been trying to find ways to describe the "gears" of the other great timba bands, using what Tomás taught me about Paulito as a basis. Currently I have a number of half-written articles, in addition to the half-written review of Issac's Prohibido, which will provide some very interesting comparisons between salsa and timba, and also a retrospective of Issac's career. So stayed tuned -- there will be a lot of new stuff coming soon.
Also coming soon ... Timba! - For months I've been telling you that big trouble is brewing for the Bush Administration. I know most of you think I'm completely insane (and pathetically desperate) to hold out the bizarre hope that an obscure special grand jury investigation that's gotten extremely little attention on CNN and Fox News might lead to the return of timba concerts in the US, but this just might be the week that my tin foil beanie turns to gold. Just keep your old pal Kev in mind as you listen to the news over the next week.
Tuesday, October 4, 2005 - Homenaje a Changuito - José Luis "Changuito" Quintana, is on the short list of the most important Cuban musical geniuses. During his two decades as the drummer/timbalero of Los Van Van he was one of the chief architects of Songo, one of the most important musical foundations of Timba. More recently he masterminded the new rhythm section approach of the most exciting new Timba band of the last 10 years, Pupy y Los Que Son Son. He's also made dozens of Latin Jazz recordings and is perhaps the most important Cuban music educator of all-time, having schooled several generations of young Cuban virtuosi such as Tomás Cruz. He's released numerous educational books and videos and toured the world with many different groups. We'll be doing a special tribute to this musical giant all this month, with articles from a wide variety of writers. Our first two tributes are from Calixto Oviedo (en español) and Chuck Silverman who co-authored one of Changuito's best educational books. More to come. If you have an article or jpg's to contribute, please send them to kevin@timba.com.
Here's an audio link of a classic Changuito solo.
New Azúcar Negra bassist - So far we only have his name - Leonardo Oliva Contrera. More info to come soon.
Update from Miami - to the Elain section.
Thursday, September 29, 2005 - Sad News - Another giant of Cuban music has passed away. Eduardo Mora, the brilliant bassist of Manolito y su Trabuco has died in Havana. Bill Wolfer of Mamborama, who knew him well, and did an album and tour with him, eulogizes him as one of the most talented, down to earth, and genuinely lovable people on the planet. Eduardo's temporary replacement will be Roberto Riverón, the brother of longtime Manolito drummer Roicel Riverón.
Bad News - It's rumored that Adalberto Domínguez "El Bamba", another of Cuba's greatest bassists, has left Azúcar Negra. It's rumored that his replacement may come from the timba band of batá god Papo Angarica.
Good News? - Judith Miller testifies tomorrow. It doesn't matter if you're left wing or right wing, red state or blue state, whether you wear a Che Guevara t-shirt or whether foam drools down your chin as you throw darts at a picture of Fidel Castro each night before retiring. If you're reading this, you love Cuban music, and if you love Cuban music, you're going to get to hear it again en la Yuma when the 43rd President of the United States has been mercifully relieved of his duties.
Michelle News - ... is always good news. Michelle White has the latest on Cristián Muñoz and salsa2salsa, Azúcar Negra's European tour, Charanga Habanera's upcoming tour (their new stuff actually sounds a bit like timba, by the way), Carlos Manuel and Calixo Oviedo.
Sunday, September 25, 2005 - En frecuencia update - click here for a video clip from the new timba band "Salsa Mayor", a new Pupy Pedroso CD in the works, and a new audio clip from Luis Bu's "Acheré" featuring Yordamis Megret on vocals.
New Timba Blog - Check the link to your left under Blogs for Yemaya's Verse by Gabriel Wilder -- crazed timbera, professional journalist, singer, dancer, and long-time friend of timba.com.
Thursday, September 15, 2005 - Oakland Katrina Concert Tonight - ... It's a huge lineup of Salsa, Latin Jazz, Gospel, and much more. Click here for a flier with the full details.
Not in Oakland? -- click here.
Tuesday, September 13, 2005 - Michelle Returns! - ... with all the latest on Los Van Van, Maraca, La Barriada, Alain Daniel y su Casino, photographer Cristián Muñoz and DJ Duniel Deya. I wouldn't be surprised to see something on Azúcar Negra pretty soon as well.
Revista prohibida - I'm hard at work on a lengthy article that's ostensibly about Issac's new CD Prohibido, but may wind up being more about his overall career and Timba in general and will definitely contain some exceedingly interesting streaming audio clips, so make sure your computadora can stream audio smoothly.
tick tick tick - Remember what I told you about this? Start polishing your dancing shoes, and take note: if this pans out, I'm changing my apodo from el loco to ... uhhh ... something else. If not, well, el loco will be fine.
Sunday, September 11, 2005 - New York & Boston Updates - DJ Gary has a new timba scene going in Union City and in Boston, there are several new weekly dance groups and a performance on the 24th by La Timba Loca.
Saturday, September 10, 2005 - Martin Karakas Returns - Martin's back with a new article entitled La Habana Hoy featuring concert reviews of La Rebambaramba, La Justicia, Bamboleo, Tirso Duarte, and Maikel Blanco. You can also click here for a list of Martin's reviews from earlier in 2005.
The Bay Area Sings for New Orleans at Yoshi's - Thursday, September 15th -- featuring the great Rebeca Mauleón-Santana and many others. Yoshi's is a truly wonderful place -- they have the best acoustics, atmosphere and food of any venue I've attended and, with their second Katrina benefit in as many weeks, they're showing that they've got a lot of heart too. Click here for a message from Rebeca with more details on the concert. If you can't go, give what you can to the Red Cross.
Te conozco bacalao - Hopefully my Spanish sarcasm makes sense -- if not, enter the caption contest.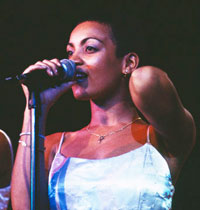 Friday, September 9, 2005 - Yordamis at SOB's Tonight - Click here for a flyer with all the details. Yordamis Megret sang and recorded with Bamboleo for 5 years before moving to New York City to form her own group. This will be her third show at SOB's. If you're in NY or NJ, please get out there and support Cuban music in the US.
Aquí está una entrevista con Yordamis sobre los detalles de su nueva música y su carrera en Cuba, Miami y Nueva York.
And click here to listen to a clip of Yordamis stretching on a live cut from Bamboleo's spectacular live CD ñññño!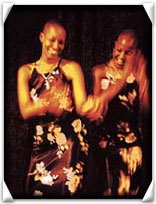 Tuesday, September 6, 2005 - ¡Bamboleo Bombshell! - According to Máximo Roberto Hernández, former manager of la CH and current manager of various artists, Haila Mompié and Vannia Borges, the original singers of Bamboleo, will be rejoining the group, both in Cuba and for international tours. Here's the exact quote:
Después de mas de 5 años sin trabajar juntos se unen para realizar conciertos en Cuba y giras internacionales las cantantes Haila y Vannia con Lázaro Valdés, director de Bamboleo.
Timba in the Blogosphere - Check out Farandulera for scans of a Cuban magazine article from the heady days of Manolinmanía. Also some great early photos of 2005 Grammy nominees Los Van Van.
Don't say I never warned you - More words of wisdom ... from the man who thinks Ibrahim Ferrer was a terrorist.
Regresa Michelle! - Azúcar Negra goes back to Cuba next week, so look for the return of Michelle, who's accompanied them on their European tour. We should have some major upgrades to the AN section.
Los Hermanos Arango record a new CD in Italy - Feliciano Arango, the founding bassist of NG La Banda and winner of the timba.com award for best bassist of all-time, has recorded another CD with Los Hermanos Arango - a fascinating group plays Latin Jazz with a batá rhythm section.
Calixto in Switzerland September 21st - at La Sprirale.
Manolín & Carlos Manuel Together in Miami? - Duniel says that Manolín's brother Lázaro says that Manolín will be returning to Miami to do a concert with Carlos Manuel at Bongos Café. The unconfirmed tentative date is October 21st. Stay tuned.
La Barriada in Europe - more details here, but here are the confirmed dates:
30 Sept. Århus
1 Oct. Copenhagen
14 Oct. Karlskrona
26 Oct. Helsingborg
29 Oct. Växjö
2 Nov Stockholm
5 Nov. Gothemburg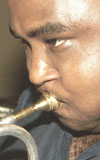 Monday, September 5, 2005 - Alexander como compositor y cantante! - Alexander Abreu, winner of timba.com's Best Trumpeter award, has long been rumored to have contributed various arrangement and coro ideas to the late 90's work of Paulito FG y su Élite. He's now in Denmark working on a project with monster trombonist Carlos Pérez working on a project with a group called Danzón for which Alexander is writing, arranging and singing as well as playing trumpet.
Ivette has checked in with the latest on Los Angeles de la Habana.
Los Van Van Reunion with Pedro Calvo in México - They play September 30th at Auditorio Nacional in México City with special guest Pedro Calvo, who left the group in 2000. (It's not listed yet on the site, but keep checking).
NG in Paris - on September 23rd at a club called New Morning.
Paulito in Norway and Austria:
19 noviembre 2005 - 21:00
COSMOPOLITE
Oslo, Noruega

27 noviembre 2005 - 21:00
BAUMGARTNER-CASINO
Viena, Austria
Thursday, August 30, 2005 - Juan-Carlos Formell Benefit for Hurricane Katrina Victims - Juan Formell's eldest son, singer/songwriter Juan-Carlos Formell, currently touring the West Coast, will play a special concert at Yoshi's in Oakland on Tuesday, Sept. 6. All proceeds will got to the Red Cross Katrina Relief Fund. Click here for more info on Juan Carlos Formell's latest music.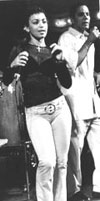 Thursday, August 30, 2005 - Yordamis at SOB's September 9th - Click here for a flyer with all the details. Yordamis Megret sang and recorded with Bamboleo for 5 years before moving to New York City to form her own group. This will be her third show at SOB's.
Habana Abierta meets Alain Pérez - En Frecuencia has the scoop. Habana Abierta is a Cuban group based in Spain. They've already released a very successful first album and their second features significant contributions from Alain Pérez, the writer/arranger of such timba masterpieces as La Sandunguita, Amigo Juan, Que me disculpen, and Issac's torrid version of Con la punta del pie.
En Frecuencia also has news on Gardi, Fidelito Morales, Lady Salsa, and a great report on Charanga Habanera from Juan Tomás García, who just returned from Cuba.
Wednesday, August 30, 2005 - Big News from Duniel & Juan Tomás - First of all, Los Van Van has received their second Grammy nomination for Chapeando. Second, Charanga Habanera is about to release a new album and you can hear live clips of some of the songs on timba.com. Click here for En Frecuencia and the full story.
Sunday, August 28, 2005 - ¿Qué tiene Formell que sigue ahí? - There's a short but wonderful interview with Juan Formell in The Japan Times. While responding to the question of whether he ever considered leaving Cuba, JF also reveals one of the secrets behind his amazing 40 year tenure at the cutting edge of Cuban music:
"There were many personal reasons for not leaving Cuba, but perhaps one of the main ones is that I consider myself a storyteller who draws inspiration from reality to tell stories and convert these into song themes. Cuba and its people have always been my source of inspiration. I was born in Cuba and I felt that in order to chronicle social happenings I needed to be part of this society. I wanted to be there to live in Cuba's reality. I didn't want to hear it being told by someone else. The idiosyncrasies of Cuban culture inspire me. I walk down the street, see things, hear things, see how people talk, behave, interact and from there, a song is born."
I think the thing I love most about Juan Formell is his humility. He's never lost his respect for the sources of his inspiration, and in doing so, he's never lost that inspiration.
I wonder if Manolín regrets leaving the source of his inspiration? I know I regret leaving Cuba, even though I was only there for a total of a few months! I haven't been back since George Bush took office, but to this day I'm still reeling from the musical intensity I experienced there in the late 90's. I've expectantly followed the careers of the many brilliant timberos I heard there who subsequently left the island but Formell's wisdom is reinforced by their failure to produce any music which remotely approaches the level of musical genius they achieved in Havana. Even more depressing is the effect that the departure of so many of Cuba's greatest musical talents has had on the music recorded on the island in recent years.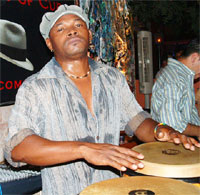 Mipa in Vegas - Speaking of transplanted Cuban musical geniuses, Nevada is the new home of Alexis "Mipa" Cuesta, the innovative conguero on Manolín's four Cuban studio CD's and also the conguero of the Team Cuba project.
Las Vegas bassist and timba-freak Abe Gumroyan, who plays with Mipa in a Latin Jazz group tells the story that the other members of the band didn't know who Mipa was until they launched, to Mipa's great surprise, into an impromptu version of the tumbao from "La bola". When Abe showed them some home movie footage of a Manolín concert for a massive crowd in Marianaó in 1996, he said that Mipa and ex-Manolín bassist Victoriano Nápoles were nearly in tears with emotion. I guess I'm not the only one who misses Cuba and wishes that Manolín had thought as clearly about the source of his muse as Juan Formell has.