NYC Bulletin
The Pedrito Martinez Group CD Release
Tuesday, Oct. 8th at City Winery 8pm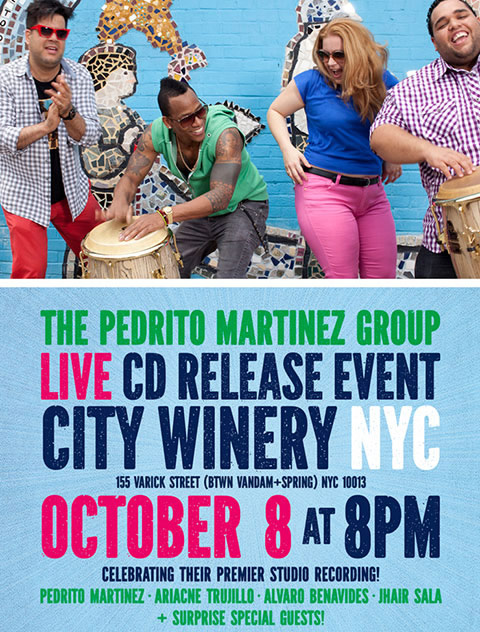 Tuesday Oct. 8 will serve as an important date for Cuban music enthusiasts in the New York metro-area, as The Pedrito Martinez Group will be holding a special concert celebrating the release of their much anticipated studio album. Cuban percussion laureate Pedrito Martínez and his distinguished quartet have established themselves as one of the most eminent NY ensembles regardless of style or category. In recent years the group has enjoyed an abundance of live performance opportunities few US-based groups in their genre encounter. Their impressive itinerary includes numerous concert dates across the continental United States and Europe, coupled with the band's long-standing tenure at Guantanamera Restaurant in Hell's Kitchen. This wealth of stage time has enabled the group to evolve and mature into one of the tightest and indeed most exciting ensembles in their idiom, resulting in raving accolades from critics and musicians alike.
The Pedrito Martínez Group consists of bassist Alvaro Benavides, percussionist Jhair Sala, pianist Ariacne Trujillo and of course Mr. Martínez himself. Along with their impressive instrumental prowess, all four musicians share vocal duties in both live and studio contexts, producing a group sound that belies their small size as an ensemble. The quartet's self-titled studio debut is not only an apogee to the countless hours these great musicians have shared on the bandstand, but also serves to exhibit a different side of the group by featuring an impressive guest roster that includes Steve Gadd, John Scofield and Wynton Marsalis.
The show will be held at City Winery located at 155 Varick Street between Vandam and Spring. The music will begin at 8pm, with doors opening at 6pm. Further information on purchasing CDs and tickets is available from the group's website.
Of course for those who cannot make this event, there is always the option to check out this excellent band every Tuesday, Wednesday and Thursday starting 8:30pm at Guantanamera Restaurant located at 939 8th Avenue between 55th and 56th. Reservations can be made via http://www.opentable.com/guantanamera.