Timbera Mayor
Buena Fe & the 7th Art in Miami
September 18 - Miami Dade County Auditorium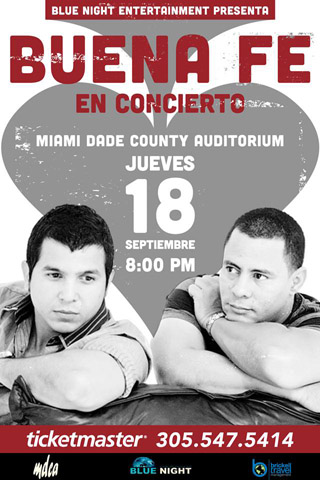 In exactly one month on September 18 Buena Fe will return to Miami Dade County Auditorium, the site of their remarkable 2013 sold-out release concert for the CD "Dial" . This year Cuba's favorite pop-rock duo will bring the complete Havana experience including their horn section and a trio of strings. The concert will be an unprecedented audiovisual event combining the music of Buena Fe with clips that have marked Cuban cinema over the years, including "Memorias del Subdesarrollo" (ICAIC 1968), "Casa Vieja" (ICAIC 2010), "Habanastation" (ICAIC 2011), "Animados de Juan Padrón" (1981-2010), "Jose Martí, El ojo del canario" (ICAIC 2010) and "Cuba Va!" (ICAIC 1971) among others. Buena Fe sold out all 2500 seats last year so don't wait to get your tickets on sale now at Ticketmaster!
If you're not familiar with Buena Fe I can summarize by saying that while they are generally classified as pop-rock, their arrangements also include fusions with son, conga, changüí, rumba and even with classical pieces such as Lecuona's "La comparsa" and Leo Brouwer's "Un día de noviembre". But me the most outstanding aspect of the band is the lyrics. To learn more you can start by checking out their section here at Timba.com. They also have their own homepage and a very active and interactive Facebook page.
Or maybe I should just let the music speak for itself. Here is the video for "La culpa" from the 2013 CD "Dial".
continue reading Timbera Mayor