Timbera Mayor
sábado, 26 julio 2014, 02:31 pm
Gente D'Zona in Europe
Tour Begins Tonight @Fiesta in Rome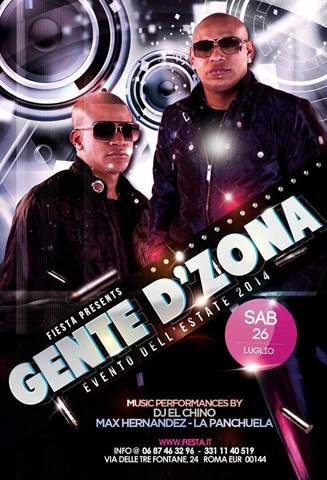 The summer reggaeton invasion of Europe begins tonight with Gente D'Zona's presentation at Fiesta in Rome. Alexander and Randy are riding a wave of unprecedented international recognition as a result of their collaboration with Descemer Bueno and Enrique Iglesias on the hit "Bailando". The first version was all-Cuban with Descemer and Gente D'Zona, and the song was an instant hit in Cuba supported by a breathtakingly beautiful video. When I was there in January they were just going to the Dominican Republic to shoot the video for a new version with Enrique. This second version became an overnight worldwide sensation and has been recorded with Sean Paul in Spanglish and with Luan Santana in Spantugese (Portuspan?).
The success of "Bailando" has given Gente D'Zona major publicity in the US where they have been on CBS, UniVision, Telemundo and where they have performed at the Billboard Awards and the Premios Juventud and given countless interviews and many performances. Just before leaving for Europe, they filmed the official video for the #1 hit "Tú Me Quemas" with Chino y Nacho and Los Cadillacs.
As a fan of Cuban music it is a joy to see Cuban artists getting exposure to international audiences. The tour is only two weeks long and with their busy schedule in the US we may be seeing less of them in Europe so click here to find a concert near you!
continue reading Timbera Mayor