Archivo
Lo Nuevo
[hide]
Fotos Del Día
[hide]
Timbera Mayor
Dairon Rodriguez Lobaina 1984-2017
Nunca te irás del todo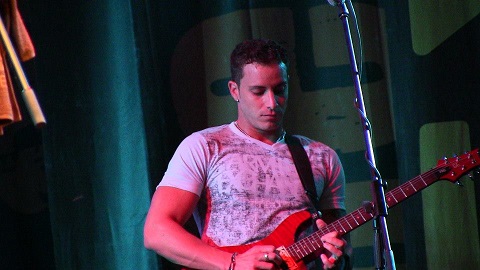 Haz clic para leer el artículo en español.
I was going to do a post about Cubadisco at Timba.com today. In just a few hours we'll find out who the 2017 winners are. But at about noon CET, my day ground to a halt when I saw the terrible news that Dairon Rodriguez Lobaina had passed away from a heart attack this morning at only 32 years of age. I know he's not a household name among timba fans but certainly fans of Cuban popular music know Buena Fe, where he was electric guitarist, corista and even rapero for about 9 years. He was also my friend, and like friends and fans he left behind around the world, I am finding it hard to conceive that he is gone.
I first met Dairon in 2012 at 10:00pm in a hotel in Milan. It was the night before the Buena Fe concert at the Latinoamericando festival. The guys were hanging out in the lobby taking advantage of the wifi. Dairon was hungry because earlier that evening he ordered a pizza, ate half of it and wanted to take half back to the hotel room for later. He thought that to speak Italian he just had to say things loudly in Spanish and gesticulate a lot. The result was that the waiter took the other half of his pizza and threw it away. So we ended up going on a late night food run to a nearby gas station and Dairon learned to say "per portare via".
Dairon was always friendly, laid back and had a great sense of humor. I was once at his home studio in Marianao where he was going to record a song for a new artist. I had to use his restroom and couldn't help but tease him afterward about how many hair products he had. His response: "Yeah, it looks like a French whore lives here." He and the guys were always joking around. Here are a couple of typical Dairon moments that I have on film. This is how I remember him.

Dairon always made me laugh
Dairon was also a very talented musician, and in addition to his work with Buena Fe he recorded some solo tracks but never released them on any label that I know of. You can find a few at YouTube as well as hundreds of Buena Fe videos featuring Dairon. I did see him perform "Mírame Madre" - the song he recorded with Javier Milanes for the "Motivos Martianos" project - and captured that on video. He had a beautiful voice. Considering that tomorrow is Mother's Day in the US and Cuba, it seems the perfect video to leave you with.

Dairon & Javier singing "Mírame Madre"
Dairon made friends wherever he went, and I know that friends and fans around the world were stunned by the news today. The band just got back from a tour of Canada. They are scheduled for a Mother's Day concert tonight at El Ajibe and are in the running for Best Fusion Album for the 2017 release "Sobreviviente" at the CubaDisco awards tonight as well. That must feel surreal to the band members. My deepest sympathy to Dairon's parents and family, the band and all his friends around the world. To conclude I leave you with Dairon in his own words from his Facebook account: "I'm a musician, guitarist with the Cuban group Buena Fe. I like to dance, read, challenges (life is the constant surprise of knowing that I exist)."
I would like to invite everyone who knew him to post comments as a tribute to him. We could all share our memories and help one another in the healing process.
UPDATE: Buena Fe won the Grand Prize as well as Best Fusion Album and Best Recording for "Sobreviviente" at Cubadisco tonight. They dedicated the awards to Dairon.
continue reading Timbera Mayor