Archivo
New Stuff
[hide]
Photos of the Day
[hide]
Timbera Mayor
LOS VAN VAN - LA FANTASIA
On Sale December 5th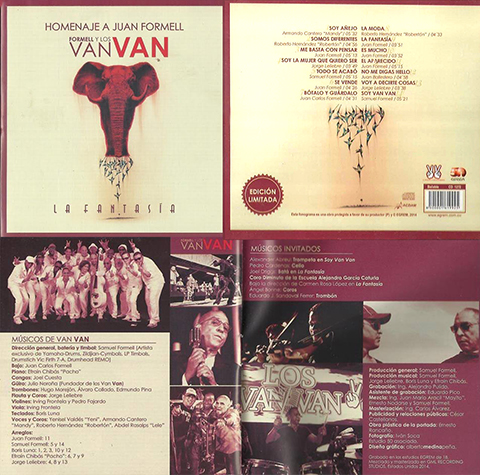 At a press conference on November 29th, Samuel Formell announced that Los Van Van will release their tribute to Juan Formell - "La fantasía" - on Friday, December 5th at the final concert of their national tour, which will be held at the steps of the University of Havana. This will be only one day after the band celebrates its 45th anniversary.
The new CD - recorded at Estudios de 18 EGREM - contains 14 tracks with compositions and arrangements by Juan Formell, Samuel Formell, Juan Carlos Formell, Boris Luna, Jorge Leliebre, Pacho Chibás, Robertón, Mandy Cantero and Juan Ballestero. Alexander Abreu makes an appearance with a brilliant trumpet solo on track 14 - "Soy Van Van". Various DJs have posted short sections of some of the songs, and I am going to say that from what I have heard, I believe that "La fantasía" will be Van Van's strongest album since "Chapeando". Samuel has the daunting task of taking the helm of Cuba's most famous musical instituion, and all indications are that his father prepared him well by making him musical director several years ago. El tren va por buen camino.
As we were discussing the new album via e-mail, Kevin made the following observations on the subject of remakes, of which "La fantasía" contains two.
Kevin Moore:
1) "Es mucho" is from vol. 5 - 1979 - I think I'm on firm ground in saying the vols 5 & 6 were by far the worst sounding Van Van albums but had some great songs that were unjustly debuted with bad recordings - thus, re-recording anything from those (especially "La rumba no está completa" and "El montuno" - which they've already done and which are two amazing tracks) is a great idea because now Van Van has world-class singing and infinitely better recording capabilities.
2) "Me basta con pensar" started as the B-side bolero of the early 70s single "Que se sepa" - neither of which ever got onto an official album - unless the version Omara did of the A-side with them did got onto one, but "Me basta" was turned into an uptempo arrangement in 1990 for Los Van Van - not by Formell, but by Pupy (this only happened twice and both were masterpieces in my opinion). That version of "Me basta" contains within it - among many other things - the seeds of Manolito y su Trabuco's whole harmonic sello - it sounds like late 90s Trabuco back when Manolito was still in Maravillas de Florida. It's a hugely important timba precursor and one of the best post-revolution tracks period in my opinion - no idea what the new one will be like, but it's definitely anything but a tired old song swept out of the closet for lack of creativity. I'm very curious to hear this whole album.
As are we all Kevin. The first thing I plan to do Friday morning is buy "La fantasía" from whichever on-line store uploads it first. I predict that it will be a great holiday gift for all the Cuban music fans on my list.
continue reading Timbera Mayor