Archivo
Lo Nuevo
[hide]
Fotos Del Día
[hide]
Timbera Mayor
Laritza Bacallao on Carnival Cruise
November 21-22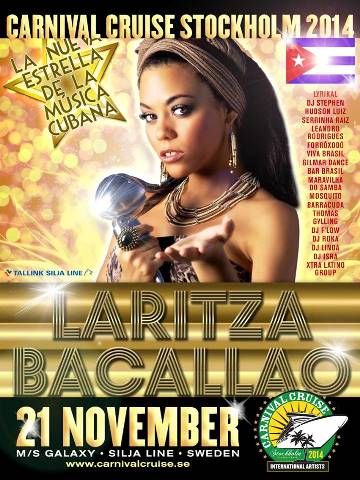 Bar Brasil's annual Carnival Cruise Stockholm is fast approaching. Every year the Baltic Sea goes Caribbean for 23 hours with dancers, bands, percussionists, and DJs. This year over 100 artists will take part, including Laritza Bacallao - one of the most popular young artists in Cuba.
Laritza comes from a family of singers. Her grandfather Rafael "Felo" Bacallao and her father Ernesto Bacallao were both singers of the legendary Orquesta Aragón. It seems natural that Laritza would also study music - choral direction and piano - and become a singer. She has a versatile voice and can sing a bolero as well as cha-cha-chá a son or a reggaeton. But the style for which Laritza has become known is the pan-Caribbean dance music that swept her to the top of the charts in Cuba where she has remained for the past couple of years. The arrangements mix everything from samba to salsa to merengue to rumba and conga...you get the idea. She has collaborated with many Cuban artists, such as Pablo FG, Candido Fabré, JG, and Los 4 to name a few. Her infectious party music caught the attention of Puerto Rican salsa star Victor Manuelle, who will soon release a salsa version of her hit "Que suenen los tambores" by composer Osmany Espinosa.
Although she has toured Europe before, this will be Laritza's first Scandinavian performance. She will be backed by an eight-piece band. If you will be in the area, book your cabin now and get ready to rock the boat with the Scandinavian carnival elite. A YouTube search will give you a number of videos with Laritza, but in honor of the Carnival Cruise, I leave you with her hit "Carnaval".
continue reading Timbera Mayor