Timbera Mayor
For Pastora Yuani Sayú
On International Women's Day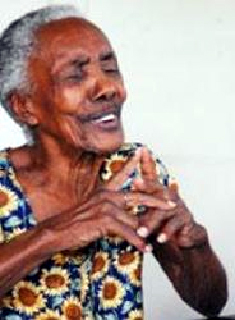 March 8 is International Women's Day and while it may not be well-known everywhere, it is very important both here in Sweden and in Cuba. As I sat here contemplating the many talented women who have helped shape Cuban music, it struck me that today I would like to honor one of the most internationally famous women in both salsa and timba: Pastora Yuani Sayú, better known to Latin music fans as Pastorita. Sadly, she passed away in 2013 at the age of 97, but her name has been imortalized and can probably be heard every week in some salsa venue around the world.

I want to thank Niurka Estrada, Mirlania Rodriguez and José Cuenca for the photo pf Pastora and for sharing with me the story about the origins of the song and the subsequent battle over the rights to the song which was resolved in June of 1976. But we'll get to that part of the story later.


Pastora Yuani Sayú
"El Guararey de Pastora" has been a hit many times over. First performed by Changüí Guantánamo, it caught the attention of Juan Formell during a visit to Cuba's easternmost province and was recorded by Van Van in 1974. The song became a hit in Cuba and in 1975 Ray Barretto recorded a salsa version, which also became a huge success in the salsa world outside of Cuba.
So what is the story behind the song that has had seemingly universal appeal? Well let me tell you. Pastora had a daughter who had caught the eye of Roberto Baute Sagarra, tresero of Changüí Guantánamo. He began a romance with her and Pastora was not happy with his attentions towards her daughter because Roberto, also known as Chito, was already married and 20 years older than the object of his affection. This was the source of Pastora's guararey (anger) with her friend Chito and the inspiration for the song.
At the time the song was written, Pedro Speck was the director of Changüí Guantánamo and he registered the rights to the song under his name. It wasn't until the popularity of Van Van's version that the subject of authorship became an issue. In June 1976 the court ruled in favor of Roberto Baute when Pastorita herself testified on his behalf. Previously attributed to Speck or simply listed as DR, the song is now correctly attributed to Roberto Baute, although it was not officially registered with ACDAM under his name until 21 April 1981. However, I was told in Guantanamo that neither Speck nor Baute ever received any income from the recording or performances of other versions of the song.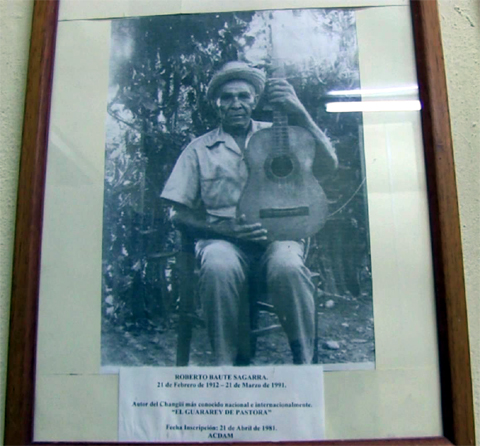 Photo of Roberto Baute Sagarra in Casa del Changüí in Guantanamo
Below is a video of the group Suave Caribe performing "El Guararey de Pastora" on January 9, 2014 at the Thursday night peña in Guantanamo. If you are able I highly recommend attending the National Changüí Festival, which will take place this year from May 29-June 1. It is a unique opportunity to really come face-to-face with the roots of the music and dance we know today as salsa and timba. For more information about the changüí festival contact General Coordinator José Cuenca or Ernesto Chacón.
continue reading Timbera Mayor