Timbera Mayor
Osmani Garcia "La Voz"
Europe August 2014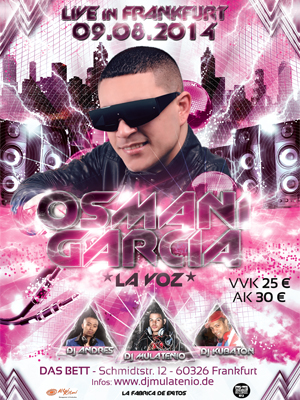 Osmani Garcia "La Voz" will be in Frankfurt on August 8
Composer/singer Osmani Garcia "La Voz" will be back in Europe next weekend starting August 1st with shows in Italy, Belgium, Germany and Switzerland. He began his career at the age of 19 and has interpreted many different types of Cuban and Caribbean muisc as well as pop. For a time he was part of Paulo F.G.'s group. In 2008 Osmani decide to do his own thing and has become one of the biggest names in the Cuban urban and reggaeton scene.
Osmani is nothing if not controversial. His lyrics are heavy with not-so-subtle sexual innuendo with titles such as "Chupi night", "Emperifollarse" and "Se me va la musa (condón)". His song "Chupi Chupi" caused great debate in Cuba concerning acceptable lyrics and was largely the catalyst for the goverment deciding to tighten restrictions concerning lyrics allowed to played on the radio.
But as Brendan Behan said "There is no such thing as bad publicity except your own obituary," and there is nothing more enticing than something that is censored. Certainly Osmani has gone from success to success and his popularity is undisputable. He has collaborated with artists such as Gente D'Zona and El Chacal and recently with Pitbull. His show is adrenaline-packed, sweaty and sexual. See below for Osmani's announcement of the upcoming tour. Click here to see the complete list of concert dates.
continue reading Timbera Mayor