Timbera Mayor
Giraldo Piloto y Klímax Europe 2014
New Songs and Tour Plans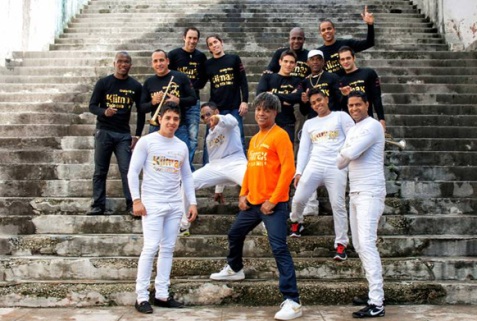 Giraldo Piloto & Klímax
Following up on their brilliant 2012 CD "Todo está bien" (read Bill's review here) , Giraldo Piloto & Klímax are back with a new video, new songs and concerts in Peru and Europe. Piloto took a moment to tell us about the new songs, the next CD and their plans for 2014, which include the Latin Festivalen in Norway! Read his comments below and then check out the new video, which is another hit for the band! Click here for the tours page, which will be updated soon with more concert dates.
Can you tell us about the new video "Si te descuidas"?

In the new video by Klímax we are presenting the first single from the group's new CD that will be ready in mid-2014, and we are introducing the new singers on coros, Raimel and Victor Andy. The composer is Noel Díaz Cruz and the arranger is Yusef Díaz. We already have other songs that we are presenting in our concerts and their titles are: "La ternerita" and "Aquí estoy". They have all been popular with the dancers.

Plans for2014?

On the 15th of this month will be participating in a concert in Lima, Peru with Tania Pantoja and Ángel Bonne, and for 2014 we will have several presentations in Scandinavia, primarily in Norway from January 24 until February 2. In March I will do various collaborations and hold masters classes in the USA via the company Lucumi Prods of Mrs. Peggy Jo Oliva, who will in turn organize a tour for June with the whole band for the USA.
continue reading Timbera Mayor