Archivo
New Stuff
[hide]
Photos of the Day
[hide]
Timbera Mayor
viernes, 21 noviembre 2014, 04:35 am
CUBA @ LATIN GRAMMYS
Big Night for Descemer Bueno & Gente D'Zona
Congratulations are in order for Descemer Bueno, Alexander Delgado & Randy Malcom of Gente D'Zona, and Enrique Iglesias who won in three of the four categories for which they were nominated. "Bailando" won Best Urban Song, Best Urban Performance and the coveted Song of the Year. It's great to see Cuban musicians getting such international recognition. There is still a long way to go, since the original version of the song recorded and released in Cuba would probably not even have garnered a nomination (note: this is my opinion and not necessarily the opinion of Timba.com). I hope to see renewed international interest in what is happening in Cuban music as well as a continuation of interational artists collaborating with Cuban musicians, as we have seen with Andy Montañez, Gilberto Santa Rosa and El Canario. Most recently Marc Anthony has released the official video of his version of Polo Montañez' "Flor Pálida" and collaborated with Cuban audiovisual producer Alejandro Pérez, who also produced the "Bailando" videos.
Billboard recently published a good interview with Descemer Bueno titled: "Meet Descemer Bueno, The Talent Behind Enrique Iglesias' Smash Hit 'Bailando'.
The guys are currently touring Europe and were in their hotel in Paris when the winners were announced. Thanks to Joel Collazo for posting a video of Enrique, Descemer, Alexander and Randy and their reaction to the GRAMMYs.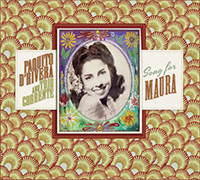 Best Latin Jazz Album LATIN GRAMMYS 2014
Congratulations also to Paquito D'Rivera & Trio Corrente ("Song for Maura") for their tie with Chick Corea ("The Vigil") for Best Latin Jazz Album. I am not a GRAMMY historian so I don't know how often ties happen. Maybe Bill has more comments in this area.
continue reading Timbera Mayor