Sin Clave No Hay Na
The Celebration Begins: 50 Years of EGREM
La celebración comienza: 50 años de EGREM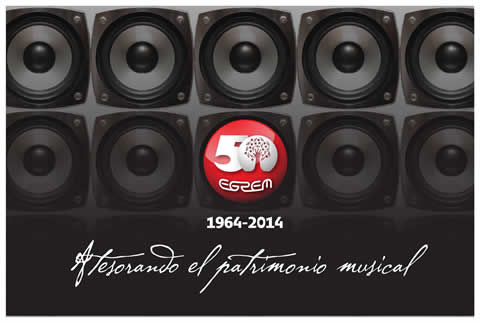 Graphic courtesy EGREM
ENGLISH: March 31, 2014 marks the 50th Anniversary of the establishment of EGREM, the home of the record label that first brought us Timba and many other forms of modern Cuban music. EGREM began the festivities on February 28th with a press conference to announce its plans for the occasion. A photo gallery from the conference is available here.
With the assistance of several individuals at EGREM, Bill Tilford has established a special section for EGREM and its activities, which is availaible here.
All who love modern Cuban music have much to celebrate.

ESPAÑOL: 31 de marzo 2014 marca el 50 º aniversario del establecimiento de la EGREM, la casa discográfica que nos traía la TImba y muchas otras formas de la música cubana moderna. EGREM comenzó los festejos del 28 de febrero con una conferencia de prensa para anunciar sus planes para la ocasión. Una galería de fotos de la conferencia está disponible aquí.
Con la ayuda de varias personas de la EGREM, Bill Tilford ha establecido una sección especial sobre la EGREM y sus actividades, que está disponible aquí.
Todos que aman la música cubana moderna tienen mucho que celebrar.
continue reading Sin Clave No Hay Na