Archivo
Lo Nuevo
[hide]
Fotos Del Día
[hide]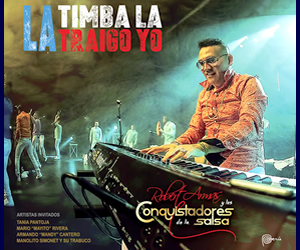 Pa' Ponerte en Talla
viernes, 02 junio 2017, 02:45 pm
2017 LOS VAN VAN U.S.A. TOUR
El tren de Cuba regresa a los EE.UU para una gira nacional
Cuba's premier dance band returns to the US with a full lineup featuring three of founder Juan Formell's children: drummer / timbalero Samuel Formell, bassist Juan-Carlos Formell and the newest addition, the family's youngest daughter, lead vocalist Vanessa Formell. We anticipate that her voice, beauty and her energetic style will increase the adrenaline in all shows.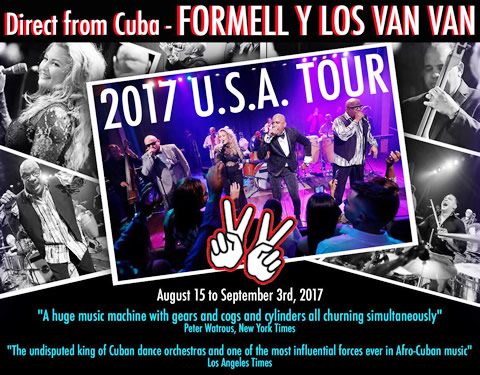 After the passing of Juan Formell, the legacy remained in the hands of his son, Samuel Formell. Samuel has been following the footsteps of his father as musical director of the band. On this tour he brings LVV's most recent musical production entitled "Los Van Van son la patria" from Cuba's Egrem label, a collection of danceable tracks incorporating innovative, contemporary arrangements of Juan Formell's hits and new compositions from different members of the band.
The orchestra will be in the US in August 15th , 2017 through August 30th, 2017
For presenters interested in including the legendary Pedrito Calvo as guest singer in any show, please contact www.Searockmusic.com (info below) to discuss this in advance. Pedro Calvo is the most recognized singer of Los Van Van in its first 40 years and and one of the most famous interpreters of contemporary Afro-Cuba music.
For group availability, contact:
Ernesto Lago
Tour Producer /Artist Representative
ernesto@searockmusic.com
(917) 617 – 5708
Leo Tizol
Tour Producer
mundolibremusic@yahoo.com
(917) 687 – 2486