Archivo
Lo Nuevo
[hide]
Fotos Del Día
[hide]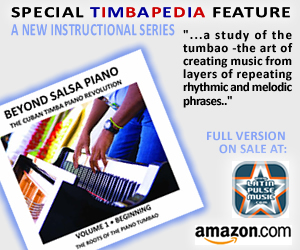 Pa' Ponerte en Talla
miércoles, 16 marzo 2011, 02:27 am
Más de Seis Semanas para terminar el libro papá
BSP Vol 10 - César Pupy Pedroso - The Music of Los Van Van P1
¿Buscas una transcripción completa del piano y bajo para el cuerpo y coro del tema clásico "Seis Semanas"? ¿O como aprender a tocar como el creador de tus montunos favoritos de Los Van Van? O la mejor biografía de César "Pupy" Pedroso con su discografía completa? Te puede tomar más de seis semanas pero el Sincronizador Central de la Timba de lo pone en bandeja de plata con Volumen 10 de MÁS ALLÁ DEL PIANO SALSERO. Descraga una muestra gratis aquí.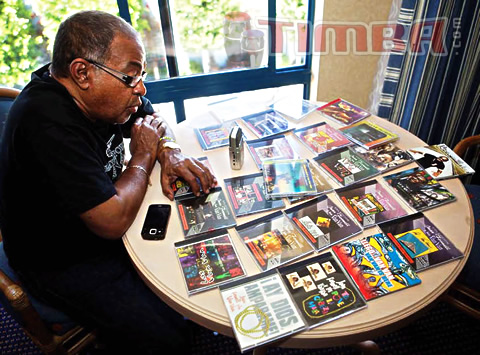 César Pupy Pedroso - Photo by Tom Ehrlich
The tenth volume in the Beyond Salsa Piano series focuses on César "Pupy" Pedroso, the founding pianist and one of the principal composers of Cuba's most popular band, Los Van Van, and now the leader of Los Que Son Son, the most successful new Cuban group of the 2000s. Doubling as a history and music appreciation course, the book contains extensive music notation examples of Pedroso's piano tumbaos, or "montunos", as well as transcriptions of solo and head arrangements.
Illustrated in detail is Pupy Pedroso's trademark "contrary motion" montuno style, which, while very easy to execute produce much richer sounding harmonies than the standard salsa approach. The book also includes "sidebar" sections on the importance of rumba in salsa, rhythm section "gears", controlled improvisation and the evolution of bass tumbaos in Cuban music.
Bass tumbaos are included for each of the 54 piano transcriptions and some also include string section guajeos and second keyboard parts. Volume 10 also includes a detailed biography with rare photos from Pupy's private collection and information about his extensive musical family. The discgraphy section lists Pupy's work in two ways: by album, and by song, as many of his compositions were recorded by various artists.