NYC Bulletin
sábado, 17 enero 2015, 07:14 am
Gerardo Contino y Los Habaneros
Debut new single at Subrosa Jan 20th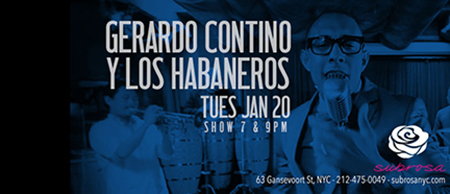 Subrosa, Blue Note's new Cuban-themed club located in the heart of the Meat Packing District, has wasted no time in establishing itself as one of Manhattan's central clubs for Latin music since opening its doors in November of 2014. The club has served as the new headquarters for the Pedrito Martínez Group as well as regular appearances by Pepito Gómez, Ariance Trujillo and other members of New York's Cuban Music Community.
While the core motive of this establishment has been to feature NYC Cuban artists, Subrosa has been wise to include representatives of other genres as well. Groups ranging from Rana Santacruz's original Mexican folk, the Colombian Jazz sounds of Pablo Mayor and even the indie rock meets salsa-dura fusion of the Williamsburg Salsa Orchestra are among the recent and upcoming attractions on Subrosa's calendar.
An upcoming event of particular note is by none other than Gerardo Contino y Los Habaneros. Mr. Contino will be debuting his most recently recorded song "Quisiera Saber" this coming Tuesday Jan 20th at Subrosa. In many ways, the venue is the perfect fit for Contino, his music and his new single. A true believer in the power of cultural diffusion, Contino has often looked to influences outside of his home country in terms of his original compositions and even the members of his own band. His first recording as a leader "Somos Latinos", while at its core being a Cuban Salsa record, incorporates strong influences from other Latin genres including Cumbia. Ina addition, Contino has collaborated with a wide range of musicians including Peruvian Folkoric Group Kambalache Negro. "Quisiera Saber" is no exception, written in the style of Colombian Vallenato mixed with a healthy dose of pop and Contino's undeniably Cuban voice.
Contino's sets will start at 7pm and 9pm and tickets can be bought online via Subrosa's website. Of course more information on other concerts and events by Contino and his band can be found on his website and Facebook page. Subrosa is located at 63 Gansevoort Street in Manhattan. 63 Gansevoort Street