Archivo
Lo Nuevo
[hide]
Fotos Del Día
[hide]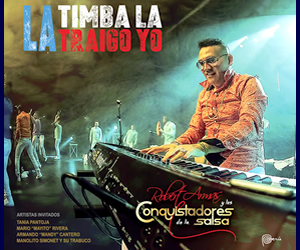 Pa' Ponerte en Talla
sábado, 21 enero 2012, 04:42 pm
Cuban Music News - In Brief - January 21 2012
Havana Live Music - Samuel Formell - Contrabando - La Raza Latina
Havana weekly listings are up - Need a live music and performance schedule for Havana next week? Check it out in our new section = http://www.timba.com/encyclopedias/havana-live-music-listings
Music form the Cuba All Stars Festival in Perú - check some live tracks from the festival: Mandy Cantero with Los Van Van on Que Sorpresa and Alex Abreu y Habana D Primera with Cuando El Río Suena. Both on Radio Timba right now.
Samuel Formell collaborates with Mexican guitar heroes Rodrigo y Gabriela - Ready to be released in the US this upcoming Tuesday, January 24th, Area 52 contains nine (9) of the duo's favorite songs from their own catalogue re-arranged and re-configured for a 13-piece Cuban orchestra comprised of some of Havana's finest young players, collectively known as C.U.B.A. This two-disc set includes a 30-minute 'making-of' documentary on DVD.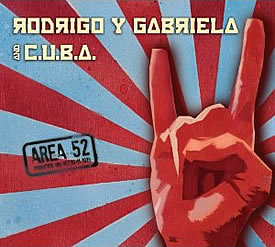 source

Area 52 was mixed by Rafa Sardina, one of the leading studio musicians in the Latin music world, and arranged by London-based pianist, composer and arranger Alex Wilson. Recording took place in the Miramar district of Havana, Cuba, at Abdala Studios, founded by the Cuban folk hero Silvio Rodriguez, as well as at Rodrigo & Gabriel's studio in Ixtapa, Mexico. Other players on the record include: bassist Carles Benavent (Paco De Lucia, Chick Corea, Miles Davis), drummer John Tempesta (The Cult, Testament, White Zombie), sitarist Anoushka Shankar and drummer Samuel Formell (Los Van Van).
Radio Timba has an excerpt (with spoilers) of Samuel's killer solo (listen to track #1) of the album's first cut, entitled "Santo Domingo". Check out Rodrigo y Gabriela's iste at = http://rodgab.com/
CubaAntwerpen (title song for the festival), new video from Grupo Contrabando - Hey shameless plug, but it's always It's a great feeling to see and hear a song you mastered. I worked with leader and trombonist Andrés Fernández on this and the video blew me away. Check it out:
Felipe Lamoglia & Urban Beats in Miami - Cuban Timba All Star (Tomasito Cruz version) and ex-NG La Banda saxofonist Felipe Magnolia will be playing his special brand of Afro-Cuban jazz in Miami Beach tomorrow. Fellow CTAS drummer Reinier Guerra is also on the bill.
Legendary, classical-style, afro-cuban "salsa suite" to be performed with 40 musicians - Pianist Larry Harlow's magnum opus "La Raza Latina" will be performed Friday night at the Adrienne Arsht Center in Miami as part of the Jazz and Roots series, with the composer conducting the local Mario Ortiz All-stars Band and a stellar lineup of musicians that includes the 90-year-old Cuban percussionist Candido Camero and Grammy-award winner and violinist Federico Britos. This will be only the second production of the show, first performed Aug. 14, 2011 at New York's Lincoln Center Out of Doors Festival, with Blades, now a Hollywood actor and former cultural minister of Panama, in the lead role. In Miami, Blades' part will be sung by vocalists Emo Luciano and Luisito Rosario. source