La Última
miércoles, 08 junio 2011, 07:56 pm
comentarios

Exclusive New Maraca!
click to hear Pregúntale a mi mujer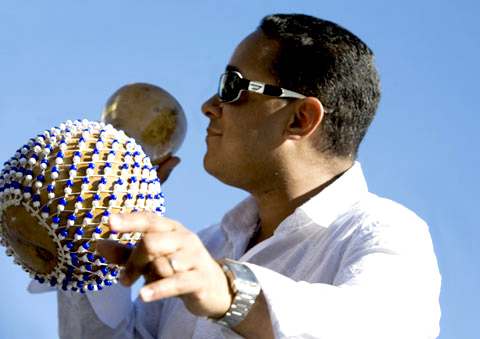 photo by Tom Ehrlich
Click for Maraca Tour Dates
Orlando "Maraca" Valle, ex-flautist of Irakere and, as the leader of Otra Vision, has chalked up a Grammy nomination, 5 Cubadisco awards and dozens of wildly successful tours.
With dual-residency in Cuba and Europe, Maraca was able to keep touring the US throughout the dismal 2000s by using all-star groups of expatriates, but the more enlightened post-Bush era has allowed him to return to his Havana roots and put together an actual working band of top Havana musicians that's been able to play gigs, rehearse, and develop unique original material.
Click "continue reading" below for a full list, but the two names that leap off the page are monster timbalero (and singer) José Miguel (ex-Irakere, ex-Issac, and the leader of Balanza), and Alexei "El Nené" Sánchez, who sang and wrote some of Revé's greatest hits of the 2000s, including No te doy más na' and La madrugada. El Nené wrote and sang several songs on Maraca's soon-to-be-released album, including this one, Pregúntale a mi mujer , an exclusive preview on timba.com.
The tour begins at the Napa Valley Opera House on Tuesday, June 14th . Then three nights at Yoshi's San Francisco (Wed-Fri) , then Seattle (21-22) , Boulder (24) , Salt Lake City (25) , Albuquerque (26) , Jazz Glenwood Springs (29) , Aspen (30, 7-1) , Minneapolis (7-6) , Madison (7-9), Chicago (7-10), Portland Indiana (7-14), Detroit (7-15), Sioux Falls (7-16) and Washington DC (7-25).
Here's Maraca's full lineup:
Orlando "Maraca" VALLE (bandleader, flute, composer, arranger)
Josiel PEREZ (trumpet)
Eduardo MARTINEZ (trumpet)
Ariel PEREZ (trombone)
Alfred THOMPSON (tenor saxophone)
Andrés PEREZ (baritone saxophone)
Lester CIARRETA (vocal)
Alexei "El Nené" SANCHEZ (vocal)
José-Miguel MELENDEZ (vocal, percussion)
Iván LLANES (drums, timbales)
Yosmel MONTEJO (bass)
Rafael VALIENTE (congas, background vocals)
Andy RUBAL (piano)