Timbera Mayor
Llegó Aisar Hernandez
Interview with the Director of El Expresso de Cuba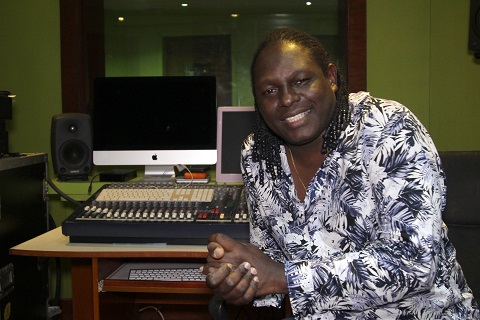 Aisar Hernandez in the studio
Photo ©Roberto Ruiz. Used by permission
Today Aisar Hernandez, director, composer, arranger and bassist of El Expresso de Cuba – the newest group on Havana's popular dance music scene – held a press conference about this fledgling musical project. Sadly, Timba.com was not there. But Aisar did take time out of his busy schedule to do an interview for Timba.com. I also want to give a special thanks to Roberto Ruiz for allowing us to use some of his photos to bring some visuals to the interview.
For those of you who may be new to Timba, Aisar was musical director of the great orchestra Elito Revé y su Charangón for ten years, during which time they released the hit CDs "Fresquecito", "De que estamos hablando" and "La aplanadora de Cuba". In 2008 he also released four songs under the name El Expresso de Cuba, but Aisar stayed with Revé until December 2015 when he announced he would finally start his own band.
Knowing Aisar's talent as a composer and arranger and his command of Cuban popular dance music ranging from timba to more traditional music such as son, I have great expectations for this band. In the interview Aisar tells us not only about the band and how we can expect it to differ from the Charangón, but also about what it takes to be a good band leader and the difficulties of starting a new orchestra in times such as these.
Click here to read the English translation of the interview.
Dale cliq aquí para leer la entrevista en el español original.