Archivo
New Stuff
[hide]
Photos of the Day
[hide]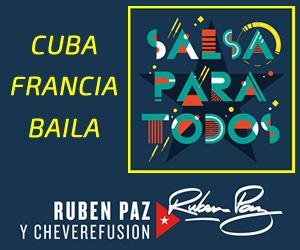 Timbera Mayor
More Timba in Stockholm
New Timba Group by Jonas Pomo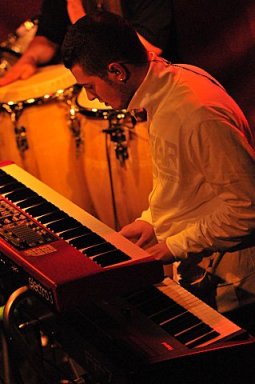 Once again I am amazed and confounded by the Cuba - Sweden connection. In a country where the entire population is only equivalent to New York City, we have now at least 8 timba bands that all produce original material at an international level. In addition there are a couple of groups that are currently doing timba covers and several son groups. I still don't know why Swedish musicians seem to be so attracted to timba, but why look a gift horse in the mouth? I just enjoy the fruits of their labors.

The newest timba group in Stockholm is so new it doesn't even have a name but it does have two original singles. Under the direction of 21-year old pianist Jonas Pomo and with the lovely Cecilia Ferrer on lead vocals, they are bringing timba fans a soulful timba. Jonas does the arrangements and he and Cecilia have worked on the lyrics together.

The first single "No Tiene Caso" is at Soundcloud now and will be released on iTunes and Spotify in early December. The second single, "Toco Fondo", will be out in January.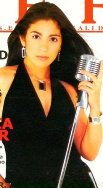 Bandmembers:
Jonas Pomo, piano & coros
Cecilia Ferrer, lead vocals
Pablo Cepeda, coros
Whitney Hernandez, coros
Linus Svanberg, congas
Magnus Almqvist, drums & timbales
Viktor Nyberg, bass
Simon Monserrat, güiro
Johan Nordfeldt, trumpet
Rickard Lindgren, trumpet
Peter Fredriksson, trombone
Lisa Bodelius, trombone
photo right: Cecilia Ferrer
What is the name of the band?
We don't have a name yet. So far the band is going under my name, or just my last name "Pomo".

Do you have a homepage or myspace that people can visit?
It is coming soon!

Tell us about your music background. Where did you study and how did you get into salsa?
When I was young I sang in a choir and played violin and guitar. There was a lot of music in my home thought my childhood. Both of my parents are musicians. One of my older sisters dances salsa a lot and was always listening to Cuban music at home when we were younger. Maybe that's where my interest was awakened. I attended elementary school at Adolf Fredriks music classes, which is a vocal school in Stockholm. When I was 13 I started to play piano and my first teacher, Arne Winald, played some salsa so he taught me some simple tumbaos that I built on.
I studied a jazz in high school and during that time I got to know some of the musicians that played with Calixto Oviedo's band which sometimes rehearsed at my school. I sat and listened to their rehearsals and snuck into concerts that I was actually too young to get in to. If memory serves I got thrown out between sets, [laughing]. It was Gunnar Thullberg, from Calle Real, who played piano in the band. I got to know him and went to see Calle Real as soon as they played in Stockholm. I even took a few lessons from him
When I was 18 I went to Argentina for 6 months and took private lessons from various musicians. I studied mostly tango and jazz there.
It was when I came back to Sweden that I began to get a lot of gigs as a musician. I played a lot with Derek January, a soul singer and bassist from Detroit. It was the best school you could imagine. Not only did I gain a lot of skill, but I also gained a lot of confidence as a musician and stage presence. I also started to play with several timba bands such as La Tremenda and La Liga Habanera. I have just completed a 2-year course in jazz at Skurups Folkhögskola n southern Sweden.

Were you always a timba fan or was that something that developed over time as you were exposed to more music?
I started to listen a lot to Issac Delgado, Manolito y Su Trabuco and NG La Banda when I ws in high school. Since then I've been stuck on it!
When did you form the group and what made you decide to take the step to start your own band?
I decided to do something of my own in January 2010. I had worked a bit with Cecilia then and it worked really well and I love her voice, so it was an obvious choice for me to ask her. I was living at the school in Skurup then and had a lot of time to sit and write.
How many songs have you recorded and are they available for purchase anywhere?
We have recorded two songs and are in the process of writing for that will be recorded in the beginning of 2012. "No Tiene Caso" is being released on iTunes and Spotify at the beginning of December. "Toco Fondo" is the name of the other song and it will be released in the beginning of January. We have just finished mastering both songs with Francisco Hernandez and "No Tiene Caso" is up at soundcloud.
How would you describe the "sound" or "sello" of your arrangements?
The timba that I write has a lot of pop/soul. We don't have any synth bass or other common "timba synth". I only have rhodes in my recording, which I think give a fresh and a little new sound. I like grooves. I don't want to clutter up my arrangements with too many breaks, etc.
What are your musical influences in terms of salsa/timba and also other genres that may influence your arrangements?
These particular songs were inspired by experiences and personal things. There are musicians who always inspire me: Astor Piazzolla, Issac Delgado, Herbie Hancock, Gonzalo Rubalcaba to name a few.
What immediate plans do you have for the band?
I want to have a release party at the beginning of February when all of my musicians will hopefully be in Sweden! I am working hard on the new songs and I hope that the band can begin touring in 2012.
Click here to listen to the single "No Tiene Caso"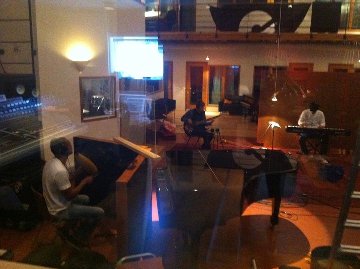 Pomo's group at the recording studio