Archivo
Lo Nuevo
[hide]
Fotos Del Día
[hide]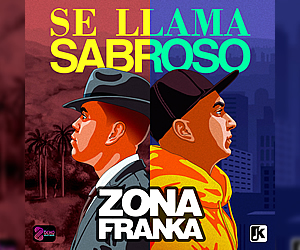 Timbera Mayor
lunes, 30 diciembre 2013, 02:09 pm
Nils Fischer & Timbazo
New Album!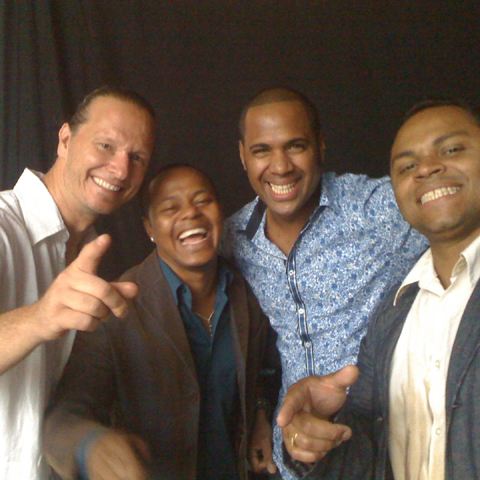 Nils Fischer with Timbazo singers
Alberto Caicedo, Fabian Nodarse "Huracán" & Nando Vanin
The second installment of our Eurotimba 2014 series is all about the new project by Nils Fischer & Timbazo. Following up their highly acclaimed debut CD ¡Gracias Joe Cuba!, Nils Fischer has brought together an amazing constellation of artists to do something new. Although he has not revealed the title of the new album to us, Nils did tell us that it will contain original material as well as some existing material á la Timbazo. Check out the guest list: Lucrecia, Calixto Oviedo, Alexander Abreu, José Luis Quintana 'Changuito', Carlos Del Puerto, Julito Padrón, Amik Guerra, Jan Hartong, Ernesto Paz, Bart Platteau and Volkan Bayda.
Below is a promo video with clips of Timbazo and the recording sessions. Timbazo is doing something a little different with this album. In order to fund the mixing, mastering and artwork for the album, They have set up a crowdfunding site. I asked him about this.
Crowd funding is increasingly common in the arts. What made you decide to take the step to use crowd funding?
I got the recordings together by emptying my own wallet, and I appreciate a lot the patient and passionate help of my friend, piano/arranging/soundtech-genius Marc Bischoff who also has a recording studio. The album is almost ready to rock right now, recordings are done. A big part of the production however will be the mix, the mastering, the rights, the artwork, promotion, shipping and so on.
All that will still cost a lot of money. Nowadays (the CD market is down) you can't earn back your investments by selling the product, to break even is impossible. Besides that, basically all work is for free, too - the problem is that we love music... before I start crying, that's how I discovered crowd-funding which is great, it brings a positive side to all this. Everybody can become a part of the production, you can already buy the new CD in advance so that we can bring it out. You can even pledge more and there are great rewards for those who do, it is all on the website www.voordekunst.nl. If we don't succeed, all money goes directly back to the pledgers.
The site is in Dutch, but there's a full English translation on my site at voordekunst. I also love to receive emails about it to info@nilsfischer.com
By the way: All who participate will be mentioned in the liner notes ;) Dear timberas & timberos: once more, we do need you to bring our music to you! Please check the possibilities here. Our deadline is 01. of March 2014. ¡Gracias mil!
Click here to read the full interview including videos and anecdotes from the recording sessions.
Timbazo is:
Nils Fischer - leader, congas, bongos, batá & other percussion
Fabian Nodarse "Huracán"- vocals
Alberto Caicedo - vocals
Nando Vanin - vocals
Marc Bischoff - md, grand piano, keyboard & Rhodes
Adinda Meertins - bass
Armando Vidal - drums, timbales
Wigbert Martina – bongos
Joe Rivera - trumpet
Alex Rodriguez - trumpet
David Rothschild - trombone
Frans Cornelissen – trombone