Archivo
New Stuff
[hide]
Photos of the Day
[hide]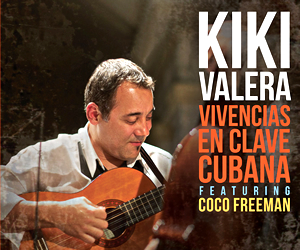 Sin Clave No Hay Na
Primer encuentro internacional de melómanos y coleccionistas
de música popular cubana
ENGLISH: Local encounters of melomanos (music lovers) have been commonplace in Havana for some time in El Jelengue de Areito (aka El Patio de la EGREM) and in the hotel Habana Libre, possibly in other places as well. Music lovers gather with vintage vinyl albums and a phonograph, play songs and talk (even debate occasionally) about the song and/or the artist. Shortly before Cubadisco began this year, an international version of this event was held for two afternoons in El Jelengue de Areito. The main sponsors were EGREM and Cuban Books and Records, a Colombian company. Many of the international attendees were from Colombia, and some prominent Cuban figures including Pancho Amat, Mario Escalona (EGREM) and Ricardo Oropeza participated in at least part of the event. After observing the proceedings for a while, this writer, who may have been the only estadounidense, also partipicated with an album that he had purchased at Tienda Seriosha on Neptuno because it contained a rarely-seen Ritmo Oriental song, Enseñame tu baile Lola, the search for which was once partially responsible for why he is with TIMBA.com today.
This was a fun event, and I hope there is a second edition next year.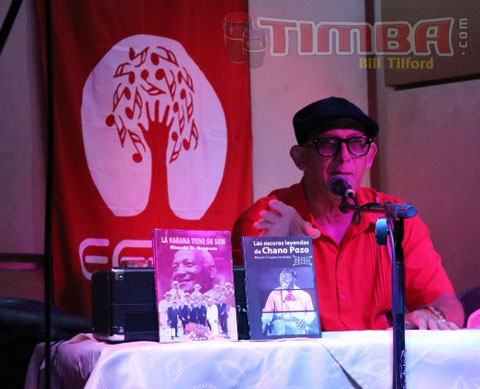 ESPAÑOL: Los encuentros locales de melomanos (amantes de la música) han sido común en La Habana durante algún tiempo en El Jelengue de Areito (también conocido como La Patio de la EGREM) y en el hotel Habana Libre, posiblemente en otros lugares también. Los amantes de la música se reúnen con álbumes de vinilo antiguos y un tocadisco, reproducen canciones y hablan (incluso debaten ocasionalmente) sobre la canción y / o el artista. Poco antes de que comenzara Cubadisco este año, se realizó una versión internacional de este evento durante dos tardes en El Jelengue de Areito. Los principales patrocinadores fueron EGREM y Cuban Books and Records, una empresa colombiana. Muchos de los asistentes internacionales fueron de Colombia, y algunas prominentes figuras cubanas, entre ellas Pancho Amat, Mario Escalona (EGREM) y Ricardo Oropeza participaron en al menos parte del evento. Después de observar los procedimientos durante un tiempo, este escritor, que puede haber sido el único estadounidense, también participó con un álbum que había comprado en Tienda Seriosha en Neptuno porque contenía una canción de Ritmo Oriental rara vez vista, Enseñame tu baile Lola, el búsqueda de la cuál alguna vez fue parcialmente responsable del motivo por su presencia subsecuente en TIMBA.com hoy.
Fue un evento divertido, y espero que haya segunda edición en el próximo año.