NYC Bulletin
Salsondria, Fuakata & La Tematik at SOB's Oct 16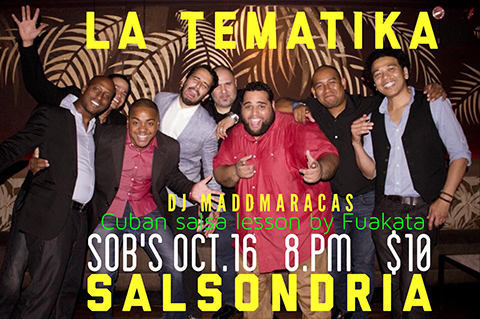 What happens when one of New York's premier Cuban dance events teams up with one of NY's premier Timba Bands along with one of NY's premier dance schools at one of NY's premier world music venues? Salsondria, Fuakáta and La Tematik will come together for a special evening at SOB's (Sounds of Brazil) on Friday October 16 to answer that very question.
Salsondria, featured in earlier blogs, has been growing and evolving steadily since first catching timba.com's attention in late 2014. Host and founder Daniel Odría has been working tirelessly to bring together the Cuban dance community and the musicians who play Cuban music live, with much success in doing so along the way. From his steady Tuesday residency at Favela Cubana to his guerilla-style parties at various locations across the metro area, Odría has averaged around 8-10 Saslondria events per month this past summer.
La Tematik are of course no strangers to the Sounds of Brazil stage. The group still stands as one of the few large Cuban Music ensembles performing regularly throughout the NYC area. They've established themselves, among other things, as the go-to orchestra to back up artists such as Mayito Rivera and Jose "Pepito" Gomez during their seasonal performances and have made many appearances on media sources such as ©Congahead. Under the direction of pianist Sebastian Natal and Jhair Sala, the band features a revolving door of some of the best singers and instrumentalists the city has to offer.
The itinerary for the night will commence with and intro to Cuban dance lesson by Fuákata at 7:00pm, followed by the band's 1st set at 8:00pm, a 9:00pm DJ set and finally the band's 2nd set at 10:00pm.
Tickets are $10 in advance and $15 at Door
For ages 21 and over.
SOB's is located at 204 Varick St, New York, NY 10014.