Archivo
Lo Nuevo
[hide]
Fotos Del Día
[hide]
Sin Clave No Hay Na
sábado, 29 septiembre 2012, 08:33 pm
Arturo Sandoval's Fall 2012 US Tour
First Stop: Viper Alley in Lincolnshire Illinois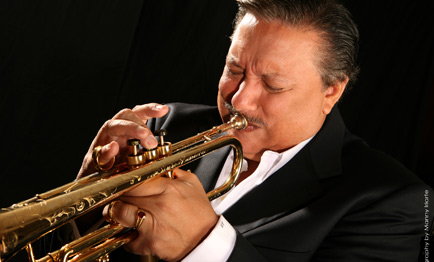 Arturo Sandoval, who first came to our notice as a key figure in Cuba's legendary Irakere and as the leader of his own combo in Cuba, has since had an even more remarkable career in the United States (and worldwide) with 6 Grammy Awards (17 nominations), 6 Billboard awards, 1 Emmy and numerous recordings, television appearances and film work to his credit (along with a long and successful teaching career). He is about to start a multi-city US tour schedule with some of his best work yet (in this writer's opinion). His most recent recordings, Dear Diz (Every Day I Think Of You) and Tango Como Yo Te Siento currently have 5 Latin Grammy nominations between them (4 for Dear Diz and 1 for Tango). We haven't picked up Tango yet, but we've been listening to Dear Diz for hours.
The first tour date we have is at the Viper Alley in Lincolnshire, Illinois, on Friday, October 5 at 8pm. The club is a little north of the city of Chicago, about 45 minutes from Chicago's loop and a little more than an hour from downtown Milwaukee. This venue just opened in 2011, and we saw Arturo do a great show there last year. We look forward to this week's appearance as well.
Dear Diz was a special recording for Arturo because Dizzy Gillespie was a key figure in his life and career. We spoke with Arturo by telephone on Tuesday while he was in Miami working on a new film soundtrack and about to leave for a few days in Lebanon. Unfortunately, the quality of the telephone connection was too poor for us to share audio here, but we will mention that he is very excited about Viper Alley performance and the rest of the upcoming tour, and he will be bringing his regular touring band including Zane Musa, the phenomenal saxophonist who also shined through in Dear Diz. He also mentioned during our conversation that the Viper Alley performance will include some selections from Dear Diz but probably not from Tango because that second project used some key personnel that won't be on this tour.
In lieu of our sharing the poor audio from our own conversation, we are going to direct you to an interview Arturo did with Guy Raz for NPR's All Things Considered in May 2012. He talks about his introduction to Dizzy Gillespie and what followed from that first meeting.