Archivo
New Stuff
[hide]
Photos of the Day
[hide]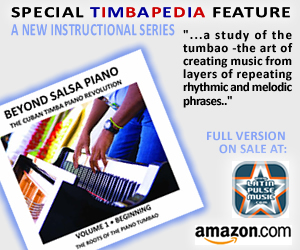 Timbera Mayor
TIRSO DUARTE IN EL YUMA!
El ángel negro en NYC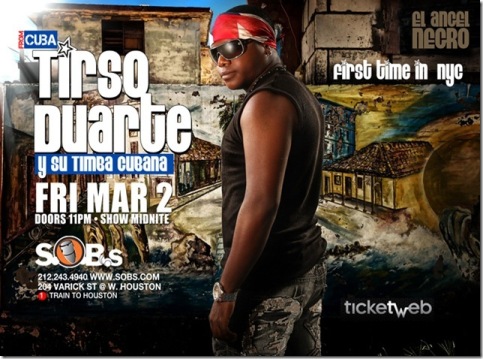 The New Year is off to an auspicious start! La Letra del Año has confirmed that the world will not end in 2012, and even more importantly, Tirso Duarte will be making his first NYC appearance on March 2nd at S.O.B.s! Ladies and gentlemen, timberas y timberos, this is truly a magnificent event so don't miss it, or you will never forgive yourself! We will get back to you ASAP with more US tour dates.
Tirso is an infinitely talented pianist, composer and arranger, and for the younger generation he is the new voice of timba. During his brilliant career he has written and arranged many of the hits of the post-break-up Charanga Habanera before moving on to NG La Banda and Pupy y Los Que Son Son, finally making his mark on Cuban music as a solo artist. As you can tell I am a huge fan myself. Here is a small taste from the Sons of Cuba DVD which many of you have already seen, but it merits watching over and over again...Manos pa'rriba la gente de la noche y la luna llena .
Tirso Duarte sings "La Luna"