Archivo
New Stuff
[hide]
Photos of the Day
[hide]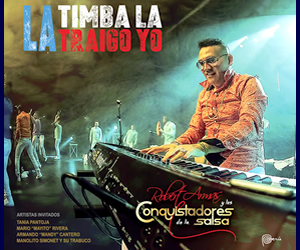 La Última
Transcendent
Pedrito Martínez Group Tonight in Santa Cruz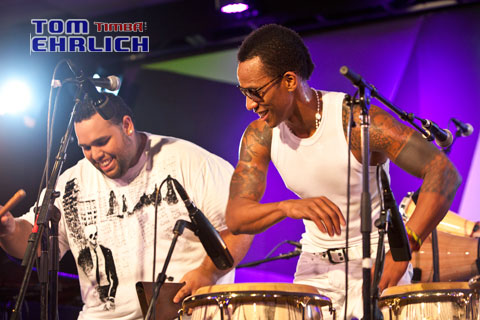 all photos by Tom Ehrlich - Monterey Jazz Festival 2012
(concert photography not permitted at SF Jazz)
We've already established that Cuban bands sound as great as they do because their members usually play with only one band - rehearsing, recording and gigging hundreds of times by the time you hear them on tour. This phenomenon is increased by an order of magnitude in the case of the Pedrito Martínez Group. I last saw them in September at the Monterey Jazz Festival, at which point they had already played together in various combinations for over 10 years, and at which point they were as tight as any band I'd ever seen. Since then, they've recorded an album and played at least 150 gigs, many of them in the relaxed environment of the Guantanamera club in Manhattan. The level they've now reached leaves me at a loss for words. I've been staring at this paragraph for 45 minutes and I just can't find a way to describe this band - and if I could, you wouldn't believe me - but if you're anywhere between Monterey and Sausalito, you really need to jump in your car and get yourself to Santa Cruz for the Monday night show at Kuumbwa Jazz Center. $22 in advance - $25 at the door - starting at 7:00 p.m.
For economic reasons, the 7-piece timba format has become more and more common in the US: two percussionists instead of three, one keyboardist instead of two, a sax and a trumpet instead of a full horn section and musicians who double on vocals. But with their "timba conjunto" format, PMG does a lot more than approximate the sound of a big band with less manpower. They've created a new and very different type of group that improves on the 14-piece timba band in many ways. They have everything a timba fan craves - a relentless dance groove, bomba, presión, wicked piano breakdowns, beautifully harmonized hook coros, masterful lead vocals, wild dancing on stage, rhythm section gears, tempo changes, and efectos of unsurpassed quantity and quality. What they don't have are the things that a timba fan puts up with to get all that other good stuff. They're never too loud; you can always hear every voice and instrument clearly; they're always perfectly in-tune; and they're never formulaic or gratuitously glitzy or vulgar.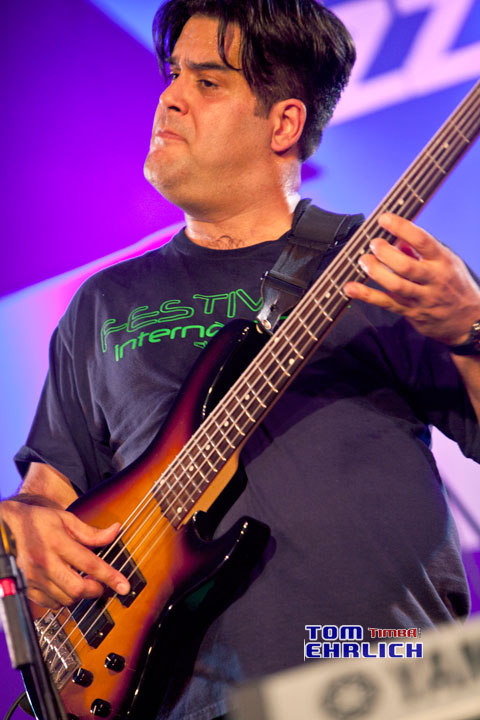 The biggest improvement is bassist Álvaro Benavides, whose playing has taken a quantum leap forward. His time has become so flawlessly solid that the band can - and often does - drop down to nothing but an ultra-syncopated bass tumbao without the slightest ripple in the groove. Even more astounding is his bomba, with a whole new palette of slides within slides, and thumps within thumps that lock in with Pedrito's low cajón to produce the kind of tembleque-inducing, throbbing hot groove that you'd expect from 1997 Issac or 1999 Bamboleo. His soloing has also become a major weapon in the band's arsenal.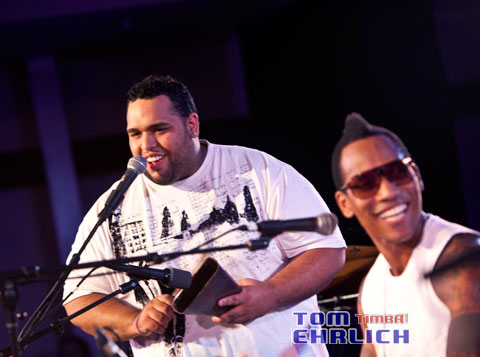 Then there's Jhair Sala. There's no drummer or timbalero in this group; the only metal instrument is Jhair's hand-held cowbell, just as you'd find in the classic conjuntos of Arsenio and Chappottín. The absence of all the other sticked percussion decreases the overall volume by dozens of decibels and exposes all the nuances of the hand percussion, the vocal harmonies, the piano tumbaos, and of the exquisitely expressive hand bell itself. At many points in the set, a break would result in a second or two of complete silence filled only by some delectable little interjection from the campana. At one point, I nearly jumped out of my skin when he created the funkiest sound imaginable by rattling the stick inside of the bell as he put it down to pick up the bongó. He also had a way of playing at climaxes that at first fooled me into thinking that some thrilling new timbre had been injected into the upper range of the piano tumbao. I was also repeatedly stunned by the sheer concentration of synchronized efectos and bloques of all types between Pedrito's congas and Jhair's bell.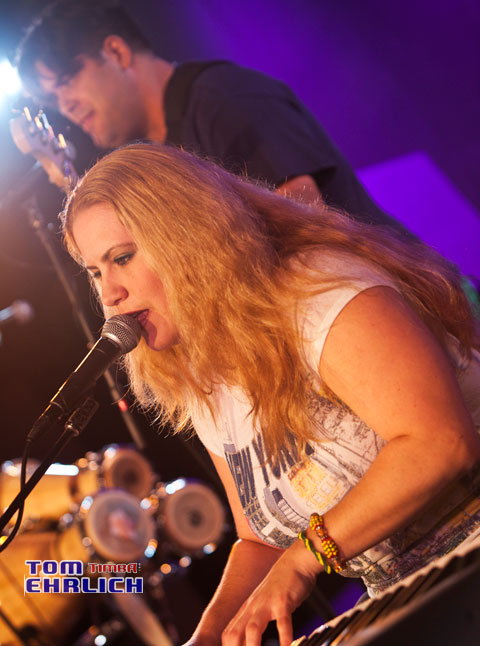 And then there's Ariacne. Ariacne Trujillo is a jaw-droppingly great pianist. She has full command over all of the innovations and vocabulary of timba, jazz, gospel, R&B,classical music, and a large palette of strikingly original ideas of her own, but what makes her so special - even by Cuban standards - is her time. It has to be witnessed to be believed. She's a one-woman version of El Tren itself. Over and over the band drops down to just piano - not piano and clave - not piano and güiro - not piano and kick drum - just piano - extremely syncopated piano. But it might as well be Van Van in their prime pounding out Te pone la cabeza - her time is that solid. And she might well be singing lead while she's laying down this torrential groove. Her voice is huge and in all ways virtuosic, but the instant she switches from lead to coro, all the stylized vocalizations disappear and she blends perfectly and luxuriously with the other three voices. Many strong lead singers are terrible at singing coro but Ariacne is one of the best coristas I've ever heard. She's also a tremendous dancer.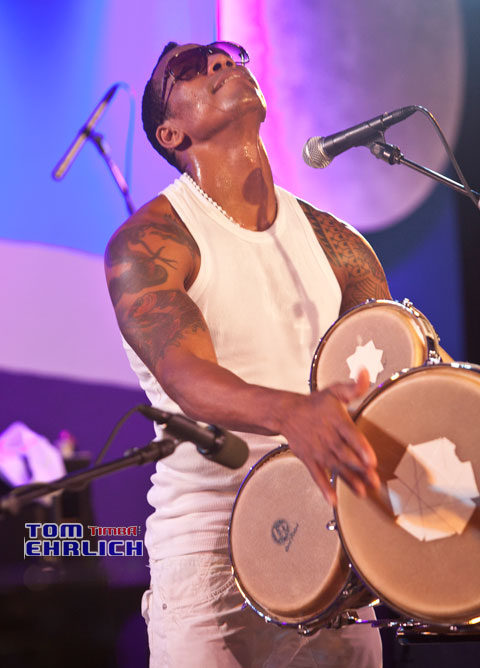 And then there's the boss ... it's hard to imagine that anyone on the planet could be as talented, or as talented in so many different ways, as Pedrito Martínez. He could be a world-class specialist as a dancer, a singer, a folkloric master, a pop music drummer or a songwriter, but he effortless combines all these roles into a perfectly balanced package - completely genuine, never contrived, always listening, always pouring his heart into every note, and always completely and utterly on fire. On fire! The man is a force of nature.
And then, finally, there's the band itself - possessed of an identity and a personality of its own greater than the sum of its parts. Is it a timba conjunto? Is it folkloric timba? Jazz timba? Folkloric jazz? Rumba con funk? Yes and no. It might be a new genre if not for the fact that it would be impossible to imitate without getting a group of world-class talents to play together thousands of times over a period of years. PMG takes the concept of "gear changes" to extraordinary lengths: just voices; just piano; just bass; bass and piano; just congas; conga and bongó; just batá; batá and bass; congas, bass and full-on guaguancó dancing. They change wildly from one combination to another; from heart-stopping bomba to four-part a cappella; from a hellacious timba piano breakdown to a 12/8 folkloric groove; from guaguancó to rock-solid popular dance music.
Last, and maybe most important, this band is alive and breathing - reacting with hair-trigger rapidity to every twist and turn in the musical road. I spoke with Paul Siegel, who's heard the band over 200 times - every night he hears something he's never heard before.
I can't wait to see what new miracles he hears for the first time at tonight's show. [Kevin Moore]