Archivo
Lo Nuevo
[hide]
Fotos Del Día
[hide]
Pa' Ponerte en Talla
BEYOND SALSA BASS VOL.1 RELEASED!!
El primer volumen para el bajo de la serie de libros "BEYOND SALSA"
The first bass book in the BEYOND SALSA series of Afro-Cuban musical instruction methods, Beyond Salsa Bass Volume 1 (For Beginners) includes bass tumbaos for each of the piano tumbaos (aka, montunos) in Beyond Salsa Piano, Vol. 1, and contains many additional bass tumbaos plus other exercises, making this first bass volume is more than twice as long (compared to Beyond Salsa Pianio Vol.1). The book begins by categorizing the most common Latin bass tumbaos by their rhythms and then proceeds to tell the history of Latin music from a bassist's perspective, with notation for bass tumbaos from each era covered: changüí, rumba, son, danzón, big band and son montuno (a detailed study of Arsenio Rodríguez). This is the first book in the new standard for contemporary Latin bass styles. 186 pages (186 páginas) with 212 audio tracks (212 pistas).
Click here to download the FREE sample pdf
Click here to download FREE introductory bass audio samples
Click here to visit Kevin's Beyond Salsa Bass Vol.1 hard copy book page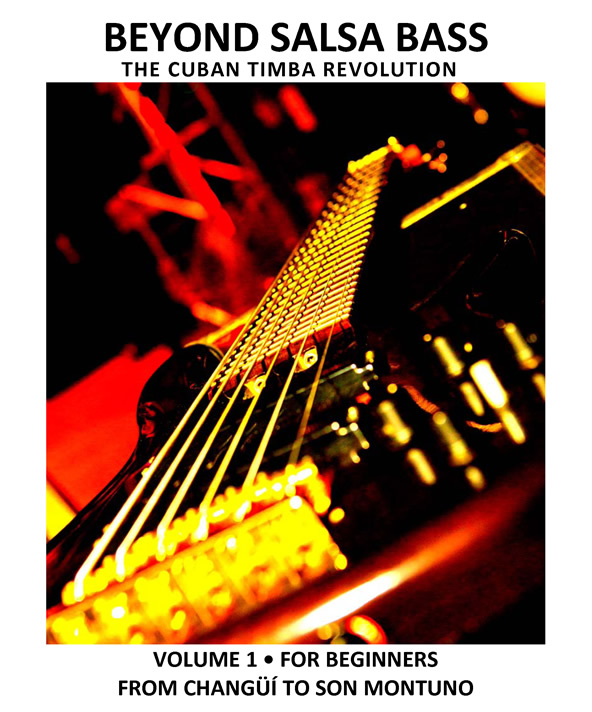 The Audio product includes a fast and slow file for each bass tumbao in the book as well as various example files corresponding to the text. Note that for every piano tumbao in our sister volume, Beyond Salsa Piano, Vol.1, there is a corresponding bass tumbao in the Beyond Salsa Bass, Vol. 1 book and audio product. In these cases, the piano audio is included in one channel. In other cases, the audio consists of just bass and clave. If this seems confusing, think of it this way: Beyond Salsa Piano Vol. 1 is a subset of Beyond Salsa Bass, Vol. 1. The bass book has a bass tumbao for every piano tumbao in the piano book, but the bass book also has many more additional tumbaos for tracks not covered in the piano volume.
For more info on the BEYOND SALSA series ploease visit = http://beyondsalsa.info
To read a more detailed introduction to BEYOND SALSA BASS Vol.1 please click on the continue reading link below (bottom right).......
continue reading Pa' Ponerte en Talla