Archivo
Lo Nuevo
[hide]
Fotos Del Día
[hide]
Pa' Ponerte en Talla
Ex-NG La Banda Singer GERARDO CONTINO this Sat. in NYC
CD Release Party feat. XIOMARA LAUGART & LUISITO QUINTERO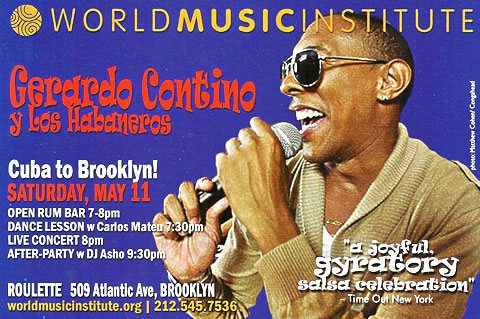 click here for tickets -- oprima aquí para taquillas
VAYA CALENTANDO LOS MOTORES para Havana D' Primera en Nueva York Junio 5 y 6. This CD Release Party from Ex-NG La Banda singer Gerardo Contino features special guests Xiomara Laugart (vocalist) and percussionist Luisito Quintero. In Cuba, Gerardo also sang with Charanga Forever and Son Yoruba. The gig will take place at the World Music Institute on 509 Atlantic Avenue in Brooklyn. Tix are only $25.
Here's a short list of the musicians joining Gerardo: Axel Tosca Laugart (piano) - John Benítez (bass) - Roberto Quintero (Congas) - Luisito Quintero (Drums & Timbal). Pianists Oriente López and Manuel Varela will also make an appearance.
Here's a cool video of Gerardo singing "La Chica Red Bull" with his NYC band. Axel Tosca and John Benítez are in the video as well. Video courtesy of our friend Martin Cohen (Congahead).
continue reading Pa' Ponerte en Talla