Archivo
New Stuff
[hide]
Photos of the Day
[hide]
Pa' Ponerte en Talla
¡VAYA QUE MAMBO MÁS RICO!
Introducing The Tutti Music Player
Un nuevo reproductor interactivo para aprender como tocar música
HOW TO MAMBO with the new Tutti Music Player
The new interactive, state-of-the-art multimedia standard for music instruction.
versión en español = oprima aquí
para leer sobre este nuevo tocador y los ritmos afro-cubanos gratis
Last November I attended the Billboard FutureSound Conference in San Francisco and there was one product that totally blew me away... the TUTTI MUSIC PLAYER. A company called Tutti Dynamics has developed an interactive music player for Mac, PC (Windows) and iPad that enables students to practice playing their instruments with master artists. If you are a serious student of Afro-Cuban music this will blow you away!
In a special partnership with TIMBA.com, Tutti is offering Timba.com readers a complimentary introductory offer to access two free Latin grooves (mambo & afro-cuban) from the Tutti Essential Grooves collection. CLICK HERE to take advantage of this FREE OFFER.
We wiil keep you updated as more rhythms become available. Just click on the Tutti link on the top right of every page (next to the language flags) to the latest news from Tutti.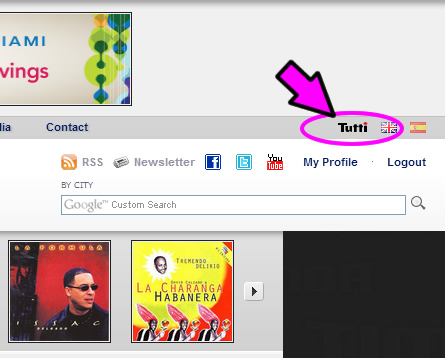 continue reading Pa' Ponerte en Talla