Archivo
Lo Nuevo
[hide]
Fotos Del Día
[hide]
Pa' Ponerte en Talla
Cuban Music News In Review - Ferbruary 1, 2013
PMG in D.C. - Manolín in SF w/ Cofiño - Calixto at the NAMM Show
Before we get to my 2013 Winter NAMM (Anahiem) report, here are two excellent upcoming TIMBA shows that are not to be missed.....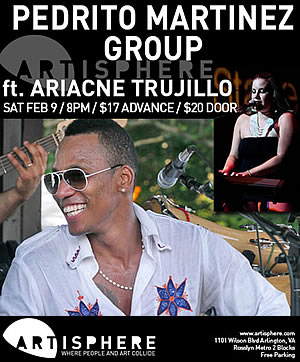 Pedrito Mártinez Group in Washington DC -- Click here to read the full report from our D.C. correspondent Rosy Estrada. Rosy notes..."Heralded as one of the top percussionists in the Cuban music scene, New York-based Pedrito Martínez will be making his first appearance in the Washington, D.C. area since his 2005 performance as a former percussionist with Yerba Buena at the Kennedy Center. The Pedrito Martínez Group, a quartet of talented musicians and singers, will be performing live at the Artisphere, in Arlington, Virginia, on Saturday, February 9th at 8:00pm."

The very next day farther west we have Manolín "El Médico de la Salsa" at Café Cócomo in San Francisco. Click here for tickets. Excitement is in the air becuase Manolín with be backed by bassist Jiovanni Cofiños band -- an established group in Las Vegas. Jiovanni was the musical arranger and bassist for la Orquesta Revé in early 2000, writing the smash hits 1999, Dale Agua Al Dominó and Se Sigue Comentando!!

Next we have a lighting round review of this year's Anaheim Winter NAMM (National Association of Music Mechants) Trade Show. I was there Thursday, Friday and Saturday and in my 10+ plus year of attending I've never seen it so busy. Rumors of 94,000+ or almost 100k people attended this year.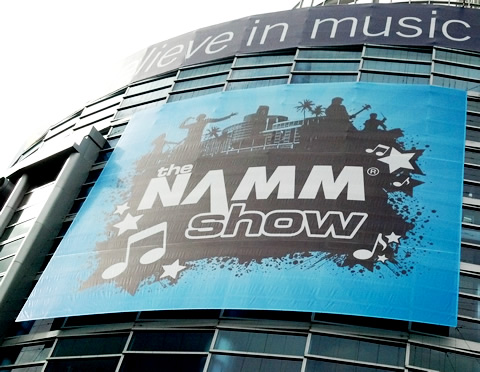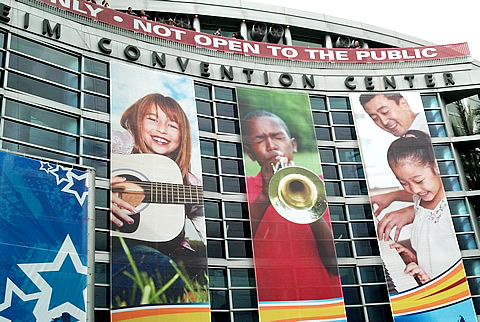 yes we believe in music -- not open to the public -- get your pass and hotel early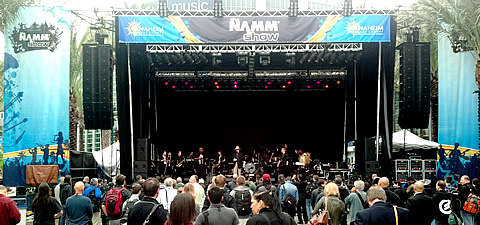 The new outdoor stage at NAMM. Right smack in front of the convention center. Tower of Power ripped it up Thrusday evening where I ran into...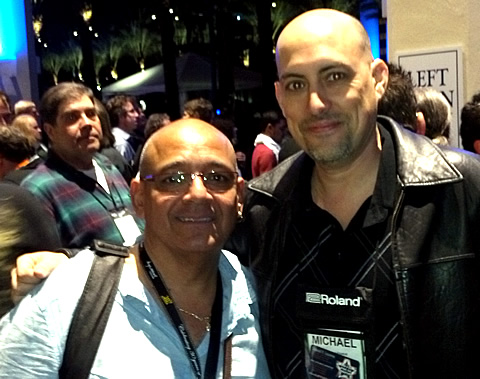 NG La Banda / La Maquinaria / Afro-Cuban All Stars master precussionist Calixto Oviedo
Calixto has a bunch of stuff going on and upon his arrival from Sweden was immediately secuestered by all the pecussion greats for intense sessions of NAMM farandulation. Co-author of the now top Afro-Cuban study method for percussion on the planet Beyond Salsa Percussion, Calixto is sponsored by Tycoon Percussion among others and has an upcoming interview with Modern Drummer magazine, not to mention his La Maquinaria live DVD recording concert in Boulder on Feb 10nth with ex-Pupy star singer Pepito Gómez.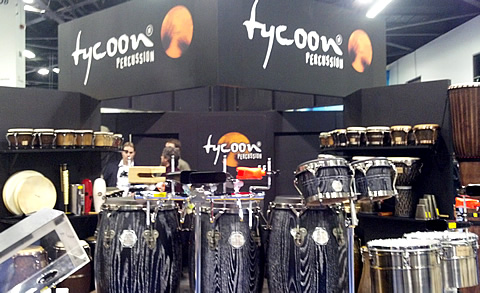 Looking good Tycoon. A shout out to fellow TIMBA enthusiast George Balmaseda (Artist Relations Manager) and Ivy Yu (General Manager at Tycoon Percussion).
Another company besides Tycoon making great inroads into Latin percussion is German company MEINL. They have a slick new series of ciongas and timbales.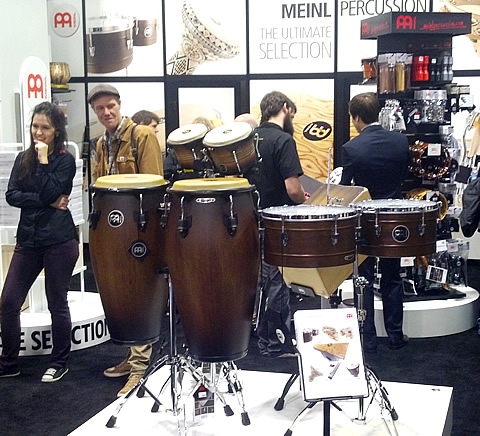 The new Latin percussion series from Meinl. Artists relations manager German Baratto shares a growing interest into Latin percussion and Cuban music.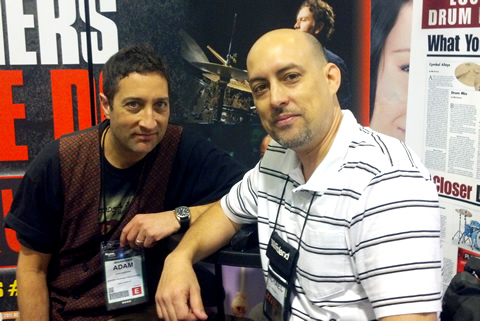 The Beyond Salsa series from our mad scientist extraordinaire and walking timbapedia Kevin Moore made waves at the show, catching the attention of Modern Drummer Editorial Director Adam J. Budofsky.
Stay tuned for coverage of Calixto Oviedo and the Beyond Salsa Percussion books in Modern Drummer Magazine. http://www.moderndrummer.com (the world's top drum magazine).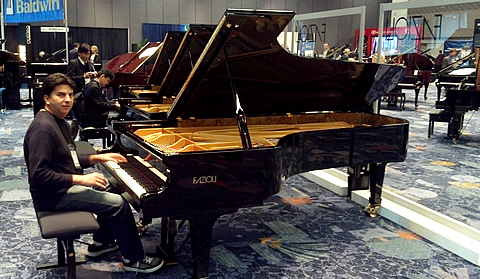 SF Bay Area pianist Ben Heveroh lays down some montunos of a new Fazoli piano. Wall to wall, dedicated floors of piano and other gear can be found in great abundance at the NAMM Show.
Now back to post-NAMM show gear lust withdrawal....
continue reading Pa' Ponerte en Talla