Archivo
Lo Nuevo
[hide]
Fotos Del Día
[hide]
Pa' Ponerte en Talla
TIRSO'S PIANO POWER UNLEASHED
Beyond Salsa Piano Volume 14 - Tirso Duarte Part 1
Volume 14 is the first volume of "Beyond Salsa Piano" to focus on Tirso Duarte, pianist, arranger, composer and singer for the great late-1990s incarnation of Charanga Habanera, recording artist and bandleader under his own name, and ex-singer for NG La Banda and Pupy y Los Que Son Son. This book covers the songs Charanguero mayor, Confianza and El bla bla bla, with note-for-note transcriptions of Tirso's piano tumbaos and a NOTE-FOR-NOTE TRANSCRIPTION for his entire performance on El bla bla bla. The entire bass part is also transcribed as are the bass tumbaos for each piano tumbao. There is also extensive explanation of the conga marchas and the gear and efecto system used by the late 1990s Charanga Habanera.
Click here to download a sample pdf of the eBook
Oprima aquí para descargar una muestra pdf del eLibro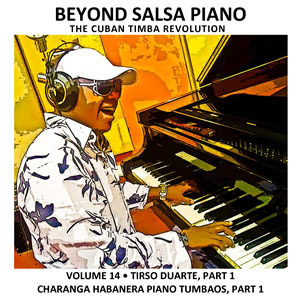 Author Kevin Moore explains: "The obsession with Cuban music that led to the writing of the Beyond Salsa series began – in many respects – in February of 1999, on the night that I first heard Tirso Duarte play the piano. It was at the legendary Disco Azúcar club in Cancún, on the evening before my first trip to Cuba. Tirso's piano‐playing was so astounding – and so moving – that I found myself incurably addicted by the end of the night. I've thought of very little else in the intervening 14 years – returning to Cuba, collecting music, studying Spanish, and studying Cuban and Afro‐Cuban music and history. On each of my subsequent trips to Cuba I met with Tirso and recorded many hours of MIDI files that, to this day, continue to yield amazing insights and on which the material in this book is based."
He continues: "In this book we'll study three songs: Charanguero mayor (Chapter 2), Confianza (Chapter 3), and El bla bla bla (Chapter 4). Charanguero mayor and Confianza have three completely different piano tumbaos each and El bla bla bla has four. Each tumbao is first presented on three staves, in its most basic form, along with the accompanying bass tumbao and chord symbols. The three‐staff notation corresponds to the "c" and "d" audio files, which have the piano alone in the left channel and the bass in the right. Next, the rhythm section context is discussed in a "Gear Studies" section, corresponding to the "e" and "f" audio files, which have the piano alone in the left channel and the full rhythm section in the right. Finally, each individual tumbao has a "Controlled Improvisation" section containing a series of variations as played by Tirso. The variations have corresponding "a" and "b" audio files with the left hand of the piano in the left speaker and the right hand in the right."
continue reading Pa' Ponerte en Talla