Pacific Mambo Orchestra - (Independent Release) Released 2012
CD Review: PMO (Pacific Mambo Orchestra) by the Pacific Mambo Orchestra
(Independent Release 2012)
Review by Bill Tilford, All rights reserved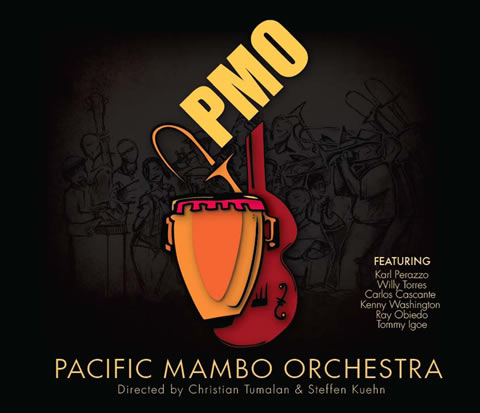 If we leave aside the influence of Perez Prado, whose fame was global but not based on a specific American city, a key center of the "Mambo Craze" in the United States in the 1940s and 1950s was New York, especially the Palladium Ballroom, where three big bands in particular were throwing down for dancers: the orchestras of Tito Rodriguez, Tito Puente and Machito. All three had great arrangements, but Machito had what is our favorite of the trio - it was the most truly Afrocuban of the three, the arrangements were lush, and frequently the orchestra also played what was called Cubop, a melding of Bebop and Cuban rhythms.
California was not closely associated with the original Mambo movement, but things change. In 2010, the Pacific Mambo Orchestra, a 19-piece ensemble honoring the sound of these classic bands, was established in the San Francisco Bay Area under the direction of Christian Tumalan, a pianist originally from Mexico, and Steffen Kuehn, a trumpeter originally from Germany. Both have long and distinguished resumes with several of the best bands in the business. The current instrumentation of the working band includes 4 trumpets, 4 trombones, 5 saxes, 3 percussionists, piano, bass, and a lead vocalist.
The debut CD for this group, also titled PMO (Pacific Mambo Orchestra), uses an augmented personnel roster, which is listed at the end of this piece. The overall flavor of the arrangments honors these classic New York bands with some swinging Mambos and a beautiful bolero, Bolero Cocomo, which may help bring that dance back into more clubs if enough people hear how this band interprets it. However, there are also some modern touches: some drum kit and electric guitar work on a few tracks that you would not have heard in the '50's, an English-language Salsa piece, Overjoyed, and a novel Bachata arrangment, Querer Como Ayer make it clear that the group isn't merely another revival band.
Modern touches aside, the thing that really makes this recording work for us is the depth and beauty of the arrangements, particularly in the saxophone section. This is what big bands are supposed to be about - a full, rich sound that leaves you and the room satisfied. Right now, this ensemble is primarily a Bay Area phenomenon, but if it survives the perils that constantly threaten all groups of this size, we think that it's just a matter of time before it achieves national attention. In the meantime, the band's website is pacificmambo.com, and it includes some audio clips of the band.
Personnel for the Recording
Role - Instrument
Name
Bass
Jorge Pomar, Abe Gumroyan
Piano
Christian Tumalan (co-director)
Percussion
Karl Perazzo, Christian Pepin, Braulio Banera, Omar Ledesma Jr., Javier Babanillas, Carlos Caro, Armando Cordoba
Trumpets
Steffen Kuehn (co-director), Louis Fasman, Jeff Lewis, Jonathan Ruff, Henry Hung, Larry Lunetta, Tom Poole
Trombones
Derek Jones, Mike Rina, Jeff Cressman, Jamie Dubberly, Ryan Black, Mara Fox
Saxophones
Pete Cornell, Doug Rowan, Tony Peebles, Benny Torres, Aaron Lington, Evan Francis, Gene Burkert
Guitar
Camilo Landau
Vocals
Alexa Weber Morales, Armando Cordoba
Guest artists:
Willy Torres, Carlos Cascante, Kenny Washington, Ray Obiedo, Tommy Igoe
Recording Engineer
Christian Tumalan
Mix Engineer
Christian Tumalan
Mastering Engineer
Michael Lázarus
Recorded at:

Tumalan Music, San Francisco,
April-July 2012
Kevin Moore - Thursday, 05 September 2013, 07:13 PM