Archivo
Lo Nuevo
[hide]
Fotos Del Día
[hide]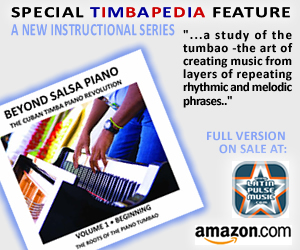 Pa' Ponerte en Talla
viernes, 01 junio 2012, 08:28 pm
TIMBA on commercial radio in New York
Timba Concert radio promo on La Mega 97.9 New York
Cuban Music News in Review 2012-06-01
OMG it's only a radio spot but it's a start! New York's top latin music FM radio station is running a 30 second ad for the June 16 / Copacabana Timba Mega Concert in New York. Listen to it on RADIO TIMBA or click on the link below...
listen to the La Mega 97.9 Timba Mega Concert radio spot



Also in the news in New York....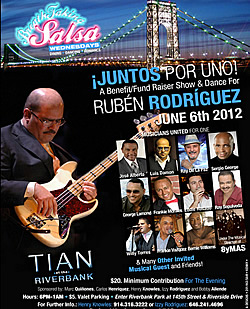 Benefit concert for reknown bassist Rubén Rodríguez -- "bassist Rubén Rodríguez is in need of a touch from above. He's to undergo surgery to remove fluid from a partially collapsed lung. His situation is challenging to say the least. Let's keep this brother in our thoughts and prayers. There will be some fundraisers happening in the NYC area. We LOVE you RUBEN!!" -- posted by fellow musician Ray Vega on Facebook

This benefit concert will take place Wednesday, June 6th at TIAN at the Riverbank. Enter Riverbank State Park @ 145th Street, New York City

Call (212) 234 1023 for tix.
Changüí Festival Begins in Guantanamo Province (Cuba) -- Featured at the event is Cuban bassist and composer Juan Formell, who took his first steps in music, in the orchestra of the late musician Elio Reve, precursor of the traditional rhythm that swept Cuba and the world. In addition to the expected concerts, the festival will celebrate the world's longest changüí with 40 Cuban groups that will make that music sound continuously for 24 hours, starting next June 2. Dancers will enjoy concerts of Juan Formell and Los Van Van, who will share the stage for the first time in that locality with the hosts of the event, the orchestra of Elito Revé. source
7 Days in Havana film debuts at the Cannes Film Festival -- There's a new movie out bankrolled by Havana Club (the rum-makers) that features 7 distinct episodes. The first one, called "El Yuma", was directed by Benicio del Toro (a story about a dim tuorist that hooks up with a transvestite). While the movie was mostly panned (a not-so-glaring review), it has Alexander Abreu appearing as a chauffeur / musician in the second episode entitled "Jam Session". The participation of our favorite trumpeter and band leader cought our collective eye. source
Excellent jazz history retrospective of another 7 days in Havana -- check out this great Havana report from jazz history buff Alex Ariff on behalf of WBGO 88.3 FM in New jersey. Great commentary and pictures with sound clips. Featured a look inside EGREM studios and an inside peek on a recording session with piano legen Frank Emilio Flynn. check it out here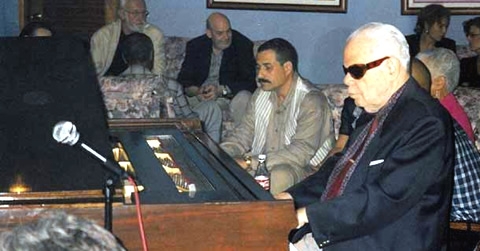 continue reading Pa' Ponerte en Talla