Pa' Ponerte en Talla
martes, 22 mayo 2012, 04:41 am
comentarios
Cuban Music News in Review 2012 May 22
NYC Mega Concert Date Moved to June 16
New Music on Radio Timba
First, here's the latest on the NYC Mega Timba Concert ... today we recieved this message from the event organizers in New York:
Regarding the event " De La Habana a Nueva York " / "From Havana to New York Non Stop Music ", due to time limitations in obataining exit permits for the Cuban Artists, the Mega Timba Concert has been postponed to JUNE 16, 2012 ... Same Artists Line-up, Same Time, Same Place.

New Date : Saturday, June 16th, 2012
Place: Copacabana Club
Address: 268 West 47Th St. New York, NY.
Time: 6:00 Pm to 12 Midnight. All Ages
All purchased tickets have been Upgraded to VIP Meet & Greet, no matter the purchased price.
We apologize for the inconvenience, for more information, please call 888-584-3070 or visit the official website here. Thanks again for your support.
---
Our Perú correspondent Feri DJ reports on a news conference for a special concert -- featuring Alexander Abreu of Havana D'Primera -- now passed on Friday, May 18. taking place in a stylish convention center, Alexander was backed by a Lima-based group of Cuban and Peruvian musicians called "Havana Light". Alexander will be on a solo tour of Perú from May 16 to May 27. Two other Lima timba bands, N'Samble and Rumbavana, also performed. The event also marked the first performace in Perú for one of our favorites: La Combinación de la Habana (de Gerson Valdés). Pro soccer players who are also salsa and timba fanatics were on hand to help promote the show.....read more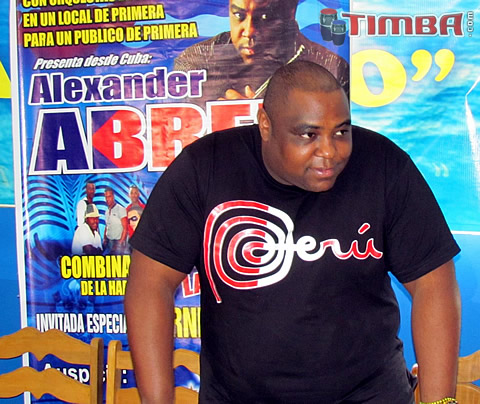 Also check out Radio Timba with some new freash tracks courtesy of Feri DJ as well...
1- CONGA TOUR by Los Van Van
2- FARANDULA TROPICAL by La Combinación de la Habana de Gerson Valdés
3- EL PAQUETE by Bárbaro Fines y su Mayimbe
---
New York street to be named after Arsenio - The "Father of Salsa Music" Arsenio Rodríguez may soon have a street named in his honor. A contingent of Bronx supporters are pushing to rename the intersection of Intervale Ave. and Dawson St. in Longwood after Rodriguez. source
Link to Pedrito Martínez Group's feature in the New Yorker is here ... "Martinez and his band have won over dozens of people the writer has taken to see him, despite common confessions to not liking jazz or not understanding Latin music. If anyone can move Afro-Cuban music into greater visibility, it's Martinez. " Way to go Pedrito!!
continue reading Pa' Ponerte en Talla