Archivo
Lo Nuevo
[hide]
Fotos Del Día
[hide]
Pa' Ponerte en Talla
sábado, 16 abril 2011, 12:35 am
Timba Percussion Clinics - April 23-26-28
Featuring Calixto Oviedo of NG La Banda & Afro-Cuban All-Stars
OK timberos and timberas here's another great opportunity to be exposed to the inner mechanics of the music we love. On SATURDAY APRIL 23 there will be a Beyond Salsa Percussion clinic in Vancouver, Canada, at the Long & McQuade Drum Department located at 368 Terminal Avenue. The clinic features Jorge Luis "Papiosco" Torres & Calixto Oviedo, currently on tour with the Afro-Cuban All-Stars.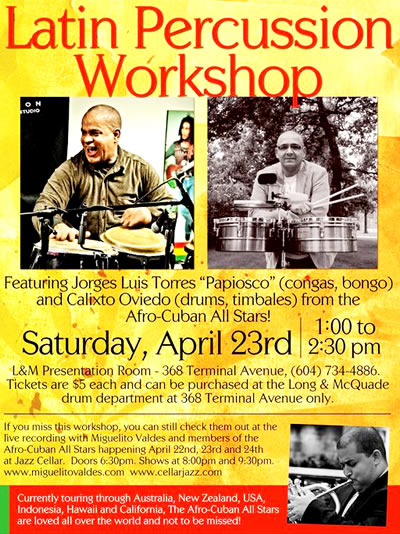 The clinics on the 26 & 28 of APRIL are in Los Angeles, at the CAL-STATE campus (full website here) and they are FREE (GRATIS). These are almost FULL so get there EARLY because seating is limited.
APRIL 26 Beyond Salsa Percussion Clinic
7pm @ the 150 Band Room at the Music Department Cal-State
Featuring Questions and Answer Session with Calixto Oviedo and Keivn Moore & the Cal-State LA Afro-Latin Ensemble.
APRIL 28 Beyond Salsa Percussion Clinic
8pm @ the Music Hall at the Music Department Cal-State
Cal-State LA Afro-Latin Ensemble Concert featuring Calixto Oviedo
Also Los Jovenes del Son Septet (Cal-State LA Altin Combo)
First come first server seating is limited for these FREE Los Angeles clinics. Shout out to Robert Fernández...send us a pic Robert.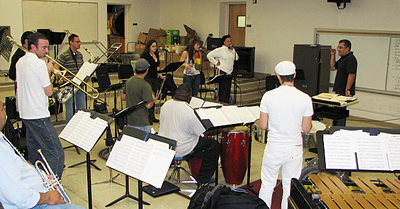 continue reading Pa' Ponerte en Talla