Archivo
New Stuff
[hide]
Photos of the Day
[hide]
Pa' Ponerte en Talla
lunes, 19 septiembre 2011, 04:55 pm
Cuban Music Spotlight for Film & TV Producers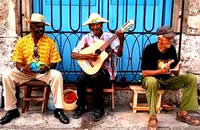 A unique event for anyone with a professional interest in Latin music for audio and video production, clearances, original scores or broadcast.

7-10pm Sunday, September 25
Bleicher/Golightly Gallery
1431 Ocean Avenue Santa Monica, CA 90401

Top-tier TV show music departments looking for Latin music will be invited, including Charlie's Angels, Dexter, Burn Notice, The Glades, CSI: Miami, Bad Mom, The River and Apartment 23. Plus, connect with a who's who of Latin music publishers who control *synch and master rights* for everything from crucial alternative and mainstream Latin releases, to perennial classics like Tito Puente, Celia Cruz and Willie Colón.
oprima aquí para boletos - BUY TICKETS - click here for tickets
get a 20% discount by using latinpulsemedia as your discount code
Easy $5 lot parking on 2nd street Tickets and info: www.artofmusicla.com
For additional info, media passes and interviews contact:
Peter Petro / peter@mandevillestudios.com / 310.430.5096
The Art of Music is a groundbreaking series that presents criminally overlooked specialty music for film and TV -- giving music supervisors, film composers, film directors and other professionals a unique chance to explore niche music styles, learn about upcoming projects and forge new relationships in a collaborative environment.
Join us Sept. 25 for "Cuban B-sides" featuring Cuban masters Son Mayor performing changui (similar to the son that made Buena Vista Social Club famous, but with a more haunting, percolating texture). Orquesta Charangoa rounds out the night with their lively charanga -- unique with its earthy wooden flute and violins, yet extremely useful for all-purpose "Latin" score cues.
This event is a MUST for anyone with an interest in Latin music for audio and video production, clearances, original scores or broadcast.
Beyond the performances, all attendees get a copy of the Latin Music Resources handbook and a chance to win raffle prizes including a set of handcrafted Cuban bongos, a free mastering session from Michael Lazarus (Burn Notice, Little Girl Lost), two full album downloads from Timba.com, albums from Smithsonian Folkways renowned Latin collection, a copy of My Seductive Cuba (a newly released 328-page travel guide to Cuban arts and culture) and more. Handmade Cuban instruments will also be for sale at wholesale prices.
For additional info, media passes and interviews contact:
Peter Petro / peter@mandevillestudios.com / 310.430.5096

continue reading Pa' Ponerte en Talla