Archivo
Lo Nuevo
[hide]
Fotos Del Día
[hide]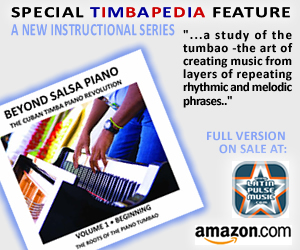 Pa' Ponerte en Talla
miércoles, 09 noviembre 2011, 07:31 pm
Timba News In Review for November 10, 2011
Team Cuba Documentary - Belgrade Festival - Maykel Blanco Videos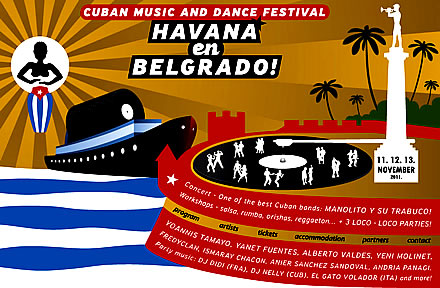 ¡Timba en Serbia! Ya tu sabes. Can't get tired of saying timba is an international phenomenon. This three day Cuban music & dance festival open with a performance tomorrow from Manolito y su Trabuco on November 11, 2011. World-class dancers and instructors are featured throughout.
---
Finally! Cool videos from Maykel Blanco's US tour are surfacing on youtube. Maykel's band was TIGHT and very well rehearsed. Here's a take on Esto está from New York's packed S.O.B's show.
---
Word on the street (pun intended) is that Washington D.C. has a new timba band called TIMBA STREET. They will be playing in New York at the Kennedy Center on November 21rst. A dance floor will be installed. Dance instruction will be provided at 5 p.m. by Casineros. Part of Swing, Swing, Swing. Haven't heard anything yet of quality from Timba Street, mostly partial live segments in need of a tune up.
---
And this from La Timbera Mayor Michelle White - If you need a serious recalibration, turn up the volume (the audio level is pretty low) on this excellent documentary on the roots of Timba and the famous Team Cuba. For a complete report on the Team Cuba concerts, musicians, etc. see http://www.timba.com/artists/show/teamcuba
This documentary includes concert clips and interviews with Juan Formell, José Luis Cortés, Adalberto Álvarez, Issac Delgado, Manolín El Médico de La Salsa, Paulo FG, David Calzado, Mayito Rivera, Ralph Mercado, Julio Montalvo and José Loyola.
Special thanks to the following people: Richard Ortega López, Kevin Moore, Gabriel Wilder, Curtis Lanoue, Orlando Fiol, Magnus Lindgren and to the people at SF for inspiring me to subtitle this video and make the information available to a wider public and maybe help answer the question "what is Timba?". If you're already a fan, this documentary is an important historical document. If you're not into timba, maybe it will at least give you an idea of why the rest of us are so crazy about it .
continue reading Pa' Ponerte en Talla