Pa' Ponerte en Talla
viernes, 23 septiembre 2011, 01:29 pm
Cuban Music Dominates Latin Grammy "Traditional Tropical" Category
Will it take another 60 years for Timba to receive true Grammy recognition?
New e-ticket tool for Latin music promoters
oprima aquí para leer este artículo en español

One quick glance at the 2011 Latin Grammy nominees in the TROPICAL category and you can see that, with the exception of Puerto Rico's famous bomba group "Esencia", the nominees are all Cuban music groups. Also interesting is that the genres are all "pre-revolution" (son, guaracha, guajira, descarga, bolero, etc), especially when you look at the nominees in the other 4 categories....
Best Salsa Album
Best Cumbia / Vallenato Album
Best Contemporary Tropical Album
Best Tropical Song
Click here to see the offical list of all TROPICAL Latin Grammy 2011 nominees
http://latingrammy.com/nominados/6-tropical
Best Traditional Tropical Album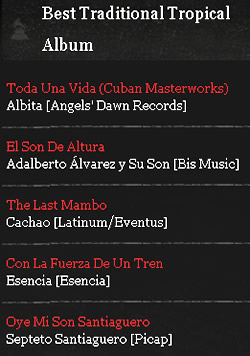 Toda Una Vida (Cuban Masterworks)
Albita [Angels' Dawn Records]

El Son De Altura
Adalberto Álvarez y Su Son [Bis Music]

The Last Mambo
Cachao [Latinum/Eventus]

Con La Fuerza De Un Tren
Esencia [Esencia]

Oye Mi Son Santiaguero
Septeto Santiaguero [Picap]

Ok so the Cumbia / Vallenato category we can understand the lack of Cuban music groups, but if you look at the other categories outside of "Traditional", well, Timba is completely off of the radar. We see:
- Cuban music groups only appear in the traditional category (pre-revolution genres)
- Salsa is dominated by the PR / NY sound
- Timba does not appear anywhere, especially in the Contemporary Tropical category
Timba by definición is contemporary tropical music.
All politics aside, one simple reason for this is that for the most part, and full disclosure here as I am a voting & engineering memebe rof the Grammys / Latin Grammys / P& E Wing, the members who work on a musical project, as well as their extended professional circle and individual fan base, are the ones who most vote and spearhead the support for the nomination of an album oir song. In stark contrast to the Recording Academy Grammy Awards, which focuses on products released in the U.S. (in the period of eligibility) and its members are located in the United States, this is NOT SO for the Latin Grammys. The Latin Recording Academy recognizes recordings released anywhere in the world with the only condition being that they were recorded in Spanish or Portuguese. This means that you can be a Latin Grammy member if you live OUTSIDE of the United States (and of couse meet the necessary professional requirements). So if you are like me, and you very well know that "Haciendo Historia" and "Cuando Suena el Río" by Alexander Abreu y Habana D'Primera is fully deserving of Latin Grammy album and song awards, as well as many TImba artists that are consistently overlooked, be aware that you can absolutely do something about it. Write them = http://latingrammy.com/en/pages/contact and/or join.
In other news, today I found an excellent tool for Promoters and Producer of Live TIMBA and Latin Music events (more timba please)....

BROWN PAPER TICKETS LAUNCHES SPANISH LANGUAGE TICKETING SERVICES

Brown Paper Tickets announces the launch of new Spanish-language ticketing services and Spanish-language website (es.brownpapertickets.com). This launch marks the first time the company's full ticketing service suite has been offered in Spanish to event producers. In honor of National Hispanic Heritage month, the company is offering free English to Spanish translations of event descriptions for the first week of the new launch. Rather than simply publishing a translated website, Brown Paper Tickets has dedicated great resources to serve and support Spanish-speaking communities, estimated at over 45 million people strong in the US alone by the last census.
* Disclosure = I have no personal interest, connection or business arrangement with Brown Paper Tickets. It's just a way to sell tickets online in spanish. [Mike Lazarus]
continue reading Pa' Ponerte en Talla