Pa' Ponerte en Talla
jueves, 07 abril 2011, 06:09 am
Calixto Oviedo Percussion Clinics
Afro-Cuban All Stars in Seattle
Beyond Salsa Percussion, Timba Drumming Sessions
Ok here we go.....the first dedicated timba drumming clinics in the country begin APRIL 6 & 7 in Seattle Washington. The instructor is master percussionist Calixto Oviedo, the drummer with the iconic band NG La Banda during the period that produced their greatest recordings, including Santa Palabra, Échale Limón, and El Trágico. For his full biography and discography click here.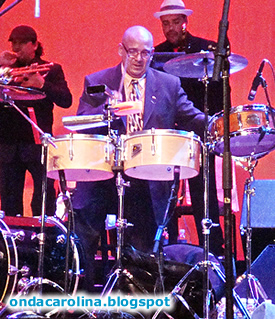 APRIL 6 - Beyond Salsa Percussion
Timba Drumming Clinic
Seattle Pacific University - http://www.spu.edu - 9:30 AM
3307 3rd Ave W, Seattle, WA 98119-1997
Phone: 206-281-2142 / Dan Adams Percussion Studies

APRIL 7 - Beyond Salsa Percussion
Timba Drumming Clinic
University of Washington
http://www.music.washington.edu - 1:00 PM
1100 Ne Campus Parkway, Seattle, WA 98105
Phone: 206-543-121 / Richard Karpen Director


Calixto's clinics coincide with his performances with the AFRO-CUBAN ALL STARS tour. Seattle shows include April 5-6-7 at the JAZZ ALLEY (http://jazzalley.com).
Jazz Alley - jazzalley [at] jazzalley [dot] com
2033 6th Avenue, Seattle WA 98121
Phone 206.441.9729
continue reading Pa' Ponerte en Talla