Archivo
New Stuff
[hide]
Photos of the Day
[hide]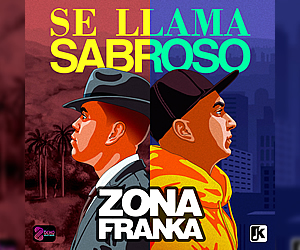 Timbera Mayor
QUE TIENE QUE TE MUEVE RELEASED
Available at Digital Retailers and Streaming Sites Now

ENGLISH: "Que Tiene Que Te Mueve" is the first full album by Maykel Blanco y Su Salsa Mayor to be released on Maykel's own record label, MB Record. It has been nearly four years since their last studio album and we have been rewarded for our wait with twelve superb tracks. Of course Maykel knows that you're only as popular as your last hit, so during that time Salsa Mayor released "El Chaca Chaca" in 2017 and "Ya Se Acabó" in 2018, both as singles and video clips, as well as the 2018 live album/video "Somos Mayores" filmed during their 12th anniversary concert, which featured the Cuban National Symphony Orquestra.
The lead singers are now Yordys, Kasanova and Aggayú (Altides Landa) and the album version of "El Chaca Chaca" has been re-recorded with Aggayú on lead vocals. However, "Que Tiene Que Te Mueve" also includes collaborations with the great Mayito Rivera on "Yo Comprendo", and a guaguancó-timba version of Yoruba Andabo's "La Cafetera". This album is quintessential Salsa Mayor with their signature sound and timbalovers dance arrangements. Stay tuned for the full review.
"Que Tiene Que Te Mueve" is available at on-line stores and streaming services.
ESPAÑOL: "Que Tiene Que Te Mueve" es el primer álbum completo de Maykel Blanco y Su Salsa Mayor que se lanzará en el propio sello discográfico de Maykel, MB Record. Han pasado casi cuatro años desde su último álbum de estudio y hemos sido recompensados ​​por nuestra espera con doce pistas excelentes. Por supuesto, Maykel sabe que solo eres tan popular como tu último éxito, así que durante ese tiempo, Salsa Mayor lanzó "El Chaca Chaca" en 2017 y "Ya Se Acabó" en 2018, tanto como singles y videoclips, como también en 2018 el álbum / video en vivo "Somos Mayores" filmado durante el concierto del 12° aniversario, que contó con la Orquesta Sinfónica Nacional de Cuba.
Los cantantes principales ahora son Yordys, Kasanova y Aggayú (Altides Landa) y la versión del álbum "El Chaca Chaca" se ha vuelto a grabar con Aggayú en voz principal. Sin embargo, "Que Tiene Que Te Mueve" también incluye colaboraciones con el gran Mayito Rivera en "Yo Comprendo", y una versión de guaguancó-timba de "La Cafetera" de Yoruba Andabo. Este álbum es Salsa Mayor por excelencia con su sello y arreglos de baile para timbalovers. Estén atentos para la reseña completa.
"Que Tiene Que Te Mueve" está disponible en tiendas digitales y servicios de transmisión.
Track list:
Ya Tú No Coronas
Lo Que Sobra
Que Tiene Que Te Mueve
Yo Comprendo feat. Mayito Rivera
Cógele La Chapa
Mi Monte
El Chaca Chaca
En La Selva
La Cafetera feat. Yoruba Andabo
La Lengua
Déjame Volver
Ya Se Acabó
continue reading Timbera Mayor