Archivo
New Stuff
[hide]
Photos of the Day
[hide]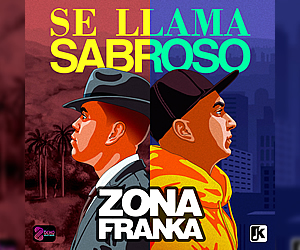 Timbera Mayor
EMPIEZA MI SON
SINGLE DROPS IN ONE WEEK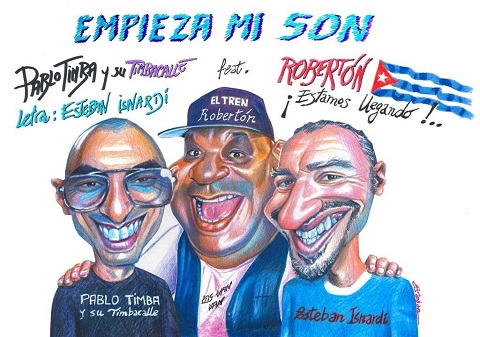 Image ©Esteban Isnardi Used by permission
ENGLISH: A new single is on the way from Pablo Timba y Su Timbacalle feat. Robertón Hernández of Los Van Van and lyrics by Esteban Isnardi. "Empieza mi son", which will be released on February 5th, will take its place in the polemic concerning son and salsa. I asked composer Esteban Isnardi what the motivation for the song was and whether he wrote it with Robertón in mind.
Isnardi: Actually it all started with a controversial video where a famous linear salsa dancer dances, with his "liner" style, a traditional Son. Many Cuban teachers were offended and a debate was born. There was a video of relative excuses, then another provocative one. I realized that the topic was very current, very contentious. That motivated me to create the phrase "tu salsa termina donde empieza mi son" [your salsa ends where my son starts] and print it on a t-shirt.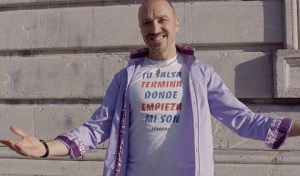 I went back to watch videos where the artists that Robertón names, Johnny Pacheco, Blades, Tito Puente, explain that what they did was only Cuban music and that also contributed to my inspiration. My phrase was very successful in social networks and I even discovered that, with the same typography that I chose for my shirt, they had made variations.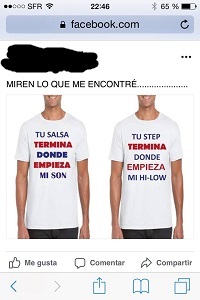 In addition to all this, Pablo Timba contacted me and asked me for a song. I started thinking that this would be a good topic and we agreed.

Life, the magic of life, gave us a beautiful opportunity, that is, the Van Van were on tour in Europe and, with Pablo Timba living in Italy, the three days off for the orchestra allowed him to go to Milan from his Sicily and record the song with Robertón. I didn't write it thinking directly about him, but always with the dream that the Van Van, or one of them could sing it, and with this my dream was realized.

Working with the talented Pablo Timba and his group Timbacalle was a great experience, and also the fact that the former Van Van, Pavel Molina (current director of Songomanía), plays the bass in our song, is the cherry on the cake.
I am aware that the song will be controversial, but at the same time I didn't make anything up, what I wrote is based on easily verifiable documents. With that text I added my two cents to ask for respect and, something very nice, Robertón often say "cultura!" as an interjection. That's how he ended the last SMS that he sent me, for example, and precisely -- my song defends the culture. So there is no better interpreter than him for "Empieza mi son"
To keep up with the latest news from Pable Timba i Su Timbacalle, sign-up for their newsletter.
ESPANOL: Un nuevo single está en camino de Pablo Timba y Su Timbacalle feat. Robertón Hernández de Los Van Van y letra de Esteban Isnardi. "Empieza mi son", saldrá al mercado el 5 de febrero, y tomará su lugar en la polémica sobre el son y la salsa. Le pregunté al compositor Esteban Isnardi cuál fue la motivación de la canción y si la escribió con Robertón en mente.
Isnardi: En realidad todo empezó con un vídeo polémico donde un famoso bailarín de salsa en línea baila, con su estilo de "liner", un Son tradicional. Muchos maestros cubanos se sintieron ofendidos y de ahí nació un debate. Hubo un vídeo de excusas relativas, luego otro provocativo. Me di cuenta que el tema era muy actual, muy "peleado". Eso me motivó a crear la frase "tu salsa termina donde empieza mi son" y sacarla en una camiseta.
Contribuyó a mi inspiración el hecho que volví a ver vídeos donde los artistas que Robertón nombra, Johnny Pacheco, Blades, Tito Puente, explican que ellos lo que hacían era solamente música cubana. Esa frase mía tuvo mucho éxito en las redes sociales e incluso descubrí que, con la misma tipografía que yo elegí para mi camiseta, habían hecho variantes.
A todo esto, Pablo Timba me contacta y me pide una canción. Me puse a pensar que ese sería un buen tema y estuvimos de acuerdo.
La vida, la magia de la vida, nos regaló una hermosa casualidad, o sea que los Van Van estaban de gira en Europa y, al Pablo Timba vivir en Italia, los tres días de descanso de la orquesta le permitieron ir a Milano desde su Sicilia y grabar el tema con Robertón. No la escribí pensando directamente en él, pero siempre con el sueño de que los Van Van, o uno de ellos pudiera cantarla, con lo cual realicé mi anhelo.
Trabajar con el talentoso Pablo Timba y su grupo Timbacalle fue una experiencia genial, y además el hecho que el ex Van Van Pavel Molina (actual director de Songomanía) toque el bajo en nuestro tema, es la cereza sobre la torta.
Estoy conciente de que el tema será polémico, pero al mismo tiempo no inventé nada, lo que escribí se basa en documentos fácilmente verificables. Con ese texto yo puse mi granito de arena para pedir respeto y, algo muy lindo, Robertón suele decir mucho, como una interjección, "¡cultura!"
Así es que termina su último SMS que me mandó, por ejemplo, y justamente mi canción defiende la cultura, No hay mejor intérprete que él, entonces, para "Empieza mi son".
Para mantenerse al día con las últimas noticias de Pable Timba y Su Timbacalle, suscríbete a su boletín.
continue reading Timbera Mayor