Archivo
Lo Nuevo
[hide]
Fotos Del Día
[hide]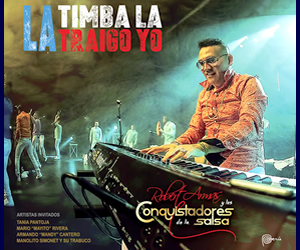 Timbera Mayor
Interview with Dorgeris Álvarez
La Sonera Mayor
ENGLISH: The reknowned Cuban orchestra Adalberto Álvarez y Su Son are currently touring Europe and we took the opportunity to talk with pianist and Adalberto's right-hand, Dorgeris Álvarez about the tour, the new CD "De Cuba Pa'l Mundo Entero", upcoming events and also about her life growing up in a family of famous soneros where she took on the role of pianist for her father's band at the age of 16. If you are in Europe, the band still has four concerts left so check their tours page for a concert near you.
Click here to read the interview with Dorgeris.
ESPAÑOL: La reconocida orquesta cubana Adalberto Álvarez y Su Son está actualmente de gira por Europa y aprovechamos la oportunidad para hablar con la pianista y mano derecha de Adalberto, Dorgeris Álvarez, sobre la gira, el nuevo disco "De Cuba Pa'l Mundo Entero", los próximos eventos y también sobre su vida mientras crecía en una familia de famosos soneros donde ella tomó el papel de pianista para la banda de su padre a la edad de 16 años. Si estás en Europa, todavía quedan cuatro conciertos, así que visita la página de giras para un concierto cerca de ti.
Haga clic aquí para leer la entrevista con Dorgeris.
Title track from "De Cuba Pa'l Mundo Entero"
continue reading Timbera Mayor