Indice - Table of contents
New Stuff
[hide]
Photos of the Day
[hide]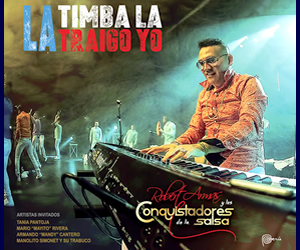 SpanishEnglishInterviews & Reviews - Concert Review - Buika OTS June 2013
Concert Review
Buika at the Old Town School of Folk Music, June 15, 2013
Review by Bill Tilford, all photos by Javi Rojo
All rights reserved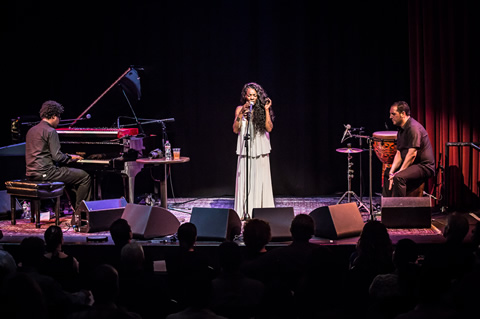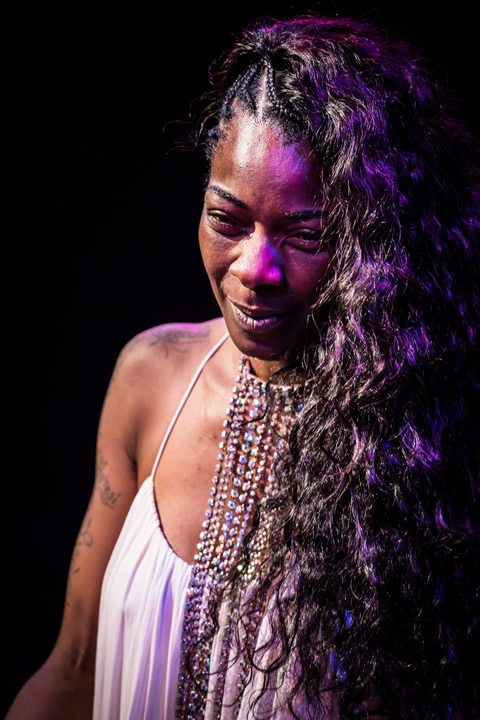 If James Brown truly deserved one of his titles as "The Hardest Working Man in Show Business", then Concha Buika has a legitimate case to claim the title of "Hardest Working Woman in Show Business". When it comes to emotional intensity, the closest things we've seen before are La Lupe going full throttle in Latin Music, Tina Turner cranked up in Soul or Janice Joplin in Rock, and when she's on a roll, Buika could easily smack down any of them. Not to mention, Buika's Jazz chops are the real thing - the only reason we didn't include a Jazz diva a moment ago is that we haven't seen even the most soulful of them open their hearts with quite the same range of feelings in their repertoire. Usually, the technical demands of Jazz impose a certain level of self restraint that she gleefully pushes to the limit without losing either pitch or control. This lady can perform, and if her stage presence is any indication, she is probably one of the few singers that could become a credible motion picture actress as well if she ever chose to go that route.
The Old Town School of Folk Music concert was a trio performance (Buika, pianist/music director Iván Melón Lewis and percussionist Ramón Porrina) as part of a limited-engagement tour in support of their recent release La Noche Más Larga, a wonderful recording that we highly recommend (you can read our review here). The show sold out weeks in advance, and Buika owned the audience during the show; the crowd came to a roar several times during the evening with one of the climactic moments being her rendition of Ne me quitte pas.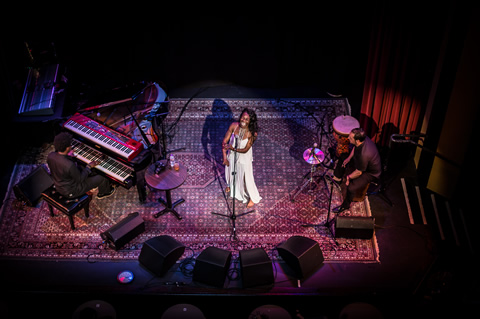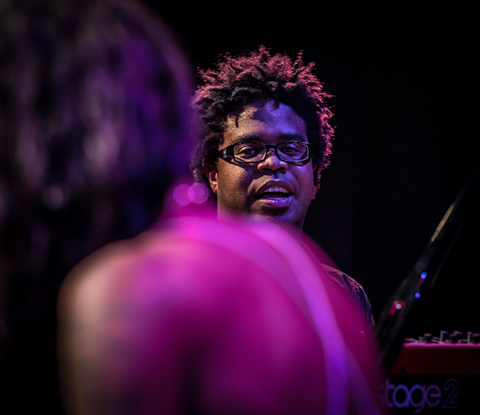 Most of the material was from the new album, and since this was a live show in trio format, Iván also stretched out with some piano solos that make us long to hear more of him in his other projects. Ramon's percussion rig looks deceptively simple - cajón, cymbal, djembe - but he has everything set up in a way that lets him perform much as a full percussion section would.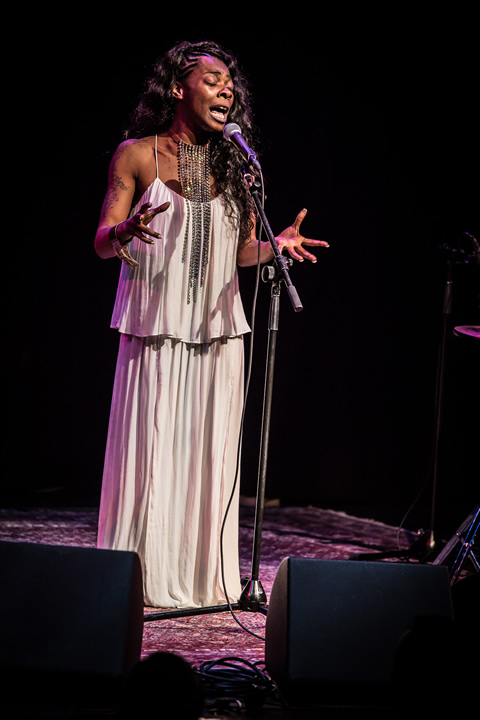 As for Buika, how does one do justice to someone who can wail, roar, whisper, growl, scat and deliver moments of sweetness without seeming false during any of those moments? The best we can tell you is, you'll want the new CD (which is now available several places including I-Tunes and Amazon, we recommend the actual CD because the liner notes include the lyrics), but find a way to see her live some day as well. They don't make many like her anymore.
Additional applause: Three cheers for the Instituto Cervantes for being a community partner with the OTS for this event.
And a little bit of bad news: This performance was originally scheduled to be part of the new Musicology series on WYCC, a Chicago public television outlet, and some issues regarding content rights apparently scuttled those plans. Without taking a position on who was responsible, we regret to inform our readers that this performance, which would have been a near-epic experience for viewers who are new to this artist, won't be part of that series after all. It would have been a good thing for everyone to have this segment air on public television.
Finally, a word for pianists: We can tell why Iván loves this project. It fits him well, and the chemistry in this group is unmistakable. But he also has a strong history in other styles including - you guessed it - Timba, so we are going to add a shameless plug here. Our own Kevin Moore worked with Ivan a while back to put some instructional materials together in the Beyond Salsa Piano series. For more information, click here.
Tuesday, 18 June 2013, 04:53 PM