Indice - Table of contents
New Stuff
[hide]
Photos of the Day
[hide]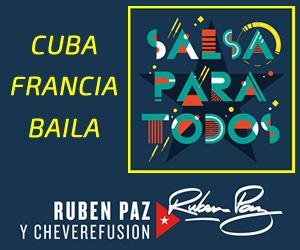 SpanishEnglishDiscography - 2000-Baila conmigo

2000 - Baila Conmigo - Baila Conmigo is a mixture of pop styles, including some, but not a lot, of Timba. It's well-written, performed and produced, but it's only partially an NG La Banda record. It's primarily the work of two people who aren't even in the band. All but two of the songs are written by Alberto Cárdenas, and the bass, piano and teclado are all overdubbed by Fernando Soria. It uses NG's singers, horn section and percussion section more or less as studio musicians but it's missing Feliciano Arango, Miguelito Armas and Peruchín's replacement, Emiliano Morales. It's the first NG CD to be recorded with a click track and some of the keyboard parts sound sequenced. The opening title track is Tosco's only songwriting contribution (other than the Latin Jazz instrumental "Para Un Amigo"). It's sung by Yeni Valdés. This is her second and final CD with NG before leaving for Los Van Van. There's not much to the song - just a repeating Gypsy Kings-esque chord progression. "El Regreso de Lola" is a more interesting - a mixture of jazzy, traditional-flavored Cuban salsa and hardcore Timba with strong influences from other bands - the introductory montuno and bloque are clearly inspired by Klimax's "Consejo a una Amiga", and the main chorus by Charanga Habanera's "Lola". It's as if NG, after inventing and then moving away from Timba, is now assimilating the advancements that occurred in its creative absence, but again, one has to remember that the writing and a lot of the playing isn't really NG. "Tirando Piedras" starts with a genuine "hook" montuno, borrowing a harmonic idea from the 1980's pop standard "Time After Time" and molding it into a modern displaced montuno for a very creative effect. The groove is more world-beat than salsa with the kick drum on every beat like a slow merengue. Where the montuno section would normally begin is a "disco" groove and a series of tributes to other bands, followed by short quotes from their biggest hits. It's very much like Issac's "La Formula" (and his earlier "Hit Parade") and even uses a number of the same quotes although not always cleverly as Joel Domínguez' brilliant arrangement for Issac. For example, after introducing Beny Moré, instead of quoting one of his songs, they simply sing "Beny Moré...Beny Moré". Finally they quote NG's own "La Apretadora". There are two slow pop ballads, "Empece a Dudar" and "Ya No Oigo Tu Voz" which are very pretty, although they sound more like Chicago or Toto than NG La Banda. The two Tony Calá vocals really do sound like NG and both are strong arrangements "Fin del Milenio", while it borrows the idea "Qué viva la vida" from Azúcar Negra's Leonel Limonta, is a great song. At 4:10 it takes off on a vaguely Bamboleo-esque idea to create something new and exciting. The other Calá vocal, "Química Perfecta", is a nice mix of traditional Cuban pop with Jazz and Timba elements mixed in. This leaves an unremarkable merengue and "Entre Nubes", which again starts with an entirely un-Latin sounding groove, and then brings a song which is almost lifted from Klimax's "Juana Cha". In summary then, "Baila Conmigo" has NG continuing in the world pop crossover direction and at the same time catching up on more recent Timba. "Baila Conmigo" also marks the first time that Tosco has delegated the lion's share of the creative duties to another writer and the result is interesting, but can in no way be compared to the major Timba releases of 2000: Klimax's "Oye Como Va", Issac's "La Fórmula", Manolito's "Para Que Baile en Cuba" and La Charanga Habanera's "Charanguero Mayor". Ironically, shortly after "Baila Conmigo" was recorded, one of the major creative figures behind "Charanguero Mayor", Tirso Duarte, joined NG. If the next album allows Duarte the kind of creative freedom afforded Cárdenas and Soria, things could get very exciting again. NG La Banda is far from washed up. They still play to good crowds at least twice a week in Havana, and they still have Tosco, Arango, Miguelito, Chappotín, Pablo Cortés and Tony Calá from the original group and the addition of Tirso Duarte could be of major significance. We eagerly look forward to their next release.
Unreleased Songs - "Crónica Social" was a censored song that never appeared on an album but bootleg versions can be found if you're persistent.. "Yo No Creo en Nadie" is a very catchy merengue which NG has played live for quite a few years, but which may also have been censured due the implications of the title. At 0:58, Los Metales de Terror quote the classical piece Rimsky-Korsakov's "Flight of the Bumblebee". It's not the only Russian influence in Timba! If you listen carefully to Los Van Van's "Que le Den Candela" you can hear nuances of "Song of the Volga Boatman", and of course, many Timba musicians have Russian first names, such as pianist Iván "Melón" González. The operatic-sounding tenor voice at 1:36 is Coco Freeman, still with the group today.
update: January, 2002 - Unfortunately, Tirso Duarte left the band for the group of César "Pupy" Pedroso. Duarte did some fine singing during his period with NG, although they didn't record during that time. Unfortunately his compositional and keyboard skills were never incorporated. Thus, as of this writing, NG's repertoire is essentially unchanged for almost half a decade. Tosco's creative and razor-sharpt flute playing on the perennial opening number, "Spain", make it clear that he has not lost his musical powers, but for some reason, he has lost the will to move forward creatively.
update: October, 2009 - El Tosco continues to play and record under the name NG La Banda, but without Feliciano Arango and often with sequenced rhythm tracks, cover versions of "Love Theme from the Titanic" etc. Of the newer albums, El papi is probably the best starting point.
Wednesday, 23 March 2011, 03:31 AM