Indice - Table of contents
New Stuff
[hide]
Photos of the Day
[hide]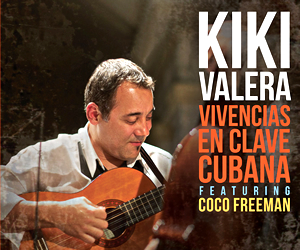 SpanishEnglishThe Songs: Track by Track - 9. El coleccionista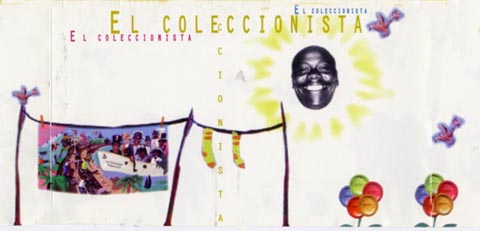 El coleccionista (Rodolfo Cárdenas) [click here for full lyrics]
Rodolfo Cárdenas has written a number of songs for Los Van Van, including one of their biggest hits ever, "Que le den candela". He also wrote the sequel, "La protesta de las gallinas" and "La shopimaníaca". His songs are known for their humorous lyrics and "El coleccionista" is no exception ("mi hobby son las mujeres"). It's a perfect vehicle for Sombrilla, a master of comic timing and vocal inflection, who had sung a song with a similar message on the previous disc, "A mí me gustan todas", to which he refers when he says "oye, la verdad te la dije en el disco anterior".
The opening is packed with fascinating music. A rhythmically-displaced piano tumbao is joined by another of those symphonic bass/synth figures and then a rapped coro from later in the song is previewed, leading to a bloque that momentarily sounds like it about to go into a jazz swing feel. [audio example 52] The horn intro is full of interesting voicings and ends with a section that sounds like something from an old American television show theme, although I can't quite picture the youthful David Calzado watching reruns of "I Love Lucy" and "Bewitched". [audio example 53]
The cuerpo is very catchy and enhanced by lots of breaks and fills and the transition to the first coro features a great piano tumbao with an extended bloque. [audio example 54]
One of the great things about this album is that there's no filler. Tucked away in every corner is some strange and wonderful creative pearl. Listen to the next example [audio example 55]. It's a masterful blend of synth, coro, brass, and drum fills, but listen to the synth near the end when the coro sings "no hay quien me aguante, y yo te digo que soy aplastante". What is that? It sounds like some kind of cross between an altered jazz chord and either a train whistle or a fog horn. It's off the wall, but it sounds so cool. You get the feeling that during these sessions the group had some sort of midas touch and every weird thing they tried worked out magically.
Finally, this song, like "Para el llanto" and "Yo soy como soy" features one of Charanga Habanera's most exciting endings. [audio example 56]
Tuesday, 20 March 2018, 10:48 AM