Indice - Table of contents
Lo Nuevo
[hide]
Fotos Del Día
[hide]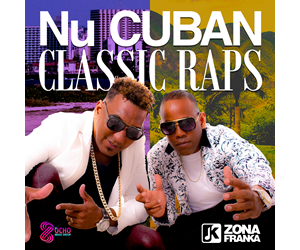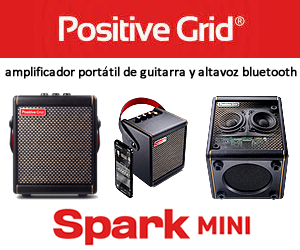 Concert Reports - Hot, Hot, Hot
Hot, Hot, Hot
photos by Magnus Lindgren (Gothenburg)

Hotter than ever - Manolito y Su Trabuco
This is the fifth time I've seen Manolito y Su Trabuco live. There has never been any question that the band is tight and has a repertoire that is popular among a broad spectrum of fans. But with the current front line of singers Sixto "El Indio" Llorente, Ricardo Amaray and Lázaro "Mayami" Díaz, their concerts have a new, hot edge that, under the leadership of Manolito Simonet, has taken the band to the top echelon of the first-line groups in Cuba and abroad.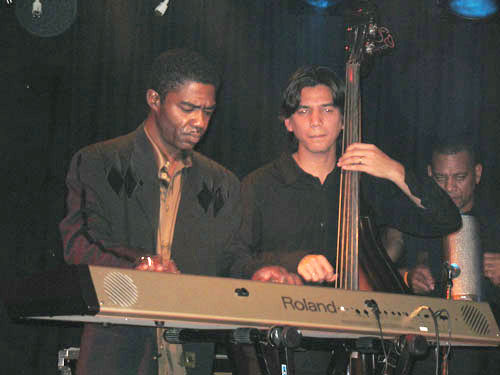 Manolito Simonet & new bassist Roberto "Chino" Vázquez
The band played at a venue called Street, that has never had a salsa concert before. The lighting on stage was so poor that I wasn't able to get any pictures of the Stockholm concert, but my good friend Magnus Lindgren let me use his pictures from the Gothenburg concert, and the video links in this report are all from previous concerts, nothing new from this concert. In addition to the lighting problem, which was compounded by floods of "mood smoke" that occasionally obscured the musicians from view, the venue doesn't have the right accoustics for orchestras. The band worked on the soundcheck for hours, and eventually they managed to get the sound up by the stage to be pretty good. But the father back you went in the venue the worse the sound was. This just proves my point that you should always push your way to the front of the stage at a concert.
They started promptly at 10:00 pm and you could tell they meant business. They kicked things off with La Raspadura, a hard-driving timba from the upcoming album Hablando en Serio. This will whip any self-respecting crowd of timberos into a dance frenzy. It is one of Mayamii's songs, and it is already a favorite of mine. Watching Mayami's style on stage, both when singing lead or on coro, you notice that he has a certain charisma and attitude that I find myself describing as "Pimp My Trabuco". For those of you not familar with the MTV program "Pimp My Ride", let me explain that by this I mean he brings a hot, cocky, confident, hiphop attitude to the group. Those of you who have seen him perform live know what I'm talking about, and those of you who haven't...drop everything and look for the Manolito concert nearest you. With the addition of Mayami, the show has developed to be more visually satisfying as well as a musical treat.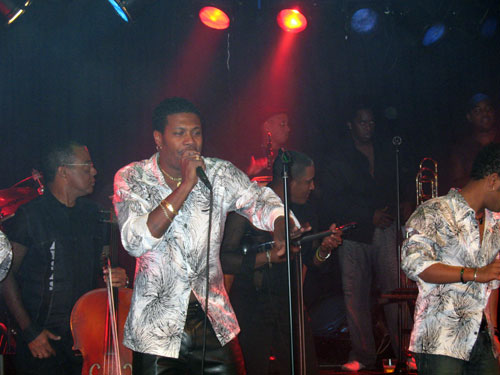 Lázaro "Mayami" Díaz - "Pimpin' the Trabuco"
The next song was No Te Pases sung by Amaray, a hypertalented singer/songwriter with a smooth R&B style. When he's not singing lead and causing the ladies to melt with his velvet voice, he's on coro and usually dancing in a fun and playful manner. And on those occasions when Manolito leaves the piano to direct the band, Amaray even takes over at piano. We all know he has written a number of hits for the Trabuco as well as for other groups, but I can announce that his solo CD will finally be released this year. He informs Timba.com not to expect timba; it is a CD of ballads. Considering that I like all the songs that he has written thus far, including the ballads, I am sure that Amaray's CD will be one of my favorites of the year...for those quieter moments when I need to take a break from dancing.
I should also mention the addition of a reggaeton-style rap in No Te Pases, performed by Mayami of course. I know many timba fans really don't like reggaeton, but there are some bands that find a way to integrate certain aspects without losing their sello and Manolito has definitely succesfully fused this style of rap with the rhythms of the Trabuco.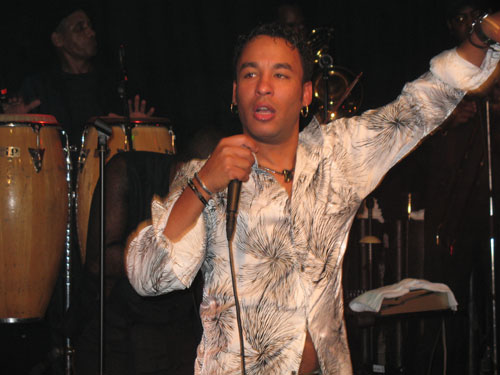 Ricardo Amaray
Up third was veteran sonero El Indio. He also sang a selection from Hablando en Serio, Sabrosona. I'm sure Manolito wrote this with El Indio in mind because it is perfectly suited to his voice, or maybe it's just that El Indio leaves his mark on every song he sings. He can do amazing things with his voice. He is like a chameleon, moving seamlessly from style to style. During this concert he also sang Como Fue. This song must be one of the most performed Cuban songs, but after hearing El Indio sing it, for me he has defined the song. Ivanovis Garzon and Cristóbal Ferrer performed excellent trombone and trumpet solos during this piece. And as if to demonstrate what El Indio is capable of, from Como Fue Manolito launched right into El Diablo Colora'o.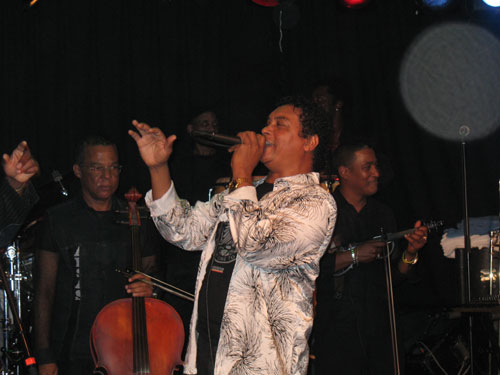 El Indio - Nació para cantar
This is such a great dance song at a breakneck pace and features a fantastic Riverón solo. The mood was so high by now that David Bencomo and Miguelito Pan con Salsa started dancing across the stage together.
Other songs they performed at this concert included Locos Por Mi Habana and Tú Me Dijiste Mentiras with a funky new synth part played by Pan con Salsa, a potpurri of older hits with Miami singing lead on Yo Soy Tu Padre and Amaray taking over Calunga's Linda Melodía, and, of course, El Indio sang the cumbia and Llegó La Música Cubana.
Miami's second song, Sacude La Mata was next. What can I say about this song? Great lyrics, great music, great dancing, the audience loves it...that about sums it up. David performed a hot solo and violinist Emilio Estrada joined the Trabuco to play along with Nicolás Gastón.
Of course there is more to the Trabuco than the singers. The band is an assembly of truly elite musicians. The percussion is made up of Roicel Riverón (drums), Evelio Ramos (congas) and Jorge Luis Guerra (güiro) and they lay down a heavy and intricate groove for the rest of the band. In fact, Manolito is one of the few bandleaders that always has a güirero with him, and it really pays off.
Last year Eduardo Mora, long-time Trabuco bassist, tragically passed away. He was replaced by Roberto "Chino" Vázquez whom Manolito recruited from Maravilla de Florida, one of Manolito's favorite sources for musicians. This talented young bassist also replaced Mora on the upcoming Mamborama CD. The other strings, Nicolás Gaston and Timba.com prize-winner Orestes Calderón, were in top form as well. And rounding out the charanga aspect of the Trabuco is flautist and corista David Bencomo. Many of the band's hits include solos by Bencomo. The nice thing with the concerts is that the musicians get to extend their solos from what you hear on the CDs. And of course we have los Metales del Trabuco, Ivanovis Garzon and Leonardo Alarcón on trombone and Cristóbal Ferrer and Rafael Arbolaez on trumpet. I was standing next to them all night, and they sounded so clear and sharp that every mambo was a pleasure.
On piano and synth we have the dynamic duo of Manolito and Miguelito. You can tell that they know each other well and have worked together before by the way the piano and synth effortlessly blend, complementing each other perfectly without ever detracting one from the other. We got a few nice solos from Manolito and Pan con Salsa during the course of the concert.
But all good things must end and we all knew what was coming when the phone rang and Amaray put his cell to his ear and said "Hallo? Hallo?": Comunícate! This song is already a hit, and Hablando En Serio hasn't even been released yet! Evceryone sang along until the final "házme una llamadita". Of course the audience had no intention of letting the band leave that quickly so they shouted ¡otra! until the Trabuco took the stage again and started with a Latin Jazz piece that gave us a chance to see more of Manolito's soloing and then sigued into Marcando La Distancia.
So to summarize: the band is hot, the new songs are already classics, buy the new CD, Hablando En Serio, when it is released (summer 2006) and buy the new DVD, KO featuring Manolito versus Bamboleo, when it is released (summer 2006) and make sure you go to the concert nearest you. You'll be glad you did.
sábado, 25 agosto 2012, 09:55 pm