Indice - Table of contents
Lo Nuevo
[hide]
Fotos Del Día
[hide]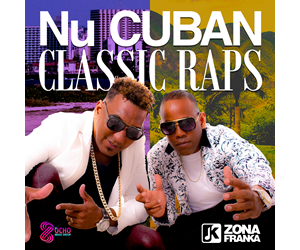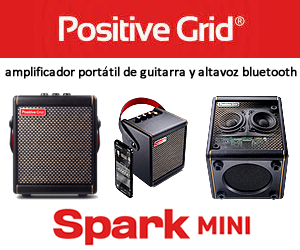 Concert Reports - Sale El Indio, Entra El Noro
Sale El Indio, Entra El Noro
© Timba.com 2008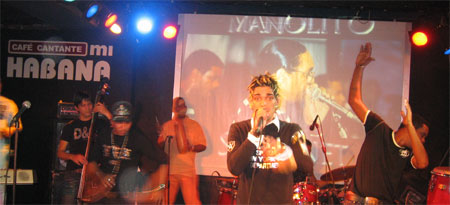 El Noro with El Indio on the backdrop behind him
On December 15, 2007 Salsa Mayor was in Las Tunas for a series of concerts at the carnivals, and I just happened to be there too. That afternoon El Noro received an unexpected call from Manolito himself. Manolito had tracked him down at the hotel because El Indio was leaving the band and Manolito was inviting El Noro to join.
You may be surprised to hear that El Noro didn't accept the job immediately. He took a day or two to decide. I think that he really enjoyed working with Maykel Blanco y los Mayores and it was hard for him to leave. But hey, El Trabuco es El Trabuco and El Noro has always been a huge Trabuco fan. He told me himself that singing with the Trabuco was a dream come true for him. While I was in Guantánamo I heard that he had accepted the invitation and given his 15 days notice to Maykel.
So I went to the first show at Café Cantante after my return to Havana to check out the Trabuco with the new singer line-up. This was my first time at a Trabuco matinee at the Café, and it was interesting to see how many musicians from other groups were there.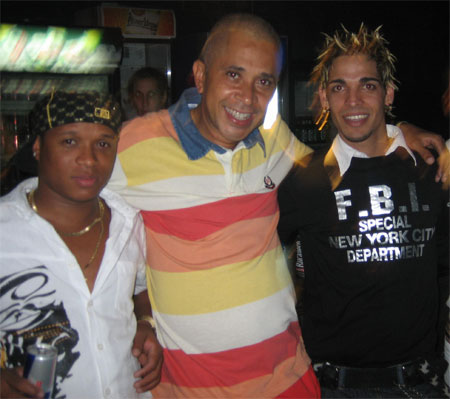 Tecladistas Richard and Miguelito "Pan con salsa" with El Noro
It looked like a pianist convention. I counted four pianists/tecladistas: Richard - Salsa Mayor, Helder - Charanga Habanera, Dayan - Adalberto Álvarez and Cucurucho - Los Van Van. Everyone was having a good time, even before the show. La Caro Band opened for the Trabuco and while the fans danced, the musicians mingled and gossiped.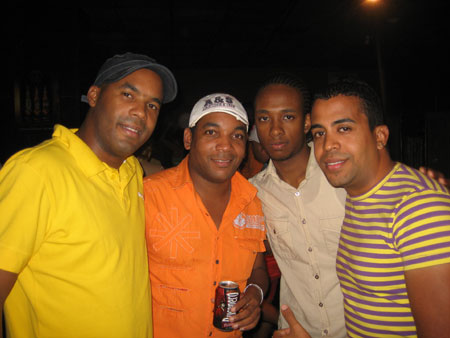 Helder, Dayan, JC - violinist with El Pikete, and Cucurucho
It must be Manolito that draws so many pianists to the Trabuco concerts. Certainly it was his piano playing that first brought me into the world of timba. El Noro told me that beyond being one of Cuba's premier musicians, Manolito is also a really nice guy, confirming what I already suspected.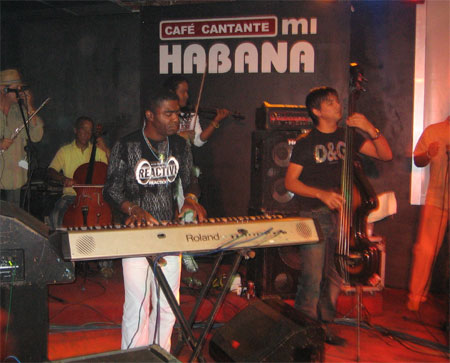 Manolito Simonet - nice guy and a magnet for pianists
Filming at the EGREM clubs requires a special permit, which I never seem able to get and without a video record of the evening, I can't remember the exact order of the songs. However, I managed to get a copy of the audio from the very first concert with El Noro from December 20th, 2007. Click on the song titles below to decide for yourself what you think of the newest Trabuquero.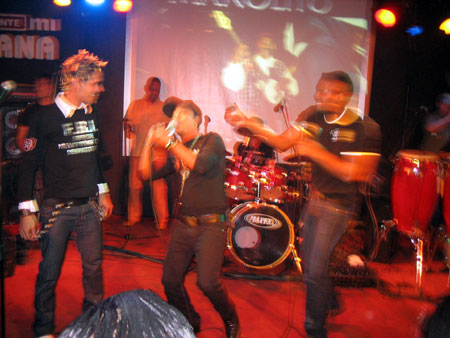 Los Trabuqueros having a good time
Amaray, now the Trabuco's "veteran" singer, performed Communícate and, of course, Locos por mi habana. Loco por tus besos has been released fairly recently in Cuba and is very popular, but they didn't do it that night.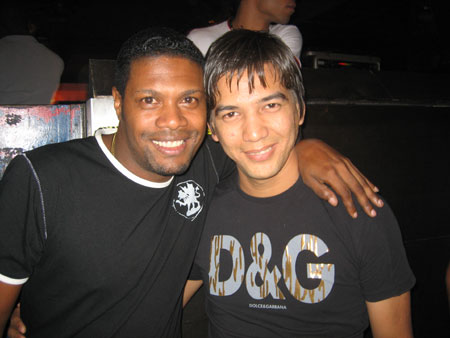 Mayami & El Chino
Mayami has a new song called Muévete un poquitico. I found it to be a bit surprising. I would expect Mayami to sing something hardcore with rap like a reggaeton, but it starts with a sweet flute intro and has a son montuno feel. Of course Mayami performs it with his usual charisma, and it provides a good moment for the band to invite ladies up to dance as well.
When it was time for El Noro to do his first song Manolito took a moment to say something to the effect that "El Indio has left the group and while no one can replace him, we have a new singer who is very talented".
I don't mind telling you that as much as I have enjoyed El Noro's work with Salsa Mayor, I was expecting to feel disappointed to hear him singing El Indio's repertoire. In fact, I figured that Manolito would introduce him to fans a little at a time so they could get used to the idea, maybe just letting him perform one song per concert, but no. I guess Manolito's philosophy is "if you're gonna do something, do it"; no half-meaures.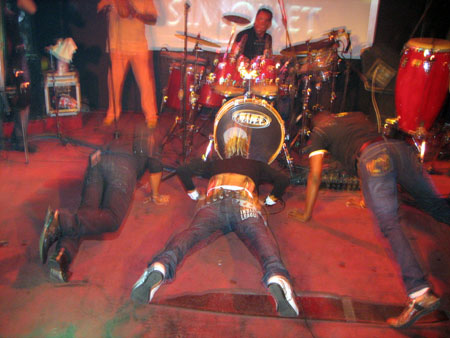 The singers bailando
El Noro's first song was Ella no está en na', a very demanding song for a singer's vocal register. Talk about jumping in with both feet! And you know what? I was pleasantly surprised. El Noro sang well and sounded good. He "defended the song well" as one Cuban put it after he show. As you can see in the photo below, the audience enjoyed his performance.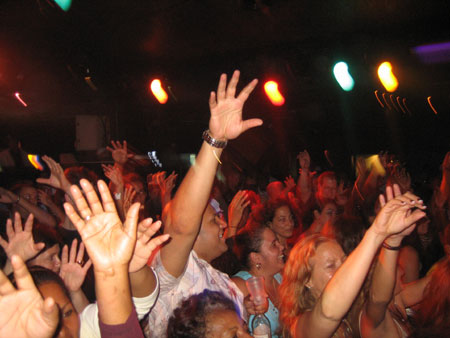 The audience gozando
He also sang El diablo colorao, which, by the way, has been covered recently by a salsa group although I can't remember which one. For his final song of the evening El Noro sang Marcando la distancia. This has to be the Trabuco's most internationally recognized song, and will quickly win El Noro a place with the fans who don't know him yet.
So it seems that Manolito knows what he's doing. The band on the eve of their next CD release and European tour has a young, enthusiastic singer line-up and a high energy show. I expect that they will continue to maintain their position as one of the most popular Cuban bands both inside and outside of Cuba. See you at a concert this summer!
sábado, 25 agosto 2012, 10:02 pm