Timbera Mayor
lunes, 28 diciembre 2015, 06:05 am
Carnaval de la Salsa
February 25-28 in Havana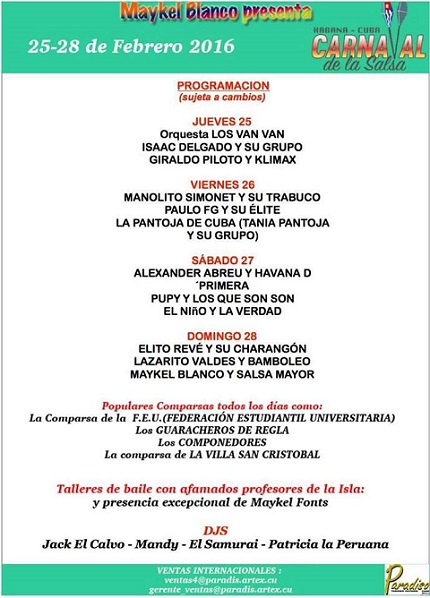 Maykel Blanco isn't content just maintaining his own band Salsa Mayor at the top of the charts year after year, as with their new release "Que no me quiten la fe" (review coming soon). He has also dedicated himself to finding new ways to promote Cuban music and dance, both on the island and internationally.
Part of this endeavor is the 1st annual Carnaval de la Salsa, which will take place in Havana from February 25-28. The program (which is still subject to change) includes concerts by the most popular timba bands in Cuba: Los Van Van, Issac Delgado, Klímax, Manolito y su Trabuco, Paulo FG, Tanja Pantoja, Havana D'Primera, Pupy y Los Que Son Son, El Niño y La Verdad, Elito Revé y Su Charangón, Bamboleo and of course Maykel Blanco y Su Salsa Mayor.
That is more than enough to make the Carnaval de la Salsa a must-attend event for any timba fan. But Maykel hasn't forgotten the dancers who want to work on their cubania . By day you can take part in workshops with well-known Cuban dance instructors and the special participation of Maykel Fonts.
For the parties, Maykel (Blanco) is also bringing in international DJs such as Jack El Calvo (France), El Samurai (Italy) and Patricia La Peruana (France), as well as Cuba's best-known timba DJ - Mandy. There will be comparsas every day, so this really is going to be an amazing event. I am tempted to ask for vacation, even though I just got back from Cuba three weeks ago. Book your plane tickets now before the prices go up! We will keep you updated, and don't forget to follow Maykel Blanco y Su Salsa Mayor at Facebook .