Archivo
New Stuff
[hide]
Photos of the Day
[hide]
Pa' Ponerte en Talla
Live Cuban Music News 2012 July 19
El Pikete Returns - HDP in Italy - Iris in L.A.
SALSA RUEDA FESTIVAL LAS VEGAS
CLICK HER TO REGISTER for the 2012 SALSA RUEDA FESTIVAL LAS VEGAS
August 3-5 2012 -- Flamingo Hotel & Casino Las Vegas
888-373-9855
Be a part of the first annual Las Vegas Salsa Rueda Festival: The Party of the Year! Do not miss this unique event coming August 3-5, 2012 in Las Vegas, NV by the producers of the Salsa Rueda Festival in San Francisco.
SPECIAL PERFORMANCE by Miami's EL PIKETE on Saturday August 4th
* All-star instruction with the best of Cuba, Europe, and the US!! 20 workshops to choose from in Cuban Salsa, Casino, Rueda de Casino, Son, Mambo, Folklore and more with some of the best instructors from the States, Europe and Cuba.
* Performances by the Salsa Rueda Festival Vegas Instructors
* Performances by U.S. and local dance companies
* Casino Jack & Jill Competitions Re-invented
* Social Rueda de Casino Competitions
* Guerilla Rueda on the Vegas Strip
* No Last Call for Alcohol!
* The best dance tunes from DJ Walt Digz and MV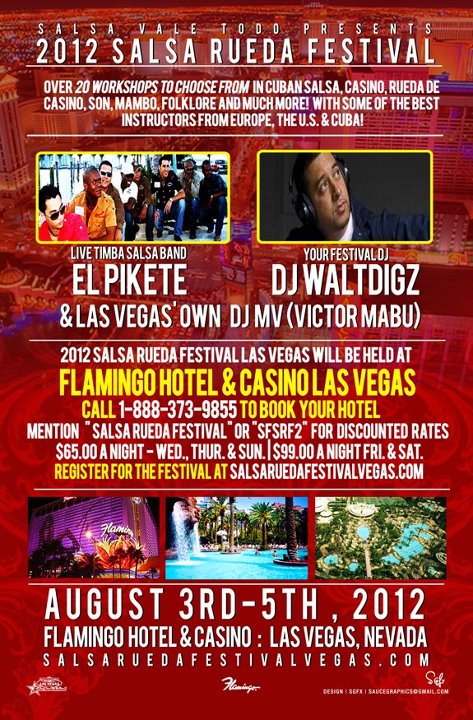 ---
Happy to announce that our Italian correspondent CUBASOYYO, in collaboration with Corazón Timbero, present Alexander Abreu y Havana D' Primera in concert , Tuesday July 24 2012 at the Villa Caribe Resort - Via Ortale, snc, Spigno Saturnia (LT).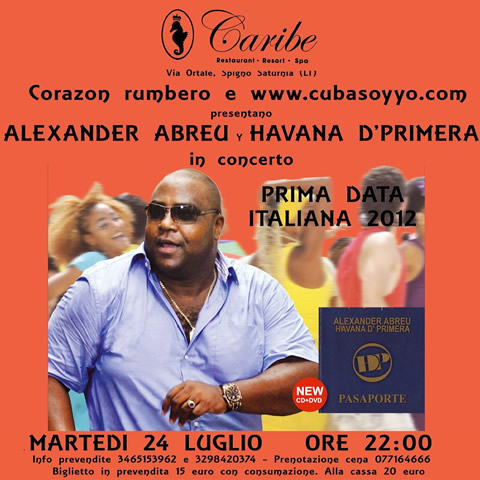 ---
On the California homefront, Los Angeles favorite, Andy García & Cineson singer and ex-Arte Mixto lead singer IRIS SANDRA with be debuting her new original project -- an intimate sextet -- in support of her latest album Dos Palabras at...
MAMBO's CAFÉ
1701 Victory Blvd. Glendale, CA 91201
Phone: 818 545-8613 Fax: 818 545-1149
F.Y.I. FIRST SHOW SOLD OUT!
Happy to report a second show has been added for that same night.