Archivo
Lo Nuevo
[hide]
Fotos Del Día
[hide]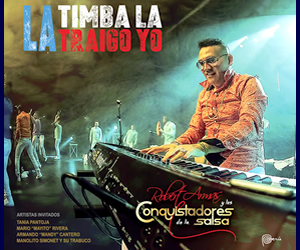 Timbera Mayor
sábado, 19 enero 2019, 09:58 pm
Festival de la Salsa en Cuba 2019
Artist Line-Up

The 2019 Festival de la Salsa en Cuba is only one month away. If you have any opportunity to be in Havana between February 19-24, I recommend you do it! As always the festival is a combination of classes, dance shows, excursions and the fantastic dance nights with concerts by Cuba's top timba bands and the best timba DJs from around the world. There are full pacakges including room and board, as well as just a passport to the VIP section of the nightly concerts, so something for everyone depending on what you are there for.
For those who purchase the package with the excursion, Maykel Blanco himself will take you to visit the music school Amadeo Roldán and afterwards there wil be a lunch at the Museum of Fine Arts. Dance classes will be held by Maykel Fonts, Sylvia Chapelli and Jennyselt Galata and dance shows by Guaracheros de Regla, Componedores de Batea, La FEU and La Giraldilla.
The 2019 edition is also the first to include the participation of a foreign salsero. Jerry Rivera will perform on the 20th, following Haila and Bamboleo. The Cubans love salsa romantica, so expect to find Parque Almendares full.
Click here to keep up with all the information about the Festival de la Salsa en Cuba, including how to order your tickets. Check out the video below to get it straight from the mouth of Maykel Blanco.
Concert Schedule
19th
Yasser Ramos y Su Tumbao Mayombe
Yumuri y Sus Hermanos
20th
Haila
Bamboleo
Jerry Rivera
21st
El Noro y 1ra Clase
Issac Delgado
Manolito Simonet y Su Trabuco
22nd
Chispa y Los Complices
Maravilla de Florida
Adalberto Álvarez y Su Son
Havana D'Primera
23rd
Orquesta Aragón
Pupy y Los Que Son Son
Elito Revé y Su Charangón
Maykel Blanco y Su Salsa Mayor & guests
24th
NG La Banda
Klímax
Los Van Van (50 years) & guests