Timbera Mayor
lunes, 12 octubre 2020, 09:33 am
HAVANA D'PRIMERA MATINEE
OCTOBER 13 ON SOCIAL MEDIA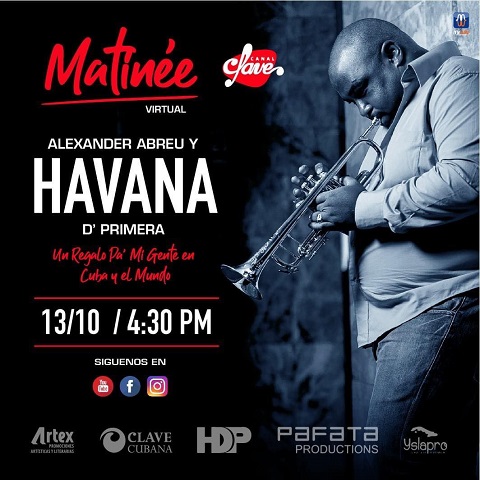 ENGLISH: It's been far too long since we have been able to enjoy a Tuesday matinée by Alexander Abreu & Havana D'Primera at Casa de La Música Miramar. But tomorrow at 4:30pm Havana time, thanks to a collaboration with Canal Clave, fans can enjoy a matinée performance over Canal Clave's channel and Havana D'Primera's YouTube, Facebook and Instagram platforms. Click here for more information about tomorrow's event. If you haven't done it yet, subscribe to Havana D'Primera's YouTube channel and follow them at the Official Havana D'Primera Facebook page and on Instagram.
In other news, Havana D'Primera is about to release a tribute album to classic 90s Timba. While it may be a walk down memory lane for some of us, it will also bring some of the great timba anthems to the attention of the younger generation that missed out on the heady days of the late 1990s. The album contains 20 songs (see below) and is a co-production of Abdala and Páfata and by all accounts will be released imminently. In the meantime, set your alarm for tomorrow's matinée, which will be at 22:30 here in Central Europe. I'll see you online.
ESPAÑOL: Ha pasado demasiado tiempo desde que pudimos disfrutar de una matinée de martes de Alexander Abreu & Havana D'Primera en Casa de La Música de Miramar. Pero mañana a las 4:30 pm hora de La Habana, gracias a una colaboración con Canal Clave, los fanáticos podrán disfrutar de una matinée en el canal de Canal Clave y las plataformas de YouTube, Facebook e Instagram de Havana D'Primera. Haz clic aquí para más información sobre el evento de mañana. Si aún no lo ha hecho, suscríbate al canal de YouTube de Havana D'Primera y síguelos en la página oficial de Facebook de Havana D'Primera y en Instagram.
En otras noticias, Havana D'Primera está a punto de lanzar un disco homenaje a la timba clásica de los 90. Si bien puede ser un paseo por el camino de la memoria para algunos de nosotros, también traerá algunos de los grandes himnos de la timba a la atención de la generación más joven que se perdió los embriagadores días de finales de los noventa. El álbum contiene 20 canciones (ve abajo) y es una coproducción de Abdala y Páfata y por todas las cuentas será lanzado de manera inminente. Mientras tanto, pon tu alarma para la matinée de mañana, que será a las 22:30 aquí en Europa Central. Te veré online