Timbera Mayor
INTERVIEW WITH JULIO BENITEZ
MB RECORD - CUBAN HITS MUSIC
ENGLISH: I just finished watching Episode 4 of the Cuban Hits Music program on the MB Record YouTube channel. If you haven't seen this new Cuban music program yet, you're in for a treat! The pandemic has shut down concert venues, put an end to tours in 2020, and stopped international travel, leaving Cuban music fans without the contact that we previously enjoyed with our favorite bands. As we have mentioned in other posts, social media such as Facebook, Instagram and YouTube have allowed some contact between artists and fans, and Maykel Blanco and MB Record are no exception, but they've taken it one step beyond the live concert streams or live chats. They have created a new Cuban music show. I spoke with Julio Benítez from MB Record about the program.
Julio: We wanted to make a very dynamic program, very entertaining, a showy, colorful program, a program where the interview clip didn't last long, just about a minute, although the same interview could be spread over various parts of the program. So we have already released three episodes. The fourth comes out on October 4. We've seen that people have liked it, they have identified with the program and that fills us with great pride because it really is what we want, that people know about the directors, meet singers and orchestras of popular dance music.
The show also has different sections, among these are El Lente Curioso about things that are happening, the artists who are recording. It also has a Top 15 of dance music from what is being played on the social media. It has contests where we are giving away two tickets to the Festival de la Salsa. It is a very varied and dynamic program that I think people like.
Click here to read the full interview with Julio where he talks more about the origins and development of Cuban Hits Music. To keep up with the latest don't forget to follow MB Record at Facebook.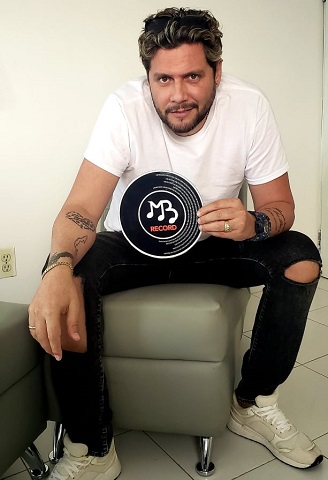 ESPAÑOL: Acabo de terminar de ver el episodio 4 del programa Cuban Hits Music en el canal de MB Record en YouTube. Si aún no has visto este nuevo programa de música cubana, ¡te espera un regalo! La pandemia ha cerrado salas de conciertos, puso fin a las giras en 2020 y detuvo los viajes internacionales, dejando a los fanáticos de la música cubana sin el contacto que antes disfrutamos con nuestras bandas favoritas. Como mencionamos en otras publicaciones, las redes sociales como Facebook, Instagram y YouTube han permitido cierto contacto entre artistas y fanáticos, y Maykel Blanco y MB Record no son una excepción, pero han ido un paso más allá de las transmisiones de conciertos o chats en vivo. Han creado un nuevo espectáculo de música cubana. Hablé con Julio Benítez de MB Record sobre el programa.
Julio: Quisimos hacer un programa bien dinámico, bien ameno un programa vistoso, colorido, un programa que las entrevistas no duraron mucho tiempo sino alrededor de un minuto, aunque la misma entrevista pudiera estar en varias partes del programa. Bueno y entonces así ya llevamos tres programas. El cuarto programa sale el día 4 de octubre y hemos visto que la gente la ha ido gustando, se ha ido identificando con el programa y eso para nosotros nos llena de mucho orgullo porque realmente es lo que queremos, que la gente conozca de los directores, conozca de los cantantes orquestas de la música popular bailable.
El programa también cuenta con diferentes secciones, dentro de ellas El Lente Curioso de las cosas que están pasando, los artistas que están grabando. Cuenta también con un Top 15 de música bailable de lo que se escuche en las redes. Cuenta con concursos donde estamos regalando dos entradas al Festival de la Salsa. Es un programa bien variado y dinámico que yo creo que del agrado de la gente.
Haz clic aquí para leer la entrevista completa con Julio, donde habla más sobre los orígenes y el desarrollo de Cuban Hits Music. Para mantenerse al día con las últimas novedades, no olvides seguir MB Record en Facebook.