Archivo
New Stuff
[hide]
Photos of the Day
[hide]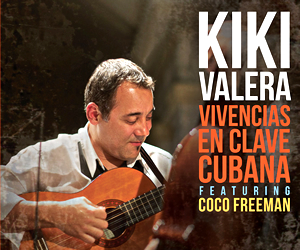 Timbera Mayor
MANDY DJ
Video Report 3rd festival de la Salsa en Cuba
ENGLISH: Cuban DJ Mandy Angueira, known to Cuban music fans as Mandy DJ, has released an excellent 29-minute video report (in Spanish) from the 2018 Festival de la Salsa en Cuba. It contains short clips of performances as well as interviews with musicians and DJs and excerpts from seminars and excursions for the festival participants. It breaks my heart that I still haven't been able to attend one of these festivals. Will 2019 finally be my year?
ESPAÑOL: El DJ cubano Mandy Angueira, conocida por los fanáticos de la música cubana como Mandy DJ, ha lanzado un video reportaje excelente de 29 minutos (en español) del Festival de la Salsa en Cuba 2018. Contiene clips cortos de actuaciones, así como entrevistas con músicos y DJs y extractos de seminarios y excursiones para los participantes del festival. Me rompe el corazón que todavía no haya podido asistir a uno de estos festivales. ¿2019 finalmente será mi año?

ENGLISH: The 2019 Festival de la Salsa en Cuba will take place from February 19-24 at Parque Almendares. This year, participants will take an excursion with Festival President, Maykel Blanco, to the Amadeo Roldán music school. There will also be dance workshops with live music. See the daily party schedule below.
ESPAÑOL: El Festival de la Salsa en Cuba 2019 tendrá lugar del 19 al 24 de febrero en el Parque Almendares. Este año, los participantes realizarán una excursión con el presidente del Festival, Maykel Blanco, a la escuela de música Amadeo Roldán. También habrá talleres de baile con música en vivo. Vea el calendario de fiestas diarias a continuación.
| | |
| --- | --- |
| 5:00pm-6:00pm | Dance session with DJ/Baile con DJ |
| 6:00pm-7:00pm | Various dance and other performances/Comparsas y variades |
| 7:00pm-9:00pm | Dance session with DJ/Baile con DJ |
| 9:00pm-10:00pm | First band/Primera orquesta |
| 10:00pm-10:30pm | Dance session with DJ/Baile con DJ |
| 10:30pm-11:30pm | Second band/Segunda orquesta |
| 11:30pm-12:00am | Dance session with DJ/Baile con DJ |
| 12:00am-1:00am | Third band/Tercera orquesta |
| 1:00am-2:00am | Dance session with DJ/Baile con DJ |