Archivo
Lo Nuevo
[hide]
Fotos Del Día
[hide]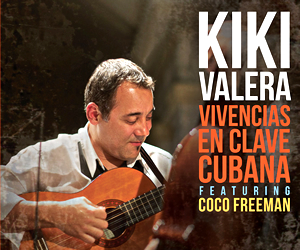 Timbera Mayor
lunes, 12 octubre 2015, 02:35 pm
SÓLO SE VIVE UNA VEZ
Havana D'Primera & Los 4 Stockholm Oct. 23
Lo mejor que suena ahora

Tomorrow - October 13th in Madrid - Havana D'Primera begin their Autumn European tour, which will take them to 27 cities in 12 countries. Click here to find the concert closest to you. Los 4 are also currently on tour and will be in Bologna tomorrow. For the remaining Los 4 concert dates, click here . Both groups are at the height of popularity in their respective genres and both have relatively new albums they are promoting.
Here in Stockholm Cuban music fans will be blessed with a joint concert by Havana D'Primera and Los 4 on October 23rd. It will be the concert of the year and they are calling the event "Sólo se vive una vez". It will be held at Quality Hotel Friends and the technical details are in the hands of Stockholm's best light and soundmen. I will - of course - be reporting on it. Doors open at 8:00pm and close at 03:00am. It is simply going to be awesome!
Due to the popularity of the event the promoters and the hotel have arranged special pricing for concert-goers who are traveling to the concert from other countries or cities. For information on how to take advantage of the special pricing, click here. The pre-concert tickets are nearly sold-out, so get yours before the price goes up. To book concert tickets now click here. VIP tickets are also available for those who want to hang with the bands.
To whet your appetite I leave you with two recent videos. The first is "Regalito de Dios", is one of the most popular songs from Havana D'Primera's album "La vuelta al mundo". The second is a recent collaboration between Los 4 and La Charanga Habanera "Lo que tengo yo". You've gotta love the Star Wars intro!
Havana D'Primera "Regalito de Dios"
Los 4 & La Charanga Habanera "Lo que tengo yo"