Timbera Mayor
viernes, 28 octubre 2016, 12:44 pm
Yoruba Andabo European Tour
Starts Today!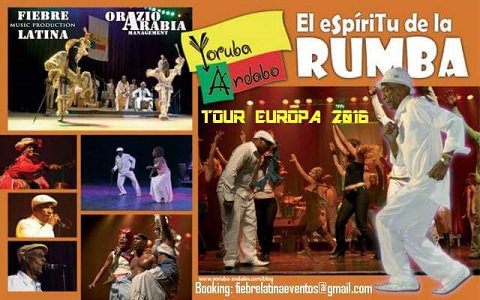 Yoruba Andabo are in Italy where they start their European Tour tonight in Florence, Italy. The band is also promoting a new album. Two singles "Rumba con amor" and "Salsa, timba y guaguancó" have already been released and are available at Cubamusic, iTunes and Amazon. The list of confirmed concerts so far is:
Oct 28 Florence, Italy
Oct 29 Helsinki, Finland
Nov 4 Modena, Italy
Nov 6 Brescia, Italy
Nov 9 Berlin, Germany
Nov 11 Warsaw, Poland
Nov 12-13 Belgrade, Serbia
Nov 20 Rome, Italy
More dates will be confirmed within the next day or two so stay tuned and enjoy "Con un estilo diferente" from their new production.