Dance Clubs in Cuba
This stalwart of the scene is much smaller than its sister club, but generally has very good sound. The stage is a little high - if you want to stand close to the band, you're gonna get a crick in your neck. Also: not much room for dancing - way too many tables and chairs, which is nice for sitting, not so much for moving. The floor here is always slippery: wear rubber-soled shoes. I have yet to go to the Diablo Tun Tun upstairs, though I did get a glimpse inside one night: seems to be more of a sit-down gig. Taxis home after hours will be illegal cars and should cost about $5-$6 to Centro Habana.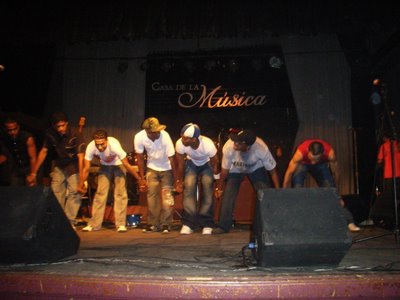 Charanga Forever take a bow at Casa de la Musica, Miramar
---
CAFE CANTANTE "MI HABANA"
Paseo y 39, Plaza - Tel: 873 5713/879-0710
Matinees: 4pm-9pm Entrada: $5 / $10 - Nights: Main band on around midnight
Review by Gabreil Wilder
Cafe Cantante used to be upstairs where Delirio is now. Now it's in the basement: a dark, grim, low-ceilinged room with terrible sound and an awful PA system. However, it's worth going to because the matinees are usually cheaper here for Cubans, so you can get a great party vibe - the Trabuco matinees there earlier this year were terrific, reminding me of the small local gigs I went to in innercity Sydney in my teens (in the neolithic era). The stage is very low, which is a bitch if you're up the back (cause you can't see anything) but fantastic if you're down the front, as it makes you feel like you're right in there with the band. There is always lots of audience participation - peeps in the audience carrying on conversations with band members mid-gig. Loads o' fun. Beware the reggaeton before and after - it's very loud, and often distorted. Take earplugs. Also, after Tumbao Havana play on Friday nights ($5 entry), it's discoteca (house) all night.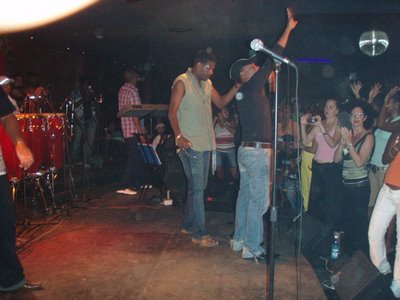 Manolito y su Trabuco w/ adoring fans (note the extranjera with camera) at Cafe Cantante.
Pic by Helen.
---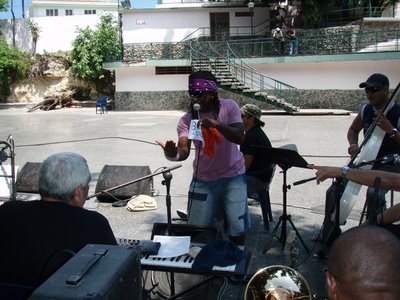 Mayito and Van Van rehearse at La Tropical. Pic by Helen
SALON ROSADO DE LA TROPICAL
Ave.41 esq. 46, Nicanor del Campo
Tel: 203 5322
Times: varies wildly.
Entrada: No idea. They used to have a separate area and entrada for extranjeros. That area has gone - no doubt the tourista entrada remains. If you can pass as Cuban, it's a great deal cheaper.
The legendary beer garden where Arsenio tore it up in the 40s is still a big part of the live music scene today. Timba gigs tend to be sporadic - though I think you can count on someone playing there on a Saturday night - and every Sunday afternoon is a son thing, with an older crowd. This really is where the Cubans go - there'll only be a few foreigners - and if it's a big gig, it will be packed. And I mean packed. It's a great place to see bands - there's a good tier thing going on and a great vibe, especially in the warmer weather. Wear insect repellant in summer. Don't drink too much (water or alcohol), or you'll have to (god forbid) use the toilet. Getting home is a bitch - not even your chavitos can save you here: tourist taxis are few and far between late at night, and if you leave when everyone else does, you'll all be competing for the few passing carros.
miércoles, 25 julio 2012, 04:42 pm