Maraca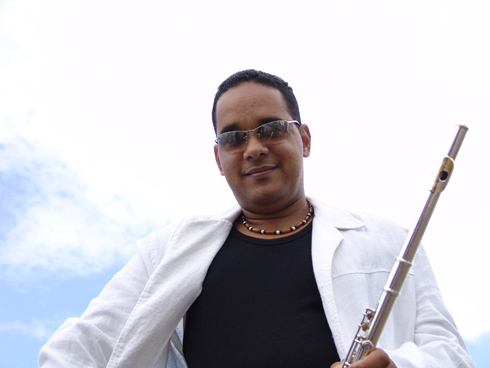 photo by Bernard Chaveau
Orlando "Maraca" Valle's Otra Visión has been among the most successful of the new Cuban groups internationally. The group made its name playing Latin Jazz, but its recent studio recordings and high energy concert tours have quickly earned it a strong following among Timba fans worldwide. Of the bands covered here at timba.com, Otra Visión is perhaps most closely related to Cubanismo in spirit and concept, and indeed, Maraca recorded and toured with Cubanismo for several years before forming his own group in the late 1990s.
Maraca y Otra Visión have released 6 CDs and one Greatest Dance Hits CD over the past 12 years. The band has the unique distinction of having had every one of their CDs receive at least one Cubadisco nomination and in many cases multiple nominations as well as nominations for the Lucas video awards. Five of the CDs won at Cubadisco and Tremenda Rumba , released in 2005, was also nominated in the 45th Grammy Awards. See Maraca's discography for more details.
Maraca's music has a distinct sound that is instantly recognizable. The arrangements are firmly rooted in traditional Cuban music such as son and danzón, with a strong dose of jazz and often in fusion with other Latin rhythms such as cumbia and flamenco. The songs are both intricate and supremely dancable. For this reason he is internationally popular with both dancers and more sedentary music afficionados.
Maraca's popularity has made him one of the busiest touring musicians. He was on the road so much following the 2005 release of Soy yo , that it took four years before the follow-up CD, Lo que quiero es f ¡ esta!!! was completed. He has toured Europe, Canada, the US, Mexico, South America, the Caribbean, and Africa.
The current incarnation of Otra Visión is a powerhouse band with exquisite musicianship, and a powerful dance groove as the most hardcore Timba band. Otra Visión also features more instrumental solos than most Timba bands, including those of Maraca himself, who is one of the leading flute virtuosi in the world today. Visit our Maraca videos section to see why he was voted Best Timba Flautist in the Timba.com Awards.
Otra Visión is also one of the best managed and publicized Cuban bands today and has received a lot of excellent coverage in the press and on the internet. The best starting place to learn more is Maraca's own extensive website in French, Spanish and English.
Kevin Moore - lunes, 19 marzo 2018, 01:34 pm