Coloquio Internacional 2020 Day 3
XV Coloquio Internacional de Jazz "Leonardo Acosta in Memoriam", Day 3
Jazz Plaza, Fäbrica de Arte Cubano, La Habana, Cuba, 17 January 2020
Photos and commentary by Bill Tilford, all rights reserved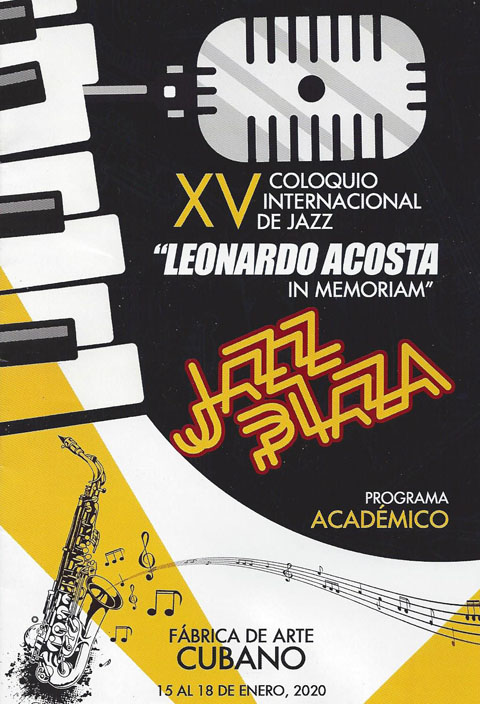 ENGLISH: The Coloquio International is the daytime activity at Jazz Plaza. It uses the different naves of the Fábrica de Arte Cubano and presents a series of lectures, roundtables, video viewings, master classes, CD presentations, and live music presentations. Some of the highlights of Day 3 included a tribute to Leopoldo "Pucho" Escalante, a conversation with Puerto Rican saxophonist Miguel Zenön and musicologist Ned Sublette, and a celebration of the 20th Anniversary of Cuba's television program A todo jazz. The afternoon sessions included a discussion of JoJazz, the vitally important national competition for young jazz artists that helps launch many of their careers. The founding father of JoJazz, Alexis Vázquez, was honored during the session.
Later in the day, US-based saxophonist David Liebman gave a master class, and members and students of the Trombone Shorty Foundation also gave a presentation.
We want to point out some of the day's honorees as they have played an important role in the success of jazz as a genre in Cuba: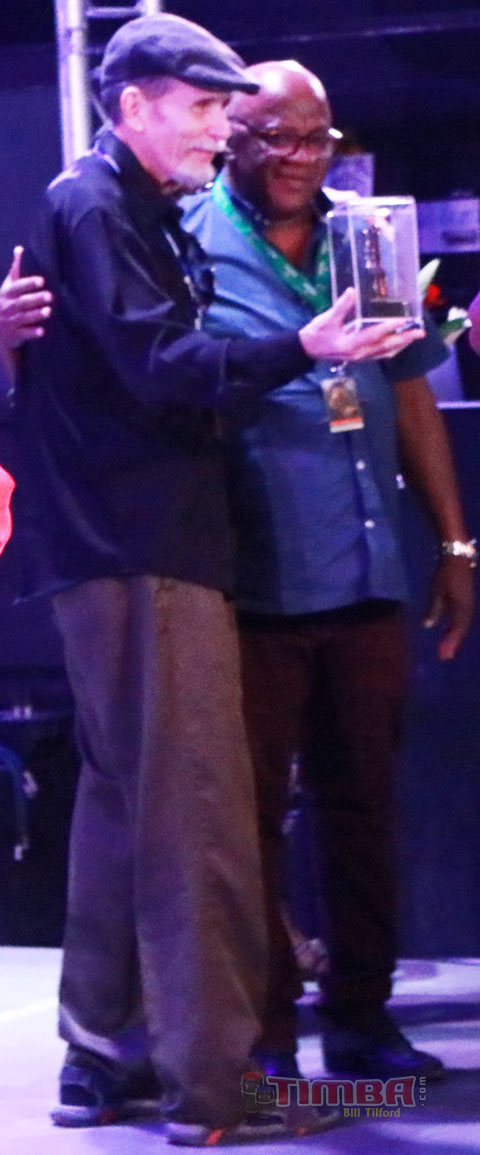 Jose Dos Santos (left) a journalist who is the founding father of La Esquina de Jazz, a late-night jazz program that runs five nights a week on CMBF. He also has the excellent website D'Cubajazz.
Jose Dos Santos (izquierda) es periodista que es fundador de La Esquina de Jazz, un programa de jazz que continua cinco noches a la semana en la emisora radial CMBF. También tiene el excelente sitio web D'Cubajazz.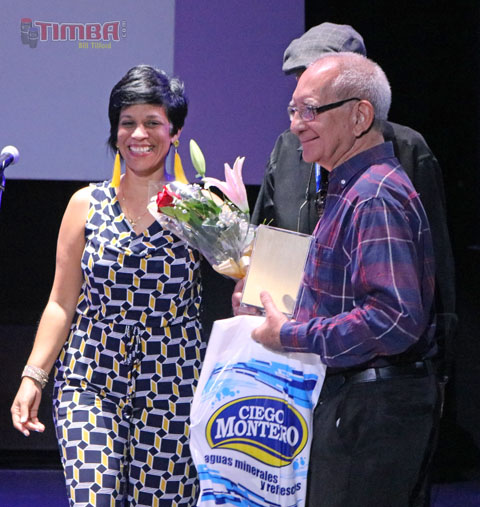 Alexis Vázquez (right) is the founding father of JoJazz, the annual national competition for young Jazz artists and composers. That competition has been launching the careers of many of Cuba's best jazz artists for over 15 years.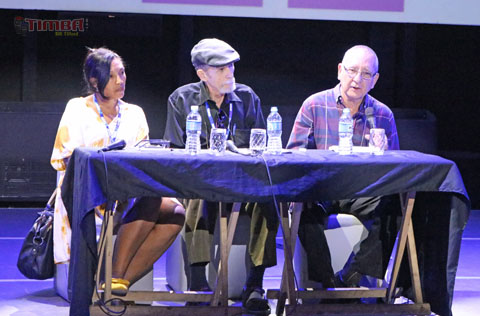 Gloria Ochoa (left) has played a critical role in assuring that young jazz artists in Cuba have had opportunities for both live performances and recordings. Among many other things, she was the producer of the seminal Jazz Young Spirit series for the Colibrí label.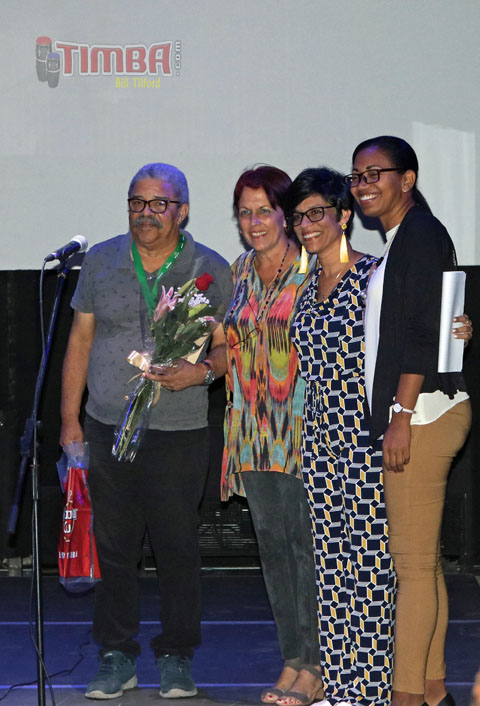 Pedro de la Hoz (left) is a cultural journalist who has been an important friend of jazz and Cuba's popular music in Cuba's national press

ESPAÑOL: El Coloquio International es la actividad diurna en Jazz Plaza. Utiliza las diferentes naves de la Fábrica de Arte Cubano y presenta una serie de conferencias, mesas redondas, videos, clases magistrales, presentaciones de CD y presentaciones de música en vivo. Algunos de los aspectos más destacados del Día 3 incluyeron un homenaje a Leopoldo "Pucho" Escalante, una conversación con el saxofonista puertorriqueño Miguel Zenön y el musicologo Ned Sublette, y una celebración del vigésimo aniversario del programa de televisión cubano A todo jazz. Las sesiones de la tarde incluyeron una discusión sobre JoJazz, el concurso nacional de vital importancia para jóvenes artistas de jazz que ayuda a lanzar muchas de sus carreras. El fundador de JoJazz, Alexis Vázquez, fue honrado durante la sesión.
Más tarde en el día, el saxofonista estadounidense David Liebman dio una clase magistral, y los miembros y estudiantes de la Fundación Trombone Shorty también hicieron una presentación.
Queremos señalar a algunos de los homenajeados del día, ya que han hecho esfuerzos importantes para el éxito del jazz como género en Cuba (arriba).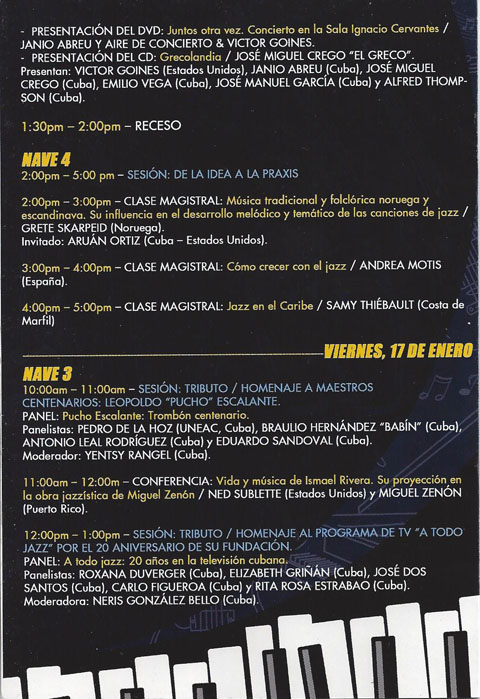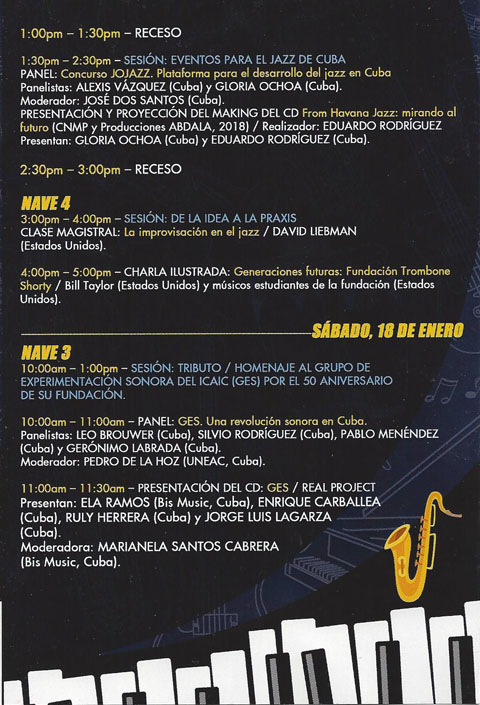 Click on the images below to view the photos
Haga clic en las imágenes a continuación para ver las fotos.








Bill Tilford - viernes, 13 marzo 2020, 05:54 pm