José Luis "Changuito" Quintana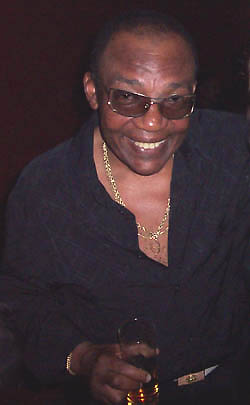 Photo by Lara Greene
instrumento/instrument: timbale, batería/drums, tumbadoras/congas
grupos/groups: Los Van Van
grabaciones/recordings: Los Van Van: La colección, Vols. 2-15; Los Van Van: Disco Azúcar; Pupy Pedroso: Los Que Son, Son; Issac Delgado: Exclusivo para Cuba; dozens of others
lugar de nacimiento/birthplace: ?
formación musical/musical background: ?
lugar actual de residencia/current residence: La Habana
¡escúchalo! Los Que Son Son: Vamos a gozar hasta fuera
Changuito Tributes: Chuck Silverman; Calixto Oviedo; Rebeca Mauleón-Santana
Changuito is a living legend. In 1993, he started a solo career after playing with Los Van Van for over 20 years. He's credited with inventing many of the rhythms of the "songo" style which was the most direct predecessor of Timba and he's frequently a guest artist with various Timba groups, especially Los Que Son, Son. Perhaps Changuito's most famous rhythmic innovation was the "independencia" double bell pattern. He took the hand-held campana bell normally played by the bongocero, mounted it on his timbale stand and played it with his right hand, while simultaneously playing a modified timbale bell part with his left and a kick drum pattern which he played from a standing position. This became the bread and butter groove for many timba drummers, notably his Van Van succesor Samuel Formell and Roicel Riverón of Manolito y su Trabuco. Riverón plays so fluidly that he seldom plays the complete pattern all the way through, but it could still be thought of as his most fundamental marcha. Other timba groups used both a trap drummer and a timbalero (Klimax, Issac, Manolín, Bamboleo) and others (Paulito) used a trap drummer and a bongocero, but those with the popular combination of drums, congas and güiro owe the heaviest debt of gratitude to Changuito. Of course, the double bell pattern is only one aspect of this ground-breaking percussionist's work. He's also a master of cross-rhythms. Listen to his solo at the beginning of Pupy Pedroso's "Vamos a gozar hasta fuera" Pupy's euphoria-inducing tumbao is a masterpiece of simplicity...a 4 note pattern which hits on the downbeats of 1, 3, and 4 and the upbeat of 2. But with Changuito's intensely polyrhythmic solo opening the track, many listeners (por ejemplo yo!) are completely baffled until the vocals come in. On the second listening, once you know the tumbao, the full glory of Changuito's solo becomes accessible. Changuito has been featured in many instructional books and videos including his own book for Chuck Silverman music.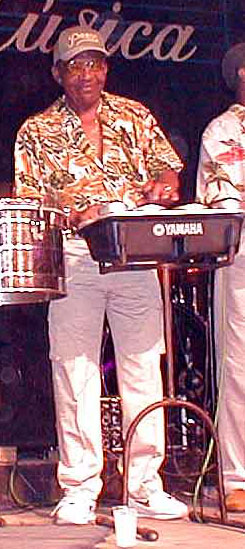 (foto por Bill Wolfer)
Michelle White - Wednesday, 29 June 2011, 08:27 PM