Maqueque The Jazz Kitchen March 5 2022
Jane Bunnett & Maqueque at The Jazz Kitchen
Indianapolis, Indiana, March 5, 2022
Photos and commentary by Bill Tilford, all rights reserved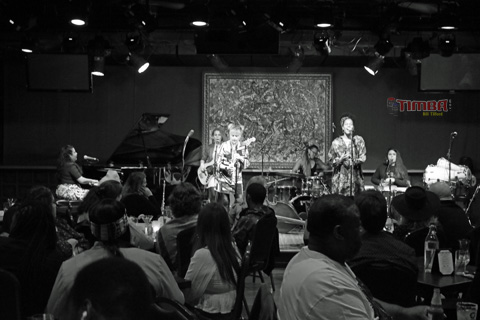 ENGLISH: This was my first visit to The Jazz Ktchen in Indianapolis, so I am going to say some things about the club as well as the concert. The venue is celebrating its 28th year in April and has a main concert room (where conversation is actively discouraged) and an outer bar where conversation is permitted. It has an excellent acoustic design and sightlines and a nice New Orleans-style menu. Although not a Latin club per se, it has hired Arturo Sandoval, Chuchito Valdés, Harold López-Nussa, Paquito d'Rivera and others, and there are Latin dance nights with a DJ. The owner is a fan of both Jazz and Cuban music.
This iteration of Maqueque featured Jane Bunnett, leader-flute- soprano sax, Yissy Garcia on drums, Tailin Marrero on bass and vocals, Danae Olano on piano and vocals, Mary Paz on percussion and vocals and Joanna Majoko on vocals. Jane is Canadian, Joanna is originally from Zimbabwe, the rest are cubanas. The performance featured music from all of Maqueque's albums and included a nice mix of jazz, son and even a little timba. A special highlight of this concert was a duet by Danae and Jane.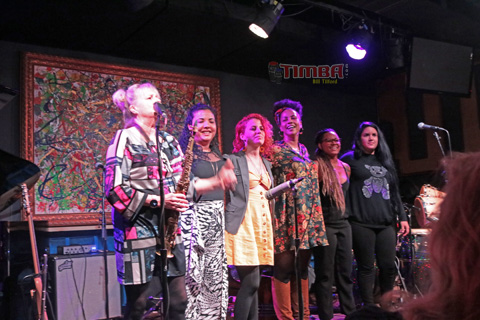 ESPAÑOL: Fue mi primer visita a The Jazz Ktchen en Indianápolis, así que voy a decir algunas cosas sobre el club y el concierto. El lugar celebra su 28º año en abril y tiene una sala de conciertos principal (donde se desaconseja activamente la conversación) y un bar exterior donde se permite la conversación. Tiene un diseño acústico y líneas de visión excelente y un buen menú al estilo de Nueva Orleans. Aunque no es un club latino per se, ha contratado a Arturo Sandoval, Chuchito Valdés, Harold López-Nussa, Paquito d'Rivera y otros, y hay noches de baile latino con DJ. El dueño es un fanático del jazz y la música cubana.
Esta iteración de Maqueque contó con Jane Bunnett, líder, flauta y saxo soprano, Yissy García en la batería, Tailin Marrero en el bajo y la voz, Danae Olano en el piano y la voz, Mary Paz en la percusión y la voz y Joanna Majoko en la voz. Jane es canadiense, Joanna es originaria de Zimbabue, el resto son cubanas. La presentación contó con música de todos los álbumes de Maqueque e incluyó una buena mezcla de jazz, son e incluso un poco de la timba. Un punto culminante especial en este concierto fue un dúo de Danae y Jane.

Click on the images below to enlarge them / Haga clic en las imágenes de abajo para agrandarlas.
























Bill Tilford - lunes, 07 marzo 2022, 04:48 pm