Wil Campa y La Gran Unión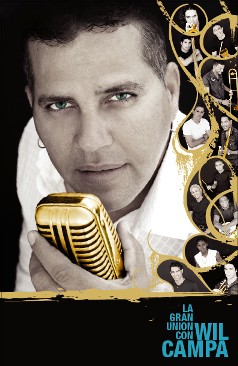 Article ©Timba.com 2008
When you hear Wil Campa's voice you will immediately recognize it from many hits by Maraca y Otra Visión. Wil began singing as a child and studied voice at La Escuela de Superación Profesional. After winning the Adolfo Guzmán festival with an orchestra from his province, he toured Europe and Latin America. In 1998 he joined Maraca y Otra Visión where he beautifully interpreted a number of their biggest hits such as Descarga Total , Soy Yo , And Castígala .
Wil has now moved on to direct his own group, La Gran Unión. The musical concept behind this group is to defend Cuban son using a sonero style of interpretation, mixing musical influences from the 40s and 70s with contemporary elements.
Their first CD, Es Tiempo , will be released on June 20, 2008. Two singles have already been released: Amor o Guerra by Admiel Castellanos and the title track, Es Tiempo, by Wil Campa. Amor o Guerra starts with a hot tumbao and a sample of the coro, which is good because it then drifts into a very romantic cuerpo. Without the hardcore itro it might just seem like a salsa romantica. Instead the song combines a melodic cuerpo with coros meant to get the dancers on the floor. Es Tiempo is a very modern timbaton mix that includes some heavy rap sections.
We will update this section as we get more information about the new group and the CD, so stay tuned.
Kevin Moore - Wednesday, 06 February 2013, 08:24 PM