2012 Salsa Rueda Festival Las Vegas
SALSA RUEDA FESTIVAL LAS VEGAS
CLICK HERE TO REGISTER for the 2012 SALSA RUEDA FESTIVAL LAS VEGAS
August 3-5 2012 -- Flamingo Hotel & Casino Las Vegas
888-373-9855

Be a part of the first annual Las Vegas Salsa Rueda Festival: The Party of the Year! Do not miss this unique event coming August 3-5, 2012 in Las Vegas, NV by the producers of the Salsa Rueda Festival in San Francisco.
* All-star instruction with the best of Cuba, Europe, and the US!! 20 workshops to choose from in Cuban Salsa, Casino, Rueda de Casino, Son, Mambo, Folklore and more with some of the best instructors from the States, Europe and Cuba.
* Performances by the Salsa Rueda Festival Vegas Instructors
* Performances by U.S. and local dance companies
* Casino Jack & Jill Competitions Re-invented
* Social Rueda de Casino Competitions
* Guerilla Rueda on the Vegas Strip
* No Last Call for Alcohol!
* Live Timba by El Pikete- Direct from Miami
* The best dance tunes from DJ Walt Digz and MV
Schedule of Events
Friday, August 3rd
*Pool Party Meet and Greet (only for Hotel guests)
*Casino Salsa Dance Performances from groups around the U.S.. (Interested in Performing, contact salsavaletodo@gmail.com)
*Mega- Rueda with the whole community dancing and learning together.
*Your Festival DJ Walt Digz and Local DJ Victor Mabu
Saturday, August 4th
*Your SRF Vegas Instructors perform for you and then
*El Pikete! Live Timba Salsa direct from Miami!!
Sunday, August 5th
Presenting for the first time at The Salsa Rueda Festival:
Jack and Jill Salsa Casino Competition: Dance with not one but three randomly chosen partners.
Social Rueda de Casino competition. Get your friends together and compete in the first all called Rueda competition. No Choreography allowed. Show off your Salsa Rueda skills with your crew to a song chosen by DJ Walt Digz.
*Sunday Farewell Party with your Festival DJs' and MV
* Breakfast of Shame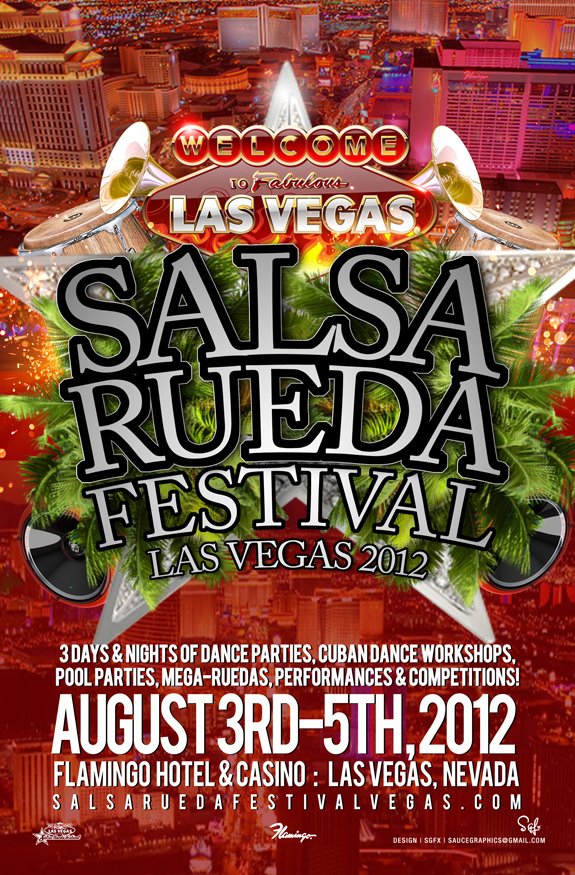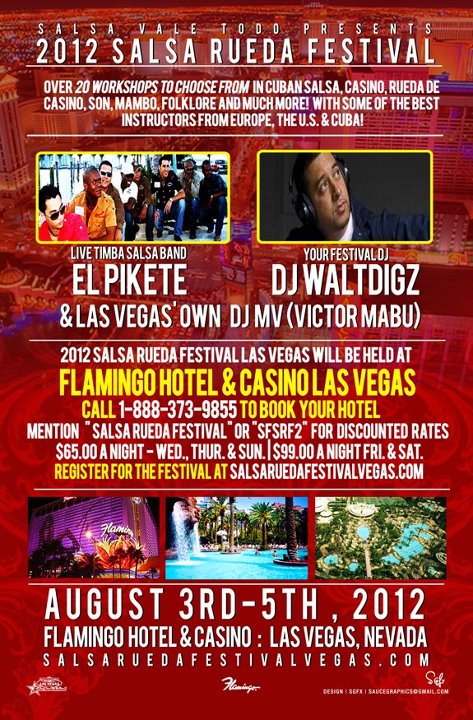 Michael Lazarus - Thursday, 19 July 2012, 09:25 PM